Poetry in Enoch's Written History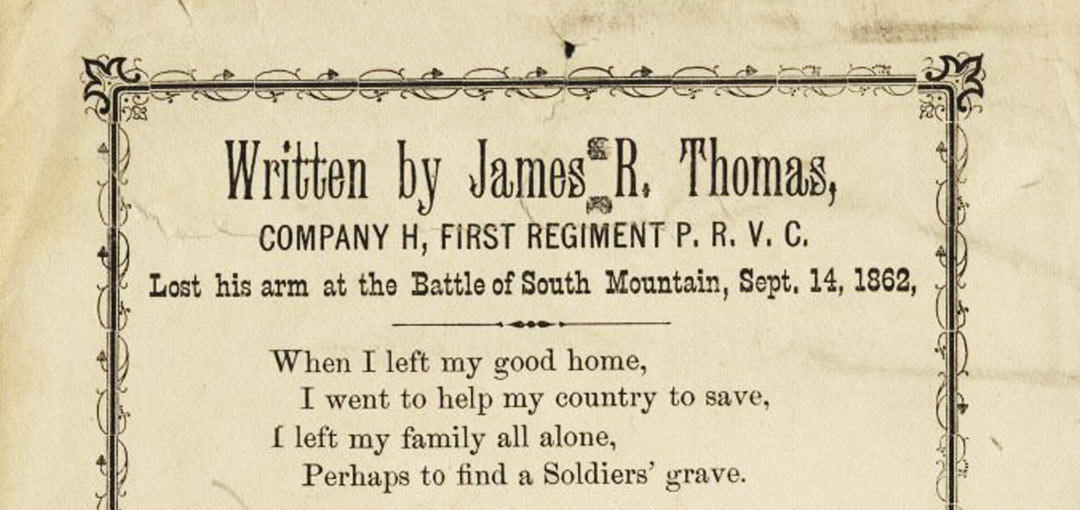 In February 2020, I examined Enoch Hagenbuch's (b. 1814) written history and celebrated the addition of his family information to Beechroots (Revisiting Enoch Hagenbuch's Written History). Enoch writes of names and personal details, yet he also illuminates his genealogical text with poetry. Every so often, he shares a verse of poetry along with a family member's story, adding an emotional commentary to the facts. Where did these poems come from? Are they original, or quoted from elsewhere? Let's take a closer look!
Enoch first includes a poem when he describes the sale of the family farm after Michael Hagenbuch's death (b. 1805, d. 1855):
Fine old farm, for one hundred and twenty years,
Kept in the family name;
Corn-fields rich with golden ears,
Oft as the harvest came.
Crowded barn and crowded bin,
And still the loads kept coming in;
Rolling in for one hundred and twenty years,
And still in the family line appears.
This verse is from a poem called "Signing the Farm Away." It closely matches the first stanza of this published poem, with a few adjustments. Enoch changes "a hundred years" to "one hundred and twenty years" to match the Hagenbuch family timeline. He also changes the last line of the stanza from "And the fourth in the family line appears" to "And still in the family line appears." The complete poem goes on to tell the story of a family that lost their farm due to the patriarch's alcoholism. "Signing the Farm Away" was published in the June 23, 1887 issue of The Pittsfield Sun, a nineteenth-century Massachusetts newspaper. Perhaps the poem appeared in other local newspapers? Or did someone send Enoch a copy of this poem?
The next verse is in response to the deaths of Nathan Hagenbuch (b. 1811, d. 1897) and Rebecca (Stein) Hagenbuch (b. 1812, d. 1873):
And when we left the house we loved,
Removed by "Fate's" decree
We'll not forget the old log cabin,
That kept us from the storm.
This is from "The Old Log Cabin" by Sara Lett Cotteau. Another excerpt from the poem is included later in the written history, after Enoch's description of his cabin in Muncie, Delaware Co., Indiana:
We will not forget the old log cabin,
Where we lived so long ago.
The floor was made of puncheon boards,
The cracks were stuffed with clay.
The first excerpt Enoch uses is pieced together from the last two stanzas of the complete poem. He makes a minor change from "And when we leave the homes we love" to "And when we left the house we loved." The second excerpt is pieced together with sentences from the first and third stanzas. Enoch quotes this poem twice, so it is not a far reach to assume that it was especially meaningful to him. I found it published in the Minneapolis Star Tribune on Friday, September 7, 1906. Sara Lett Cotteau wrote it around 1869 for the first old settlers' picnic in Ottawa, La Salle County, Illinois. Was Enoch at this event, and did he hear the poem recited there? It is exciting to think of Enoch attending the old settlers' picnic. He did not write of this in his history, but it very well could have been a part of his life that we have uncovered.
He uses a piece of the poem, "When I Left My Good Home," to commemorate the death of Jacob S. Hagenbuch (b. 1839, d. 1862). Jacob fought in the Civil War and died of typhoid fever during his journey back home. His father, Nathan (b. 1811), brought Jacob's remains home to the family cemetery. A copy of the poem is in the Harvard Medical Library Rare Books Collection. It was written by James R. Thomas, Company H, First Regiment, P.R.V.C., who lost his arm at the Battle of South Mountain on Sept. 14, 1862.
When I left my good home,
And left my father's house,
Perhaps to fill a soldier's grave.
The excerpt is from the first stanza, again with alterations from Enoch. He omits the second line, "I went to help my country to save," and changes the third line from "I left my family all alone" to "And left my father's house." Enoch quotes a poem written by a Civil War soldier to honor the death of his nephew, also a Civil War soldier.
Enoch's grandson, Enoch H. Watt (b. 1862, d. 1885), died while working on a ship in the Pacific Ocean catching sea lions. Enoch Hagenbuch includes a verse from Horace L. Hastings' poem "Shall We Meet Beyond the River" after Enoch Watt's information in the written history. "Shall We Meet Beyond the River" is set as a hymn with a tune by Elihu S. Rice in the Relief Society Song Book, 1919. Where did Enoch hear this hymn or read the poem? Its water imagery and reassuring message are a fitting eulogy for his sailor grandson.
Shall we meet in that blest harbor,
When our stormy voyage's o'er,
Shall we meet and cast our anchor
By the fair, celestial shore.
The two final poems in Enoch's written history are also in memoriam, this time for his sisters Elizabeth Hagenbuch (b. 1822) and Lesina Hagenbuch (b. 1824). I found Elizabeth's poem, "Dirge on the Death of a Young Lady" by Richard Penn Smith, in Graham's American Monthly Magazine (1849). I located Lesina's poem, "Angel Love" by Anne L. Muzzey, in Godey's Magazine. Both of these publications are periodicals that were published in Philadelphia in the mid-nineteenth century. Godey's Magazine was also known as Godey's Lady's Book, and was geared towards women, with a fashion plate, pattern, and piece of sheet music in each issue.
For Elizabeth, only 15 years old when she died, Enoch chose this verse:
She was a gentle one,
Pure as a seraph's tear;
Too soon her task was done
Born but to disappear.
For Lesina, aged 22 years, he includes the following:
But the cup could not pass away;
God had spoken, it was vain to pray,
Our hearts are buried with her, our love,
Lost on earth, but found again in heaven.
Extracting these poetic fragments from Enoch's written history and looking at them together, they are almost all included to honor a family member who has passed away (or in one case, a homestead that has been sold). He has selected poetry from a variety of sources, and also personalized them, for particular members of his family. How did Enoch come across these sources? Why did he bestow these epitaphs on a select few Hagenbuchs? Enoch's history has more secrets to ponder than I initially imagined. To echo his closing statements once more, which are poetic in their own right:
Now, I say good-bye. God bless the whole fraternity, and may everyone answer the design of the Creator in his life and life-work…Yours for the right always, Enoch Hagenbuch