Andreas Hagenbuch's Sons-in-Law: Were They Soldiers?, Part 2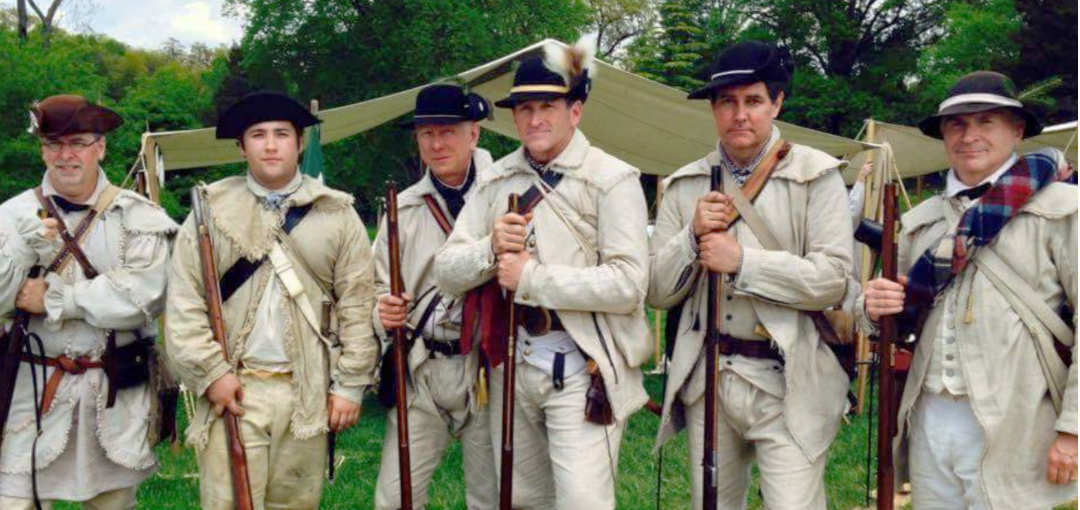 In the previous article about the military service of Andreas' family, readers were reminded that "big doings" are happening over the next eight years in relation to our country's founding—our 250th anniversary! I remember well the 200th anniversary celebrations, the Bicentennial, and the 225th anniversary event, when I was in Virginia in October of 2006 to reenact the Battle of Yorktown. Those experiences will always be in my memory and make me proud of our country's history.
No less proud am I of our own family's history during the American war for independence. Whether we are remembering the part which our patriarch Andreas played, or the military service of his four sons, or the protection of home and family by the first of the sons-in-law, or the military service of the second group of sons-in-law, we can hold them up along with their spouses ("remember the ladies," as Abigail Adams wrote to husband, John!) as shining stars in the fight for American freedoms.
The three latter sons-in-law of Andreas were: John (Johannes) Adam Reichelderfer (b. 1741) who married to Anna Elizabeth Hagenbuch (b. 1754), Jacob Michael Kistler (b. 1751) who married to Christina Hagenbuch (b. 1759), and John Henry (Johan Henrich) Spengler (b. 1747) who married to Anna Margaretha Hagenbuch (b. 1761). All three have military service records during the Revolutionary War.
John (Johannes) Adam Reichelderfer married Andreas' daughter, Anna Elizabeth, around 1774. John served as a private in Captain Ritter's Company of the Berks County, Pennsylvania Militia from 1777–1778. This was the same militia company that his brother-in-law, Michael Hagenbuch, served in during the same time. The March of 2017 article about Michael's service in Captain Ritter's company details what this company of soldiers experienced as early American soldiers.
As stated in the article concerning Michael Hagenbuch's service, Captain Ritter's company of militia were most useful in protecting areas of Pennsylvania when the British troops were ranging out from Philadelphia during their occupation of that city during the winter of 1777–1778. At that time, General George Washington had most of the Continental troops housed at Valley Forge, PA. Consequently, because the Pennsylvania militias supported regular Continental troops, it is possible that John Reichelderfer was involved in some major battles such as Germantown, Brandywine, and Monmouth.
We know that just like brother-in-law Michael Hagenbuch (b. 1746), John Reichelderfer's military service was over after one year. This was not unusual for those men who had farms and families. Once the British army was no longer a threat to their locale, they wanted to return home to protect what they valued most. John and Anna Elizabeth (Hagenbuch) Reichelderfer already had several children by the year 1778. In 1806, soon after the last of their 11 children was born, they moved to Pickaway County, Ohio to begin a new life.
In 1777, Andreas' daughter Christina married Jacob Michael Kistler (b. 1751). The Kistler family was prominent in the northern Berks County area so it was natural that a Hagenbuch would be associated romantically with one of them! The year of their marriage, Jacob began his military service in the Northampton County, Pennsylvania Militia, Captain Probst's Company. For that one year, 1777 to 1778, he protected his home state. The Kistler famly is associated with Berks County, but also with western Lehigh County which lies beside the Kistler Valley of Berks County. At that time, Lehigh County was part of Northampton County, so Jacob Kistler was serving with his own folks. These included his brother, Samuel Kistler, and Andreas' son, Christian (b. 1747). As with other militia men protecting their locale, Jacob may have been involved with the important battles surrounding Philadelphia before the British left there to head north to New York City in June of 1778.
Jacob was a farmer. Along with his wife, the former Christina Hagenbuch, they raised their 11 children in the Kistler Valley. They were members of the Jerusalem Red Church and are buried in that cemetery.
John Henry Spengler (b. 1747, d. 1826) married Andreas' daughter, Anna Margaretha Hagenbuch (b. 1761). The later generations of the Spenglers eventually changed their name to Spangler. On a modern stone at John Henry's gravesite at the Alsace Lutheran Church Cemetery in Reading, Berks County, PA, there is the following inscription: "PVT. 3rd CO. 4 B.N. PA. MILITIA." Anna Margaretha is buried beside him.
Doing research in the Pennsylvania Archives on the Pennsylvania military unit that is listed on the modern stone beside John Henry's original tombstone yields useful information. As with the militia units that Michael Hagenbuch, Christian Hagenbuch, John Reichelderfer, and Jacob Kistler served in, the time enlisted for John Henry Spengler may have been the same: 1777–1778. During that time period, there was a 3rd Company, 4th Battalion militia unit from the Reading, PA area. The commander was Captain Jacob Shraedel (Shartel). Since John Henry and Anna Margaretha are buried in a Reading cemetery, could this be the military unit that John Henry Spengler served in during the years when Pennsylvania needed the most protection from the British army?
The 1790 census lists "Henry Spengler" as living at Alsace, Berks County which is located just to the north of Reading. Then, in 1820, Henry Spengler is listed in the census as living in Reading. This son-in-law of Andreas died in 1826. Unfortunately, we begin to go down the proverbial rabbit hole as the census also lists a Henry Spengler living in Alsace in 1830 and 1840. This most likely is a son of Henry the soldier and Anna Margaretha. But, the information on their children is sketchy, since in my paper archives (based on possibly flawed information) I have only recorded three daughters. Be that as it may, we can be sure that John Henry Spengler served as a private in a Berks County militia as did others of Andreas Hagenbuch's family.
These two articles about the patriotic service of Andreas Hagenbuch's six sons-in-law and the previous articles in 2017 about the service of Andreas' four sons begin to form a snapshot of a family that was affected by the Revolutionary War— a war that we Americans use as a standard for our independent way of life. Did these 10 men, four brothers and their six brothers-in-law, ever sit together and discuss the experiences they had from 1775 to 1781? Did the seven of them who actually served in military units ever talk to the other three (who waited at home in Berks County) about their decision not to march away to do battle? Did those seven ever discuss with each other or curious family members how they saw the red coats of the British and possibly even saw General Washington himself leading troops into battle?
We can only imagine that although these 10 men of our family may not have been together all at the same time to reminisce about the great events of that time period, at least they shared what they remembered with Andreas Hagenbuch and their immediate families. We must look to these men, and just as much to their wives who experienced the same fears and hopes for the future, to begin our own journey as we honor and preserve America's fight for independence. These folks are our example. Remember their names and their deeds, so we never forget our heritage of freedom.