Andreas Hagenbuch's Sons-In-Law: Were They Soldiers?, Part 1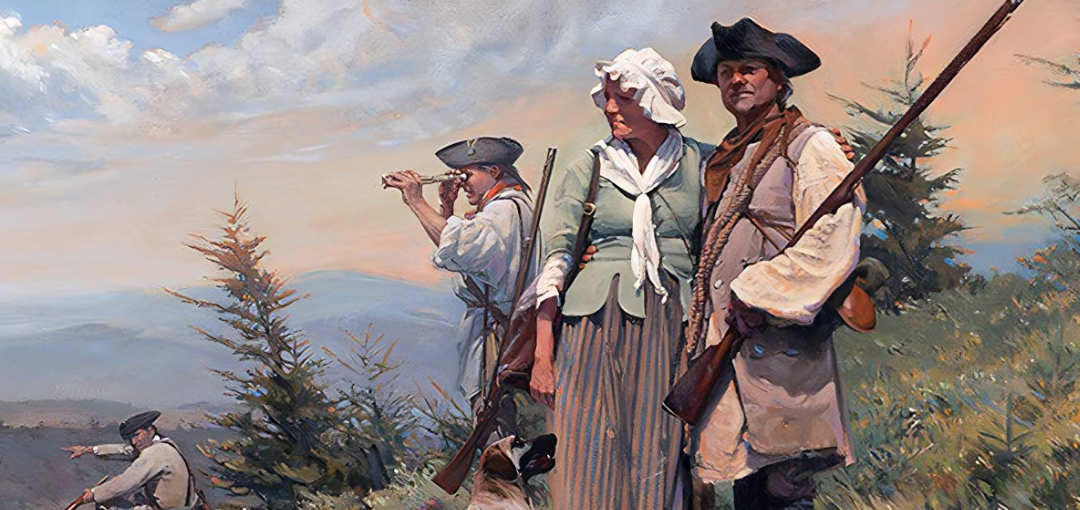 Between March and April of 2017, three articles were written about the Revolutionary War service of the patriarch Andreas Hagenbuch's four sons: Henry (b. 1737), Michael (b. 1746), Christian (b. 1747), and John (b. 1763). Readers should go back and reread those articles to prepare for the following information about Andreas' daughters' husbands: the sons-in-law.
For our American history, we are beginning to celebrate the 250th anniversary of important events that led up to the "shot heard 'round the world," that fateful day on April 19, 1775, when common citizens stood toe to toe with British soldiers on the green in Lexington, Massachusetts and at the Concord town bridge in the same colony. Those sons of liberty were angry about several issues which, in their opinion, showed they were not being treated as citizens of a country that had always supported them. So, they revolted, set up their own government, and raised an army to fight for their "inalienable rights."
We believe that Andreas Hagenbuch supported the belief that an American government would be better than being governed by a king and parliament 3,000 miles away. Of course, know that his four sons believed this, since they served the new country, the United States of America, as soldiers. But, what do we know about the husbands of Andreas' married daughters? Did they also serve as soldiers to lay their lives on the line for the new, infant country?
Andreas had six sons-in-law: John Brouss married to Catharina (b. 1739), Conrad Schissler married to Anna Maria (b. 1745), John Stapleton (b. 1745) married to Maria Magdalena (b. 1750), John Adam Reichelderfer (b. 1741) married to Anna Elizabeth (b. 1754), Jacob Michael Kistler (b. 1751) married to Christina (b. 1759), and John Henry Spengler (b. 1747) married to Anna Margaretha (b. 1761). Unfortunately, there is less information about several of the daughters and their husbands than what we have for Andreas' four sons. Whereas, the military service of the sons could be readily researched, it is more difficult for the sons-in-law.
Take for example Catharina Hagenbuch's husband, John Brouss. The Brouss family lived beside the Hagenbuchs in Albany Township, Berks County, Pennsylvania. But, we do not have any other specifics on John, and even his first name may be incorrect. Research on the name Brouss yields an Isaac "Bross" from Lancaster County who served in the 9th Pennsylvania Regiment and saw action in major battles. Of course, this could be our "John Brouss." Maybe he fell in with Lancaster County lads to serve.
That said, the others in this regiment do not have surnames which are familiar to Albany Township. It was common for men to sign up to serve with those who were friends. Also, if this son-in-law was possibly born around 1735 (making him a few years older than Catharina), by the time recruiting started in Pennsylvania he may have been 40 years old—not the youngest fellow to keep up with young privates! Without further research, one should probably believe that Andreas' son-in-law, John Brouss, did not provide military service during the Revolutionary War.
The evidence is compelling that Andreas' daughter, Anna Maria (b. 1745), married Conrad Schissler. The Schisslers were neighbors of Andreas at the homestead in Albany Township. As with other marriages, Anna Maria didn't look far from home to find her mate. Our records do not show a birth date for Conrad but a death date that has to be correct is 1776. Conrad's will was probated in March of 1776 and Anna Maria is stated as his widow with witnesses being Andreas Hagenbuch and William Stumpf. It is highly unlikely that Conrad would have served in any militia or regiment during the Revolutionary War, if he died before March 1776. The reason for this is that the British troops were still in Boston and did not sail into New York City harbor until August of 1776.
There is some other information provided by the Sons of the American Revolution (SAR) which is also cited in the Monnet Family Genealogy, published in 1911. It contains details about Berks County families and states that Conrad was born in 1716 and died in 1786. If this is true, then he could have served in the Revolutionary War but would have been 60 years old when the conflict came to the middle colonies. Also, I personally question the birth date of Conrad as 1716. This would mean that he was almost 30 years older than Anna Maria Hagenbuch!
The final nail in the SAR's coffin for Conrad comes from the reference that the SAR used for his death date. They cite the probating of the will in March of 1776! In other words, a mistake was made by someone who wanted to join SAR by submitting a death date of 1786 instead of 1776. With this hard evidence, namely the probating of Conrad Schissler's will, we can be fairly sure that this son-in-law of Andreas did not serve in the American war for independence.
Andrew and I are not completely certain that Andreas's daughter Maria Magdalena (b. 1750) married John Stapleton. As Andrew has noted in the information in Beechroots, it was previously thought that Maria Magdalena married a Brobst. Since there is no evidence of this other than an uncited note on an old family tree, it was then believed that she married William Stumpf (possibly the Stumpf mentioned as a witness to Conrad Schissler's will probate). Additionally, "William and Magdalena Stumpf" are named as sponsors of a child's baptism at New Bethel Church in 1777, providing some evidence that they were married.
But, as Andrew further writes in Beechroots:
New research suggests it is more likely that Magdalena married John Stapleton. . . .John Stapleton and Magdalena Hagenbuch were sponsors in 1773 for [the baptism of Mary Magdalene Stapleton at Friedens White Church]. In 1777 at New Bethel Church "John and Magdalene Stapleton" had a child named John. . . .The connection is further strengthened when in 1782 at New Bethel Church Michael and Eva Elizabeth Hagenbuch have a daughter, Maria Magdalene, baptized. The sponsors were "John Stapleton and wife." This wife is believed to be Maria Magdalena Hagenbuch, sister of Michael.
Based on primary research, we believe that the third son-in-law for Andreas was John Stapleton (b. 1745, d. 1809) who was married to Maria Magdalena Hagenbuch. The Stapleton family, although of English ancestry, lived among the Pennsylvania Germans of northern Berks County. It has been suggested through unsupported information that Andreas' daughter, Anna Barbara, was his eldest child and was married to Tobias Stapleton. However, we contend that Anna Barbara was the youngest child, that she was born around 1764, and that she never married. Since we believe her birth date to be 1764, it is unlikely she was married to Tobias who was born in 1717 (approximately 47 years her senior).
Because we know the Stapletons were neighbors to the Hagenbuchs, we can begin to search for war time service for that family. John Stapleton was approximately 30 years old when the Revolutionary War began to heat up in Pennsylvania. We know that Andreas's oldest son, Henry, whose war service has the most evidence, was commissioned a lieutenant in a Northampton County, PA militia in 1775. When it was known that the British were on their way to New York City in the summer of 1776, Henry was commissioned as a captain of a "flying camp" from Allentown, PA. That summer is when the defense of Pennsylvania heightened and recruitment intensified.
Once again, we turn to SAR information concerning the Stapletons. A John Stapleton Jr. is listed by the SAR as a first lieutenant in Captain George Focht's company of the First Battalion, Berks County. However, not only do this John Stapleton's birth and death dates (b. 1751, d. 1820) not match what we have for Maria Magdalena Hagenbuch's husband, but it is listed that his wife was Rosina Miller. So, this John Stapleton is not Andreas' son-in-law.
To muddy the waters even more, research done in 1936 by Ruth Rinkenbach gives us evidence that our John Stapleton was the son of Tobias Stapleton. As mentioned above, a Tobias Stapleton was never married to Andreas's youngest daughter, Anna Barbara. But Ruth Rinkenbach's research (whose research has been spot on in other areas) has our John's father as Tobias and John married to Maria Magdalena Hagenbuch. As Andrew wrote to me, "The Stapleton lines are tough." Although we contend that there were Stapletons who were in military service during the Revolutionary War, we have no evidence that our John Stapleton served.
To review: there is no evidence that the first three of Andreas Hagenbuch's sons-in-law—John Brouss, Conrad Schissler, and John Stapleton—served in the military during the Revolutionary War. This does not mean that they couldn't have aided in other ways. They certainly were at the ready to defend their properties and families. They could have provided food for soldiers. They could have supported the cause for freedom from Great Britain with discourse, and they certainly would have supported their brothers-in-law, Andreas' four sons, in many ways.
In John Milton's famous 1667 poem Paradise Lost, we find a line which may describe the husbands of Andreas' eldest daughters. Milton wrote, "They who serve also stand and wait." The meaning of this? Not all people in their service to God and Country travel from home to be active in attempting great deeds. Folks who stand by their homes and protect what they cherish are also of importance.
In the next part in this series, we will explore the next three sons-in-law of Andreas Hagenbuch. While the first three most likely stayed in the Berks County area to protect their homes, the other three were active in military service.