Andreas Hagenbuch's Soldier Sons: Part 2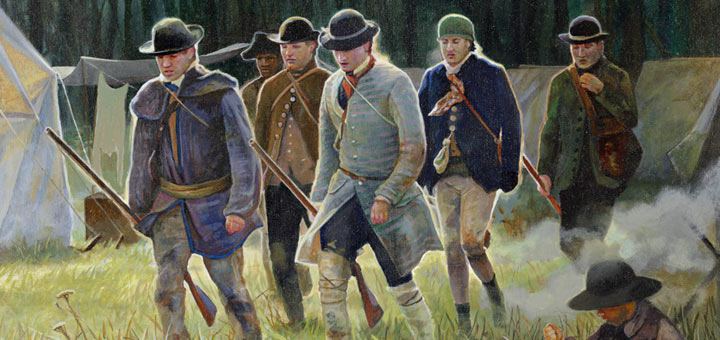 Andreas Hagenbuch acted as an example for his sons by providing military service to early America. Not only did Andreas provide patriotic service during the Revolutionary War, he also had a history of providing protection for his neighbors during the French and Indian War along with, at least in one instance, housing soldiers at the homestead.
Enough detailed information exists on Andreas's eldest son, Capt. Henry Hagenbuch, to retell his fascinating story in part one of this series. The remaining three sons' military records are also interesting, demonstrating that like their father they were patriots in their beliefs and actions. The second part in this series will deal with Andreas's second and third sons: Michael and Christian.
Michael Hagenbuch (b. 1746 d. 1809) is listed as "Michael Haagenbach" in the Pennsylvania Archives. He served from 1777 to 1778 in the Pennsylvania militia, 3rd Battalion, Capt. Ferdinand Ritter's Company, Albany Twp., Berks Co. There are many familiar names in this Company – names of men who were tied by friendship and marriage to the Hagenbuchs: Beley (Bailey), Braucher, Kistler, Knopper (Knepper), Kuntz, Probst (Brobst), Reigleadorfer (Reichelderfer), Schisler, Stepleton (Stapleton), and Stump. The roster is a veritable "Who's Who" of Allemangel men who were associates of the Hagenbuchs.
Capt. Ritter's Company was part of the Pennsylvania militia system which was dedicated to protecting the boundaries of the state. This could mean ranging to areas inside and outside of Berks County to several of the frontier forts, delivering supplies, posting different soldiers for a short time, and generally keeping an eye out for any type of British or Indian activity (most American Indian tribes at that time period were allied with the British).
It was most important to protect the state of Pennsylvania from British invasion between the summers of 1777 and 1778 as that is when the British occupied Philadelphia and engaged in the battles of Brandywine and Germantown. This period of battle activity for Pennsylvania concluded when the British marched out of Philadelphia in June of 1778 engaging the Continental Army at the battle of Monmouth.
Private Michael Hagenbuch and his neighbors under the command of Captain Ritter probably ranged far and wide, not only to some of the local forts such as Everett and Henry, but also west, north, and south of Valley Forge, the camp for the regular army during the winter of 1777 to 1778. It is a fact that militia units were used to support the regular army in the battles of Brandywine, Germantown, and Monmouth. More research may yield information that Capt. Ritter's company from Albany Twp., which included Michael Hagenbuch and his neighbors, were in those decisive engagements.
It is assumed that Michael's stint in the Pennsylvania militia ended in 1778 as he is not listed in later rosters. However, he is listed in the Pennsylvania Archives as paying a "supply tax" that was asked of those who were not in active military service. He paid this tax in 1779, 1780, and 1781. For this, the Daughters of the American Revolution list Michael, just like father Andreas, as providing patriotic service during the American War for Independence.
Andreas's third son, Christian Hagenbuch (b. 1747 d. 1812), served as a private in the 6th Company, 4th Battalion, from Allen Twp., Northampton Co., commanded by Capt. John Ralston and Colonel John Sigfrit (Siegfried). His service began on May 14, 1778 and he is listed as "Christian Hagenbaugh".
It was Colonel Siegfried who George Washington depended on for matters pertaining to Northampton County during the campaign of 1777 to 1778. In the fall of 1777 the militia of Northampton county took part in the battles of Brandywine and Germantown. In June of 1778 they were involved in the battle of Monmouth, the first battle of the war in which the Americans stood toe to toe in their fight with the professional British Army. Since Christian was in the Northampton militia during that time, it is assumed that he saw action in those battles for American freedom.
Researching family history always seems to reveal as many questions as answers. Along with Christian Hagenbuch listed in the roster of Capt. Ralston's 6th Company is a "Jacob Hagenbaugh". There is only one Jacob Hagenbuch who fits into this time period and that would be a son of Capt. Henry who was born in 1765. Yet, when this company was formed in 1778, Jacob would only have been about 13 years old, most likely too young to serve even in the militia unless he lied about his age and was a large boy.
Getting away with lying about one's age would probably be rare since the militia companies were made up of neighbors and friends (and uncles, in the case of Christian and Jacob) where everyone knew each other very well. Could it be that Jacob was allowed to "join up" at only 13 years of age because of his Uncle Christian's voucher and possibly his sturdy frame?
Unlike his older brother, Michael, Christian continued in active military service. He is listed (this time as "Christian Hagenbugh") in the 1780 roster of privates belonging to the 5th Company, 3rd Battalion of the Northampton County militia serving under Captain Adam Clendinen. By 1780 there was little or no battle activity in Pennsylvania because part of the British army was housed in New York City and the other part was fighting in the south to control the Carolinas and Virginia. Most likely Christian's service during this time consisted of drill, moving supplies, long hours on watch, and boredom. However, future research may show that Clendinen's company was posted outside Pennsylvania during this time.
Part three of this series will detail the military service of Andreas's youngest son, John (b. 1763), whose military service may be the most interesting of all.