Daniel Schumacher's Baptism and Confirmation Records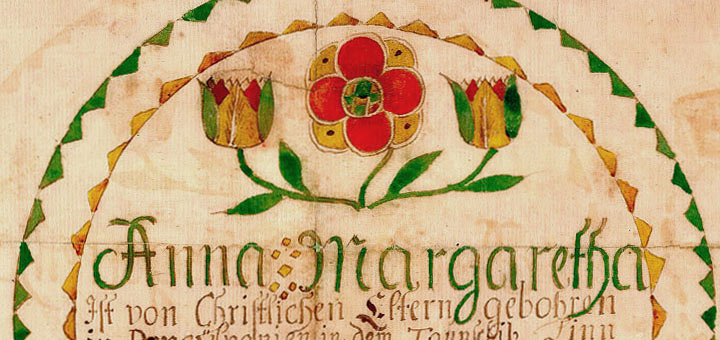 While researching fraktur art and the creation of Taufscheine in Pennsylvania, the name of Daniel Schumacher appeared again and again. Though it was determined that he was likely not the designer of Anna Elizabeth Hagenbuch's fraktur, it was uncovered that he had contact with her father, Andreas, and several other Hagenbuchs.
According to Frederick Weiser, Daniel Schumacher was born around 1729 in or near Hamburg, Germany. He arrived in Nova Scotia in 1751 aboard the Speedwell and spent time in the towns of Halifax and Lunenburg. In the ship's record book, it is noted that Schumacher was a "Candidate of Theology," meaning that he had studied at a university to become a minster, yet was not ordained.
Once settled in Nova Scotia, Schumacher married. However he quickly abandoned his new wife, claiming that she was homely in appearance and that he was coerced to marry her while drunk. After this questionable episode, he quickly made his way south to New York City and then to Philadelphia.
There he was introduced to Henry Melchior Muhlenberg, who led what would eventually become a synod of Lutheran clergy in Pennsylvania. Muhlenberg had an immediate need for Schumacher's skills and sent him to minister in and around Reading, Pennsylvania.
From here it could be said that Schumacher went rogue and began defying Muhlenberg's orders. Within a year, he moved north and served as pastor for a number of small churches along the Blue Mountains in the Allemangel region of Berks and Lehigh Counties. This included the Jerusalem Red Church and Egypt Church. In addition, he preached one Sunday in April 28, 1763 at New Bethel Church near the Hagenbuch homestead.
During this time, Daniel Schumacher married again – this time to a woman named Maria Elizabeth. Together they would have at least seven children. The family settled in Weisenberg Township, Lehigh County, Pennsylvania, though Schumacher ministered to Lutheran churches throughout the region. His record book indicates that he baptized nearly 1700 children and confirmed many others. For some of these, he made Taufscheine, which were beautifully illustrated in the fraktur style.
Nevertheless, Schumacher's deeds finally caught up with him in 1770. It was around this time that Muhlenberg became aware of his activity in the Allemangel area. There were complaints of him drinking excessively, cursing, lying, and even once ordaining a man without having been ordained himself. The latter was especially irksome to Muhlenberg who saw it as an attempt to subvert authority. In his journal, he referred to Schumacher as "…a scandalous vagrant preacher."
Muhlenberg moved to reestablish authority of the congregations in Allemangel. He dismissed Schumacher and sent new preachers to minister to its churches. Yet, Schumacher had his supporters in the area. These left to form a new congregation called the Friedens White Church and appointed Schumacher their preacher. Here he served until 1777, when his handwriting disappeared from its records.
Daniel Schumacher died in 1787. Curiously, his will shows that he left one of his daughters a book by Johann Arndt titled Paradies Gärthlein (English translation: Garden of Paradise). Andreas Hagenbuch was also a reader of Arndt's writing and left his son John a copy of the book Wahres Christentum (English translation: True Christianity).
Below are several entries from Daniel Schumacher's record book which include mentions of Hagenbuchs.
---
Baptisms
25th May 1755
Johann Andreas Bely, 2 years old baptized at home in Allemangel
Parents: Frantz and Christina Bely
Sponsors: Andreas and Maria Margaretha Hagenbuch
25th May 1755
Johann Martin Bely, 1 years old baptized at home in Allemangel
Parents: Frantz and Christina Bely
Sponsors: Andreas and Maria Margaretha Hagenbuch
*Fraktur made
1st January 1756
Johannes Hagenbuch, emergency baptism in Allemangel
Parents: Andreas and Maria Margaretha Hagenbuch
Sponsors: Johannes Brauss, Magdalena Friedlerin (single)
23rd April 1758
Johann Heinrich Witt in Allemangel
Parents: Johannes and Maria Margaretha Witt
Sponsors: Heinrich Hagenbuch, Magdalena Stabeltons
12th March 1759
Maria Margaretha Ruprecht, 3 months old in Allemangel
Parents: Heinrich and Maria Catharina Ruprecht
Sponsors: Andreas and Maria Margaretha Hagenbuch
*Fraktur made
20th September 1759
Christina Hagenbuch, 3 weeks old in Allemangel
Parents: Andreas and Anna Margaretha Hagenbuch
Sponsors: Jacob Hagenbuch, Magdalena Friedlerin (single)
13th September 1761
Elizabeth Margaretha Ruprecht
Parents: Heinrich and Maria Catharina Ruprecht
Sponsors: Andreas and Maria Margaretha Hagenbuch
*Fraktur made
Confirmations
1761 in Allemangel
Michael Hagenbuch
Maria Hagenbuchen
---
There are several things worth noting from the above records:
First, in 1755 Daniel Schumacher documented the creation of Johann Martin Bely's fraktur, which was featured in a previous article. His records also show that Andreas Hagenbuch's name was given to an older Bely (Bailey) boy, Johann Andreas Bely.
Second, an emergency baptism for Johannes Hagenbuch is listed in 1756. This likely means the child was sick and died shortly thereafter. Interestingly, we know Andreas and his wife would eventually have another son, John, in 1763. It would, therefore, appear that the family was not in opposition to reusing a child's name if it died early on.
Finally, Schumacher's records reveal the names of (Philip) Jacob Hagenbuch (Andreas's younger brother) and Magdalena Friedler (likely a sister of Maria Margaretha "Friedler" Hagenbuch), along with three of Andreas's children Heinrich (Henry), Michael, and Maria.
Though a controversial figure during his time, Daniel Schumacher's baptism and confirmation records capture important information from the Allemangel region of Pennsylvania during the 18th century. Future articles will continue to explore the relationships between the people and families mentioned there.