Columbia County Cousin Connections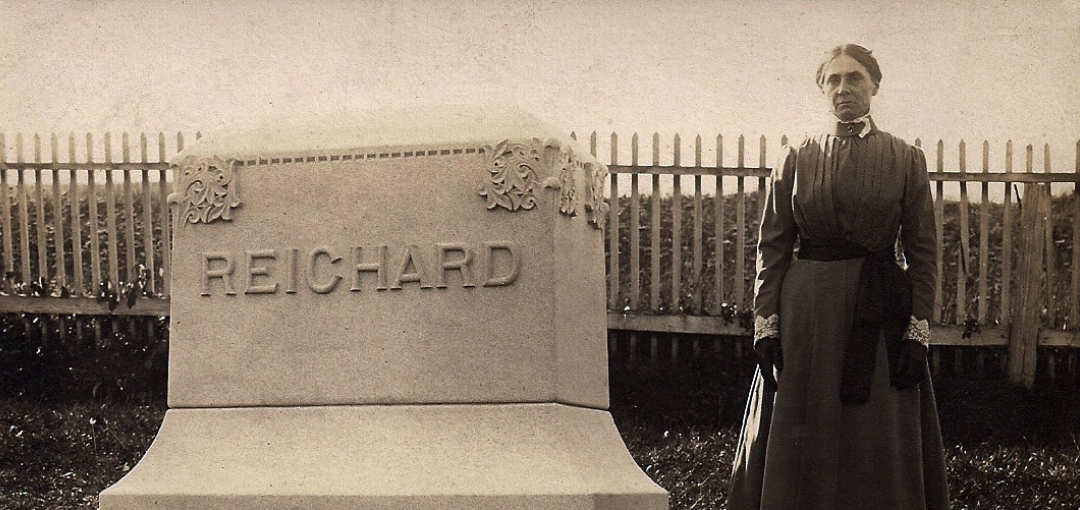 In several articles Columbia County, Pennsylvania has been touted as one of the hotbeds of Hagenbuchs and related families. Most recently, Andrew wrote about the migration of Hagenbuchs into Columbia County. I have mentioned in a few articles that when I was growing up in Montour County we knew there were Hagenbuchs and cousins living in Columbia County, but the connections with them were basically nonexistent.
As more and more research is completed, we find that our Columbia County families were numerous and interconnected. Family names connected to our Hagenbuchs in this area are Fowler, Wolfe (Wolf), Hess, Freas, Creveling, Fetterolf, and Creasy, just to name a few. Another common connection is the Reichard family.
Two sisters, Matilda Hagenbuch (b. 1850) and Emma Hagenbuch (b. 1854) whose father was William Hagenbuch (b. 1807) married respective brothers: Elias Reichard (b. 1841) and John Reichard (b. 1843). Previous articles have been written about these folks which should be reread to gain perspective on the Reichards.
Recently, while inputting information into Beechroots on the Isaac Hagenbuch family—Isaac (b. 1801) who was the son of Henry (b. 1772)—I came across a James Reichard. As one knows from Andrew's article on the migration of Hagenbuchs into Columbia County, this Henry, grandson of Andreas (b. 1715), was the earliest Hagenbuch to move to Columbia County in 1802. Henry and his wife Mary (Wolf) Hagenbuch had eight children, one of which is my own great great grandfather William (b. 1807). Their eldest son was Isaac. Isaac and his wife Salome (Knepper) Hagenbuch had four children: Michael (b. 1822), Mary Ann (b. 1830), Henry (b. 1833), and William (b. 1838).
William was married to Mary Elizabeth Hutchison and they had five children: Clara (b. 1862), Mary Alice (b. 1864), Boyd (b. 1867), Eva Jane (b. 1873), and Hiram C. (b. 1876). Both Mary Alice and Hiram C. died without marrying and are buried at Laurel Hill Cemetery, Orangeville, Columbia County with their parents. Boyd married Lula Ruckle and also are buried at Laurel Hill. They had one daughter Florence (b 1912, d. 1989) who never married. Eva Jane married Coriel Hess. They did not have children and are also buried at Laurel Hill.
It was William and Mary Elizabeth's eldest child, Clara, whose information piqued my interest. She married James Emmitt Reichard in 1885. They had no children. Clara died in 1940 and James in 1910. Of course, the name Reichard led me to do some digging on James' family. Researching Findagrave information provided by Bloomsburg resident Shaun Creighton as well as census records, I found the connection I had hoped for. James was the nephew of Elias and John, previously mentioned as marrying the Hagenbuch sisters, Matilda and Emma. It should be noted that Matilda and Emma are my great great aunts, since their brother was my great grandfather Hiram Hagenbuch (b. 1847). James' father, Simon Reichard (b. 1836), was the elder brother of Elias and John.
James and Clara (Hagenbuch) Reichard are buried at Laurel Hill Cemetery. A note on James in Findagrave written by Shaun Creighton states:
Clara (Hagenbuch) Reichard was the wife of Jim Reichard a successful commodities broker. They had a good marriage, but had no children. They lived at the farm/residence now called The Inn at Turkey Hill on the edge of Bloomsburg, Pennsylvania. Clara was owner of the property for over half a century until her death in 1940. Then the property was purchased by the Eyerly family who own the Press Enterprise Newspaper. They turned the property into an Inn and restaurant in the mid-1980's.
To make a genealogical connection, the two Reichard brothers—Elias and John—and their nephew—James—married three Hagenbuch ladies, two of which were sisters. Sisters Matilda and Emma, married to Elias and John Reichard, were first cousins once removed to Clara, who was married to James Reichard. Much of this Reichard family information is thanks to Shaun Creighton, an expert genealogist, who has corresponded with me on the Reichards. Shaun's great great grandmother, Ellen (Reichard) Beagle, was a sister to Elias, John, and James' father, Simon. A future article is planned using the wealth of information that Shaun has collected on this interesting family.
These connections are always exciting for genealogists to find, although they often present a bit of an entanglement of relationships. This is just one example of the many entangled lines in our family from Columbia County, Pennsylvania.