The Mystery of Tillie and Elias Reichard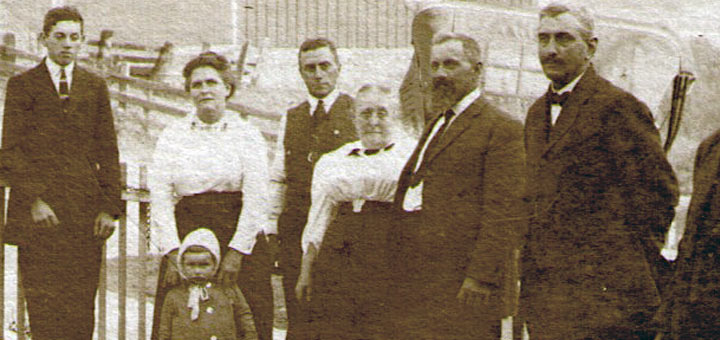 Matilda "Tillie" Hagenbuch was born on October 20, 1849 in Columbia County, PA and was the daughter of William (b. 1807) and Rebecca (Muffly) Hagenbuch. Tillie was married to Elias Reichard and is buried at Oak Grove Lutheran Church Cemetery in Montour County near to where her parents moved in 1853 from Columbia County. Ever since I was a boy I have wondered about Tillie.
She is buried in the family plot in the family church cemetery which I attended during my early years. This was the cemetery that I walked with my great Uncle Perce as he told me stories about my ancestors. But, Tillie's story was never mentioned by Uncle Perce nor by my father's cousins—Bruice, Andy, and Julia —who knew so much about the family history.
Tillie is buried without her husband, Elias Reichard, beside her. Although this was always curious to me, it wasn't until last year while researching information for another article that I finally did some research on Tillie and Elias. I opened up Ancestry.com and began to search census records, death certificates, marriage records, and grave sites.
I knew from what Bruice and Julia told me that they didn't have any children and that Elias Reichard was the brother to Tillie's sister's husband. Elias Reichard's brother was John Reichard (b. 1843) and was married to Tillie's sister, Emma Frances Hagenbuch (b. 1854), the youngest child of William and Rebecca Hagenbuch. We have photos and stories about the other children of William and Rebecca: Mary Ann (b. 1842) married Tilman Foust; Hiram (b. 1847) married Mary Ann Lindner; Joseph (b. 1852) married twice, first to Sarah Robbins and second to Mary Emma Robbins; and Emma Frances (b. 1854) married John Reichard. However, we know little about Elias and Tillie Reichard. It is also curious that Elias isn't buried beside her.
What I found solved the mystery, but it didn't completely close the case. A record of Tillie and Elias' marriage was found. They were married on October 20, 1890 at the house on the farm where her parents moved to in 1853. William died in 1879, though Rebecca was still living in 1890. Tillie had just turned 41 years old when she married and, most likely, was living in that house taking care of her 85 year old mother.
Did she continue to live there with her mother, Rebecca, and did Elias move in with them? We don't know. Rebecca died in 1896, and we know that, according to the census, in 1900 the couple was living in Orangeville, Columbia County, PA.
According to Tillie's death certificate, she died on March 24, 1920 of Bright's disease. It lists her as widowed, no mention of her spouse's name (death certificates list parents' names but not a spouse's name). The person reporting the information for the death certificate was J. (John) Raymond Reichard who was her sister Emma Frances (Hagenbuch) Reichard's son. Internment was at Oak Grove Cemetery on March 27, 1920.
My thought was that maybe there was a rift in the marriage of Tillie and Elias so he wished to be buried with the Reichards and she with the Hagenbuchs. Tillie's sister and brother-in-law, Emma Frances (Hagenbuch) and John Reichard, are buried at Dutch Hill Cemetery in Columbia County, PA. A search of that cemetery reveals others of the Reichard family buried there, but not Elias.
I searched through Ancestry.com for other death certificates. However, Pennsylvania death certificates are not listed before 1906. If Elias died before that year, there would be no death certificate listed in Ancestry.com. But, in searching for that, I ran across a death certificate for an Elizabeth Poust of Columbia County which lists Elias Reichard as the father; and the mother is listed as Jane Masteller! It seems that Elias was married before his marriage with Tillie, which also explains their older ages when married in 1890—Tillie was 41 and Elias was (b. 1841) was 49.
Further census research reveals that in the 1870 census Elias Reichard was living with Jane Reichard and a 2 year old child, Elizabeth. I went back to the death certificate of Elizabeth Poust which tells us that she was born in 1868 making her two years old in 1870.
Andrew and I have found other instances where spouses are not buried together because of previous or later marriages. Elias Reichard must be buried with his first wife, Jane (Masteller) Reichard. I suspected he died before 1906. But where are Elias and Jane buried?
So one mystery was solved: Tillie's husband Elias Reichard was married previously and is most likely buried with his first wife, Jane. We found the reason but still had no burial place. I searched the cemeteries online for Columbia and Montour Counties—no Elias or Jane Reichard. I also searched through the cemeteries where Reichards and Mastellers are buried—no Elias or Jane Reichard.
Yet, an even deeper mystery was nagging at me. Tillie died in 1920. Many of the relatives that were her contemporaries never spoke of her to me. Is there a family story here yet to be uncovered? Was Elias not accepted by the Hagenbuch family, even though his brother John was always looked on as a valuable family member? Or, was I never told anything as a boy because I just didn't ask any questions about Tillie?
I decided to look through my photo archives on the Reichard family to see if I missed something over the years. As mentioned several times, I have hundreds of photos, many given to me by Bruice and Julia when I was a young man. As I went through the photos, I found a photo with writing on the back: Elias Reichard! It is a formal photo, but I have no companion photo of Tillie that might have gone with it.
Then, I remembered a photo I had seen depicting some people I never identified. It is marked on the back: "Mostly Reichard Family." Sure enough I can identify Elias Reichard and standing beside him is a woman I had always glanced over. This must be Tillie! The photo also contains John and Emma Frances (Hagenbuch) Reichard. While a treasure before, now this photo is like gold!
Furthermore, in the same packet of Reichard photos is a funeral card for Elias Reichard and one for Mrs. Elias Reichard. Elias' death is listed as 1902. Mrs. Elias Reichard's death is listed as 1888, not Tillie's death date of 1920. So, this funeral card is for Mrs. Jane (Masteller) Reichard, Elias' first wife. Another treasure found.
Through this research exercise, much more has been found out about these two people. I only wish I had asked questions about their lives before those who knew them passed away. Moreover, the research for this article has opened up a whole new line of searching for answers about a couple whose lives deserve to be remembered. No stone should be left unturned in the genealogist's task to keep the memory of a relative alive.