Seeing Double: The Hagenbuch Twins of 1792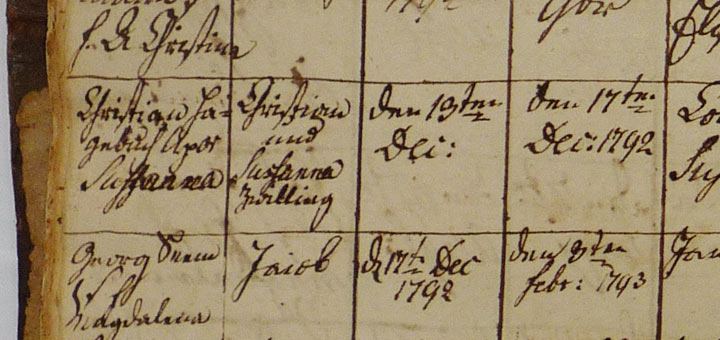 Several years ago, while researching family history, I stumbled upon a typed list of births and baptisms from Zion Stone Church in Kreidersville, Pennsylvania. The list had been compiled by the Dreisbach Family Association for their 2001 reunion, since many of their ancestors are buried at the church. There are Hagenbuchs buried there too.
In fact, at least two Hagenbuch families attended Zion Stone Church in the late 1700s. Christian Hagenbuch (b. 1747) and his wife Susanna (Dreisbach) Hagenbuch (b. 1756) went there. As a result, all of their children can be found in the church's records.
John Hagenbuch (b. 1763), the younger brother of Christian, and his wife Magdalena (Dreisbach) Hagenbuch (b. 1766) were also members, until they moved to Columbia County, PA around 1805. Many of their children were baptized at the church as well.
In the transcribed version of the records, one entry caught my eye—the birth of two Hagenbuchs, noted as twins, on December 17, 1792. The names of the twins were listed as Christian and Susanna. They were baptized two days later on December 19th, though no parents or sponsors were recorded. No additional information about the two could be found.
The twins raised a few questions: Who were the parents of these children, and were the twins' names really Christian and Susanna? It seemed unlikely that Christian and Susanna would have named the children after themselves. Yet, John and Magdalena has a son, Jacob, born in 1792, making it unlikely that they were the parents. More research was needed.
For several years these questions lingered, and my father, Mark Hagenbuch, and I wondered if they would ever be sufficiently answered. Our first break came in 2016 when my father spoke with Barry Lerch, a records keeper at Zion Stone Church. Barry confirmed that Lutheran birth and baptism books were still in the church's archives, even though the congregation had changed to United Church of Christ some years prior. This was exciting news, though it would be several more years until we were able travel to Kreidersville and meet Barry.
Finally, in August of 2018 my father and I made it to Zion Stone Church. After exploring the cemetery for a while, we met Barry, and he led us to a filing cabinet where the archives were stored. Rummaging through a drawer, he pulled out a couple of old, leather bound books. My father and I took them into a room where we could see them under better light.
We immediately realized these were, indeed, the church's original birth and baptism books from the late 1700s. What a find! Leafing through the yellowed pages we saw writing, in German script, documenting children's births, baptisms, parents, and sponsors. The Dreisbach family's transcription had been incomplete. All the information we were looking for was in the original books.
On one of the pages, we found the entry for the twins, Christian and Susanna. A translation of the text is as follows, moving from left to right:
Parents: Christian Hagenbuch and Apa Sussanna
Child: Christian and Sussanna, Twins
Baptism: December 19, 1792
Birth: December 17, 1792
Sponsors: Conrad Fuchs and Sussanna Webern
So it was, without a doubt, that the twins were born to Christian and Susanna (Dreisbach) Hagenbuch. My father and I were excited to know this, but we couldn't help but wonder what became of the two. Indeed, neither is mentioned in Christian's will from 1812, indicating they likely died before that year.
Another clue comes from the date of the baptism. December 19, 1792 was a Wednesday, meaning the twins has been born two days prior on a Monday. Might the two have been born premature and, seeing that they may not survive, the family moved to have an emergency baptism performed?
This appears to be the most likely answer and may even explain why they were named Christian and Susanna. Knowing the twins would not live long, their parents named the tiny infants after themselves—a token of their love.
Two final discoveries were made while investigating the Hagenbuch twins. First, Barry Lerch confirmed that one portion of the Zion Stone Church cemetery was without headstones. Here, are rumored to be buried many children, and this could be the final resting place of young Christian and Susanna. Second, like many women of the 1700s, Christian's wife Susanna had a spiritual name, Apa, which today is better known as Eva.
Some family mysteries can never be solved, while others take many years to investigate and answer. Though we cannot know for certain what happened to the Hagenbuch twins of 1792, my father and I do feel satisfied having discovered who their parents were and where they fit on our Hagenbuch family tree.
Special thanks to Barry Lerch for graciously allowing us to view the church records and to Patrick Donmoyer for helping to translate parts of these.