The Eyes Have It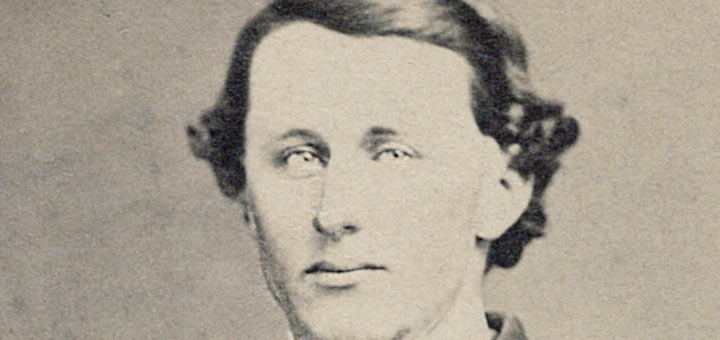 There is a genealogical approach that distinguishes a "name and date only" genealogist from what I would call a "family" genealogist; and I would classify Andrew and myself as the second type. A family genealogist is interested in recording the personal stories behind ancestors and searching for details that make those people come alive. Andrew and I question why our ancestors did certain things, what physical or mental characteristics impacted their life choices, and even if illnesses, financial issues, and personal relationships influenced how they lived their lives.
This has often come to mind for me as I look at pictures of my great grandfather, Hiram Hagenbuch (b. 1847) and his sisters. In researching the article, The Mystery of Tillie and Elias Reichard, I realized (as I have other times) that these folks had some interesting eyes. We only know of two photos of Hiram and the sharpest one shows his eyes as being "sleepy." In a photo of Hiram's oldest sister Mary Ann (Hagenbuch) Foust, one eye is larger than the other. Photos of his youngest sister, Emma Frances (Hagenbuch) Reichard, reveals "sleepy" eyes. And, in the recently found photo of his sister Matilda "Tillie" (Hagenbuch) Reichard, the eyes look large and puffy.
Always trying to make connections, I went back in time to a curious eye reference. In Andreas Hagenbuch's will he leaves an extra 10 pounds (110 total) to his daughter Magdalena because of "faults in her eyes." Were these "sleepy eyes" or protruding eyes? Is there a family trait of eye problems that was passed down through the generations to Hiram and his sisters?
I called my local eye doctor, Joe Bytof of Dillsburg. His opinion was that "faults in the eyes" probably referred to cataracts. Andreas may have realized that his daughter Magdalena would need help in getting around as the cataract issue grew worse, hence the extra 10 pounds he willed her. Cataracts can be inherited (Mendelian cataracts), but they commonly occur in some members of most families. And, we don't believe that the eye issues seen in Hiram and his sisters were caused by cataracts.
So, what research can be done to check on the eye issues of Hiram and his sisters? Did the four siblings have any medical conditions which affected their eyes?
According to her death certificate, Tillie died of Bright's disease, also known as nephritis. Bright's is a kidney disorder that can cause the body to swell, especially the face, legs, and feet. Although the picture we have of her isn't the clearest likeness, Tillie's facial feature of puffy lids and large eyes are probably the cause of Bright's disease which is known to not be hereditary. Strike one against Tillie having a hereditary eye condition.
Her sister, Mary Ann (Hagenbuch) Foust, died in 1904. Since death certificates for Pennsylvania were not recorded until 1906, we have no way to officially know what she died of. That said, her one protruding eye may have been caused by Grave's disease.
Graves' disease is an autoimmune disorder. It causes the thyroid gland to create too much thyroid hormone in the body which makes the eyes "pop" or protrude. The inheritance pattern for Grave's disease is unclear, but it is certainly not related to a sleepy eye or to Bright's disease. Strike two for Mary Ann's eye issue connected to sleepy or puffy eyes.
Hiram died in 1897, before death certificates were recorded. However, the cause of his death is listed in his obituary. Both he and his son, Henry Bruce, are reported to have died of typhoid fever. Henry Bruce was 21 years of age and died on July 10, 1897. Hiram, who was 50 years old, died the next day on July 11.
Typhoid fever is caused by bacteria in water and food. Hiram, his wife Mary Ann, and their eleven living children resided just north of Milton, Pennsylvania along the Susquehanna River. It is conceivable that water from the Susquehanna, which overflows its banks almost every spring, contaminated the drinking water of the family in 1897. So, Hiram did not die from some condition that may have affected his eyes. The condition of drooping eyelids is called ptosis. Ptosis can be caused by a stroke, weakening of the eyelid muscles through age, or heredity. Strike three that Hiram's eye issue was related to that of his sisters Mary Ann or Tillie.
Lastly, we move to his sister, Emma Frances (Hagenbuch) Reichard. I took notice of Emma's drooped eyelids years ago in photos when she was older. But it wasn't until Andrew purchased a photo of young Emma Frances and her brother, Joseph, that the drooped eyelids had some importance.
The photo is marked "Miss E. Hagenbuch & brother." I could identify Emma because of the eye issue. Since then, her eye issue has always been a matter of curiosity. Emma died in 1938 and her death certificate is a matter of record. The cause of her death was a brain hemorrhage and atheroma—a type of arteriosclerosis. Most likely these two conditions were related but had nothing to do with her droopy eyelids. Again, as in Hiram's case, she probably had ptosis, and quite possibly it was hereditary since Hiram could have had the same condition.
A strike four isn't needed to be "out!"
There seems to be no connection between the eye conditions of all four of these siblings. We can be quite sure that Tillie's eye condition was due to Bright's disease and that Mary Ann's may have been due to Grave's disease. But, what of Hiram's and Emma's sleepy eyes?
In discussing this with Andrew, his comment was that maybe Hiram and Emma had problems keeping their eyes wide open when being photographed. Studio photography at that time could be a long process. There were rudimentary flashes, and the camera shutter speeds were much slower than today. One needed to stay still and not blink for some time. Once again, as with other genealogical searches, we may never know the answer to the "sleepy eyes."
In conclusion, I am probably making too much of these eye conditions. However, this study led me to research diseases that affected our ancestors, observe photos in detail (often with a magnifying glass), and creatively investigate family traits. It's more than just names and dates. It's getting to know people intimately with whom we share the same DNA.