Four Years On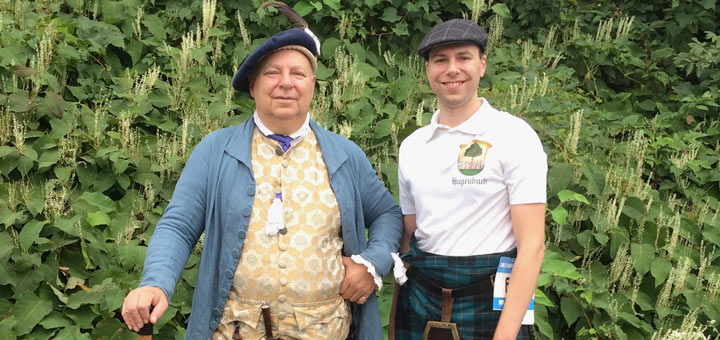 Talking with my father the other day, he mentioned that I should begin writing a recap for the previous year of Hagenbuch.org. Really? Has another year passed already?
Four years ago, this site was just an idea. I imagined a way to connect with my father, Mark Hagenbuch, and work on something that we both cared about—our family's history. As of today, we have written and shared 200 articles about the Hagenbuchs which contain well over 200,000 words.
One of the highlights of the last twelve months was the 74th Hagenbuch family reunion in June. Not only did this provide an opportunity to reconnect with relatives, it also gave us a chance to remember previous reunions and picnics and to see just how much family communication has changed in the last 40 years.
Food and culture have always been an important part of this site, and the past year was no exception. Recipes for wintergreen cake and turnip casserole were featured. The family tradition of quilting was explored in depth, as were old time home remedies and how arguing was once a fun hobby in the early 1800s.
My father and I enjoyed several expeditions into Pennsylvania's countryside while searching for Hagenbuch family history. Our goal, of course, was to make new discoveries, and we were fortunate enough to stumble upon plenty of these.
After traveling to Northampton County in late 2017, we uncovered the story behind Andreas Hagenbuch's (b. 1715, d. 1785) landholdings there. This led to us returning to the area in 2018 to a portion of that land where Andreas's son, Christian (b. 1747, d. 1812), built a house and distillery and raised his family. Both of us have fond memories of hacking through the brush, getting bitten by mosquitoes, and running into spider webs as we looked for evidence of Christian's home.
Pouring over old documents, such as letters from the past, is par for the course in genealogy, and it can lead to wonderful discoveries. A examination of the baptism records at Zion Stone Church in Kreidersville, PA revealed the birth of twin Hagenbuch children in 1792, and a set of even older records from Germany helped to rewrite the story of Andreas Hagenbuch's birthdate.
There were many mysteries to investigate too, including one about Tillie (Hagenbuch) Reichard and another about what a person's eyes can tell us when captured by photograph. Still another sought answers as to the identities of four Reuben Hagenbuchs who lived in the early 1800s.
Not all stories can fit into a single article, and there were two long-form pieces published during the last year. The first was a look at the letters and postcards sent by "Nana" Irene (Faus) Hagenbuch. The second, then, was a five part work of historic fiction that followed the story of Andreas Hagenbuch's book, True Christianity.
While most of the articles on Hagenbuch.org are of a more serious nature, like the passing of Ellen Hagenbuch and Harold Sechler, a few exhibit a lighter tone. For example, we recounted the tale of how Henry Hagenbuch (b. 1785) met Ichabod Crane in 1809, and how, much to the ire of their parents, Harry Hagenbuck eloped with Minnie Hill in 1892.
We explored specific groups of relatives within our large extended family too. Early in 2018, we examined a few branches of the family containing Mark Hagenbuchs and followed this with a look at the the five Hagenbuch families that are known to have immigrated to America. Later in the year, we began to rethink the order of Andreas Hagenbuch's children and shared research about his grandson, Joseph Hagenbuch, whose family lived in Easton, PA. Our cousin, Will Mangold, even contributed an article containing new information about the family of his ancestor, William S. Hagenbuch.
Holidays are important to families like the Hagenbuchs, and we touched upon this in articles about Halloween trick-or-treating, New Years, and Christmas babies. We even featured a piece about the tradition of holiday baking, which included a recipe for vanilla pretzel cookies.
It goes without saying, but little on this site would be possible without the help of our ancestors who cared enough to preserve family information, pictures, and other artifacts. We have written a number of articles about identifying people in photographs, as well as stressing the importance of preserving family treasures for future generations. It is only through this process that we can continue to remember those who came before us.
Yes, four years and 200 articles is quite the accomplishment. But, it is also a reminder of just how much is left to be said about our Hagenbuch family. If you would like to have your family's history and genealogy featured, please contact us using Facebook, and make sure to have images, names, and dates ready to share.
Thank you for your continued support!
-Andrew M. Hagenbuch & Mark O. Hagenbuch