Deitsch Foods: Turnip Casserole with Semmede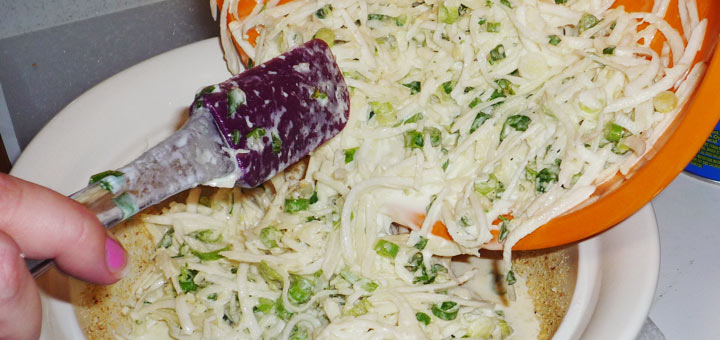 During the 18th and 19th centuries, the Hagenbuch family was part of Pennsylvania's Deitsch culture. Food was important to the Deitsch. So, with this in mind, my wife Sara and I set about to recreate a dish that may have been eaten by our ancestors—turnip casserole with semmede.
The recipe for it came from the book Pennsylvania Dutch Country Cooking by William Woys Weaver. One of the things I like about Weaver's book is how it blends together history, people, places, and, of course, food.
Sara and I began by making the semmede (pronounced zeh-meh-duh). Though mostly forgotten today, these Grape-Nut sized crumbs were once popular with Pennsylvania's families of German descent. They are created from buckwheat flour and later used as a topping for the turnip casserole. Semmede can also be fried in butter to produce gribbles which are served in warm milk.
Semmede
1 1/2 cups buckwheat flour
1 1/2 cups boiling water
1/2 teaspoon salt
Sift 3/4 cups of the buckwheat flour into a mixing bowl and add the salt. Then, add the boiling water and stir until the mixture is thick.
Heat an ungreased skillet over medium-high heat. Add to this the remaining 3/4 cups of buckwheat flour and let it scorch. Then, add the thickened buckwheat mixture and, using a metal spatula, begin to stir and chop. Do this continuously for 20 to 30 minutes until small crumbs have formed. The semmede will look similar to a dark-colored Grape-Nuts cereal.
At first, Sara and I were concerned that the semmede would not turn out. It was initially quite difficult to work around in the pan and looked quite unappetizing. However, as the mixture dried from the heat, it changed into tiny, crispy buckwheat crumbs.
With the semmede finished, we turned our attention to the turnip casserole.
Turnip Casserole
fine breadcrumbs
1 1/2 cups grated raw turnip
1 1/2 cups grated raw potato
3/4 cup chopped scallion
2 tablespoons minced fresh parsley
1/4 cup melted, unsalted butter
1 cup whole milk
1/2 cup sour cream
1 teaspoon sea salt
1/2 teaspoon freshly grated pepper
1/2 cup semmede
Grease a 9 inch casserole dish and dust it with fine breadcrumbs. Preheat the oven to 375ºF.
In a bowl, mix together the grated turnip, potato, scallion, and parsley. Add the melted butter. Whisk together the milk and sour cream, and fold this into the vegetable mixture. Add the salt and pepper. Then, pour the mixture into the casserole dish. Pat it down with a spoon until the top is smooth.
Scatter semmede over the top, and bake for 40 minutes.
With the turnip casserole finished, we plated it alongside some kale and fish. The casserole was good and tasted a bit like scalloped potatoes with an added bite of turnip. The dish wasn't too difficult to make either, so we may make it again in the future!
Though sometimes overlooked, Pennsylvania's Deitsch culture is an important part of our Hagenbuch family heritage. One enjoyable way to connect with this piece of our history is by making and sharing the foods that our ancestors once enjoyed.