The Five Families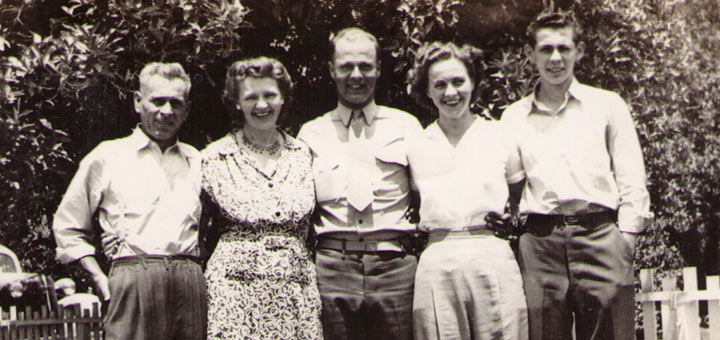 Two weeks ago while searching Findagrave.com for information pertaining to my latest article, I came across a Christian Hagenbuch born in Germany in 1818 who is buried in Kansas. Amazed at this newly discovered Hagenbuch immigrant, I searched to see if this Christian had any descendants that may be living at this time. It seems that he does.
This got me thinking about the several Hagenbuch immigrants that came to America. When I started dabbling in genealogy 50 years ago I thought my ancestor, Andreas Hagenbuch (b. 1711), was the only Hagenbuch who had traveled to America. For several years I promoted that all Hagenbuchs in America were descended from Andreas.
However, that changed in the early 1980s when my research led me to find two other Hagenbuch families here in the United States; although, to my knowledge, no descendants of these two families have the surname Hagenbuch. Then, almost three years ago, the other half of Hagenbuch.org, my son Andrew, found another Hagenbuch coming to America which predated Andreas' arrival by three years. And now, we have a Christian Hagenbuch who, according to immigration lists, came to America in 1840. So, let's review the five families of Hagenbuch.
#1 – Jacob Hagenbuch in 1734 from Dagerlen, Switzerland
Andrew published an article on September 5, 2015 about the Haugabook family. Jacob Hagenbuch came to America in 1734, landing in Charleston, South Carolina and settling in Lexington County, SC. He came from near Dagerlen, Switzerland which is located close to the town of Hagenbuch. Jacob's name was first spelled "Huckabuck" and then "Haghabucher." Eventually his descendants' last name was settled as "Hougabook" or "Haughabook".
#2 – Andreas Hagenbuch in 1737 from Wurttemberg, Germany
Most of us reading these articles are descended from Andreas Hagenbuch who came to America in 1737. We know much about this man and are learning more all the time. We have enough information about Andreas that we have even fleshed out a possible personality for him. Most of the articles in Hagenbuch.org have been written about him and his descendants. Of course, we cannot forget Andreas' mysterious brother, Philip Jacob, possibly born in 1715, who arrived in Philadelphia in 1751 sailing on the Janet. The only other mention we have of Philip Jacob is in a tax list and as sponsor for a baptism at the New Bethel Church located near the Berks County homestead.
#3 – Christian Hagenbuch in 1840 from Wurttemberg, Germany
The Christian Hagenbuch mentioned above is listed for in the 1870 U.S. Census as being born in Wurttemberg, Germany in 1818. The immigration records show that he landed May 31,1840 in New York City aboard on the ship Graville. Christian was married to Katharine Elizabeth Meider from Bavaria and they had eight children, who were born between the years 1848 and 1866: George, Joseph, Barbara, John, Charles, Mary, Ella, and Laura. Little research has been done yet on these children and their descendants. However, it is known from grave records that Charles was born in 1859 and died in 1928. He married Josie Bulla and they had two daughters, Hazel and Mary Gretchen, and a son John.
Hazel was born in 1894 and died in 1964. She was married to Orbie Pierson, and they are buried in the same cemetery as her grandparents and parents—Greenwood Cemetery, Clay County, Kansas. Hazel and Orbie had three daughters, one of which was Billie Maxine who was married to Edwin Utley. I am in contact with their son (the great great grandson of Christian), Mark Utley, and working to gather more information on this family.
Mark explained in an email to me that his great aunt Mary Gretchen (who always went by Gretchen) lived to be 101 years of age with whom he had occasional contact. However, he has little information about his great uncle John Hagenbuch. John lived in Michigan and Oregon and died in California in 1962.
#4 – Johannes Egbert Hagenbuch in 1880 from Hainfeld, Germany
In 1980 I began correspondence with Hannah Hagenbuch from Klamath Falls, Oregon. Hannah's husband, Ernest had died in 1970. He was a second generation Hagenbuch. Ernest's father was Johannes Egbert Hagenbuch who came to America in 1880. Johannes Egbert was born in 1858 in Hainfeld, near Landau, Germany. He was married to Mary Jane Killcup and they had three children: Walter, Ernest, and Irene. Walter was married but had no children. Irene married Gilmore Hector in 1922 and had two children who lived in Oregon.
Ernest and Hannah (Anderson) Hagenbuch were married in 1922, lived most of their lives in California, and had two children: Carol was born in 1923, married Lionel Olsen in 1943, and had two sons and two daughters; and Walter Dillon was born in 1926, married Betty McClary, and had no children. Hannah died in 1984. Subsequently, I lost touch with her and that family. However, recent research shows that Carol (Hagenbuch) Olsen's family are probably able to be contacted.
#5 – Christian Hagenbuch in 1894 from Stuttgart, Germany
Also in 1980 I found Alfred Hagenbuch living in Mesa, Arizona. Alfred was born in 1904 in Iowa, where his parents lived after moving from Germany in the late 1800s. Alfred came to visit our family in 1981, when we were living in Selinsgrove, PA and he attended the Hagenbuch reunion at that time. Alfred's father was Christian Hagenbuch who was born in 1878 near Stuttgart, Germany. This is the same area where Andreas (b. 1711) and Christian (b. 1818) would have lived before coming to America. This Christian landed in New York City in May of 1894 sailing on the ship Friesland. He was only 15 years old! In 1903 he married Alvina Meswarb.
According to Alfred's family information that he sent to me in 1980, his father's brother William came to the United States in 1918. But this cannot be confirmed by immigration records. William was married and died in 1971. He had two children: William who was killed in WWII and Hilda who never married.
Christian and Alvina (Meswarb) Hagenbuch had five children: Alfred, Pauline, Ada, Eberhardt, and Adella. None of these Hagenbuchs ever married. I lost touch with Alfred after moving to Dillsburg in 1987. He died in 1990 and is buried beside his sister, Adella, in Meza, Arizona.
To quickly recap, the five Hagenbuch families in this article are as follows:
Jacob Hagenbuch who landed in Charleston, South Carolina in 1734 and lived in Lexington County, SC.
Andreas Hagenbuch who arrived in Philadelphia, Pennsylvania in 1737 and Philip Jacob Hagenbuch who arrived in 1751. Both lived in Berks County, PA.
Christian Hagenbuch who came to the New York City in 1840 and lived most of his life in Kansas.
Johannes Egbert Hagenbuch who came to the United States in 1880. His son, Ernest Hagenbuch, was married to Hannah who was found living in Klamath Falls, Oregon.
Brothers Christian and William Hagenbuch who arrived in the United States in 1894 and 1918 respectively and lived in Iowa.
Although my earliest belief was flawed, one can still say with certainly that almost all of the Hagenbuchs living in the United States are descended from Andreas. One caveat has to be admitted because of the research for this article. While searching immigration lists to pinpoint dates of arrival for the Hagenbuchs in this article, many more Hagenbuchs were found that arrived on American soil than what was ever known. We have identified five families—meaning that there are many more Hagenbuch immigrants to be recorded!