Preserving Family Treasures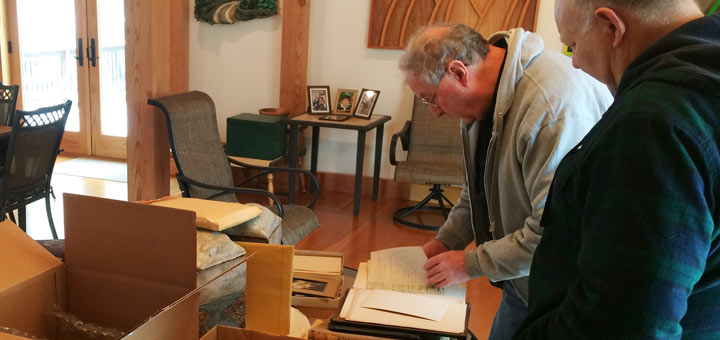 On a snowy Saturday at the end of 2017, my father, Mark Hagenbuch, and I traveled to visit his cousin, Joe Robb. As first cousins, my father and Joe share grandparents–Clarence Hagenbuch (b. 1889, d. 1967) and Hannah (Sechler) Hagenbuch (b. 1889, d. 1967).
The purpose of our visit was to view and discuss some of the family artifacts Joe has in his possession. Though not all of these are from his Hagenbuch line, they all are of interest to future generations and worth preserving.
One of the first things that caught our attention was a group of medium format, black and white negatives showing school children with a teacher. It was agreed that the teacher was probably Hannah Sechler before she had married Clarence in 1914. However, it was difficult to tell when viewing the negative.
To remedy this problem, I pulled out my phone, switched it into negative mode, and opened the camera app. Holding the negative up to a window, we examined it using the phone, which converted it into a positive image. There we could see an image of Hannah on the screen. Below is a slightly blurry version of what we saw.
Next, Joe pulled out a long, framed photograph showing two men in a horse-drawn carriage. My father immediately recognized the man on the left as Tilman Foust (b. 1844, d. 1921). Tilman owned a livery stable in Milton, Pennsylvania and was married to Mary Ann Hagenbuch (b. 1842, d. 1904).
In fact, upon closer inspection, the carriage is seen to be parked in front of the Foust's home and two women are seated on the front porch. These are believed to be two of the Foust daughters: Lillian and Sarah.
The next piece that Joe showed us was quite striking for its age and good condition. The vellum document, seen below, is from 1758 and notes the commission of Robert Robb as an Ensign in the 3rd Battalion of the Pennsylvania Regiment during the French and Indian War. Though not from the direct Hagenbuch line, this is an original document worthy of preservation.
Not only is it proof of an important event in the Robb family's history, it also contains the seal and signature of William Denny in the left corner. Denny was a notable historic figure, serving as the colonial governor of Pennsylvania between the years 1756 and 1759.
As my father and I learned from our work on the Fraktur of Anna Elizabeth Hagenbuch, documents from the 18th century are rare and fragile. They require careful handling and preservation in an acid free environment by a professional conservator.
Generally speaking, the process of cataloging and preserving family artifacts and their history is not an easy one. Over time, we have developed a few guidelines:
Create photographic or digital image copies of everything. This is the easiest way to hold onto something that might decay or be lost to time.
Organize artifacts into acid free folders and boxes. Avoid tape, adhesives, and plastic sleeves that could stick to photographs.
Keep collections of artifacts away from moisture and bright light.
Label photographs on the back with pencil, being sure to include names, dates, and places.
Use online tools, like Beechroots, to share key information and digital media. Sharing helps preserve digital media by making multiple copies.
Have important artifacts or family heirlooms restored by a professional conservator so they can be safely displayed.
Watching Joe and my father sift through piles of photographs and documents, I was reminded of how family artifacts can bring together relatives, especially in their later years. Often, when we are younger, it is not readily apparent what will have significance or meaning later on. Only after decades have passed, do we look back and seek to connect with earlier memories, moments, and loved ones.
In the Hagenbuch family, we are lucky enough to have had generations of family preservationists, like Enoch Hagenbuch in the 1800s and William Hagenbaugh in the early 1900s. Preserving the past isn't easy. But their work, combined with what we do today, will enable future members of the Hagenbuch family to know, understand, and experience family history.