Andreas Hagenbuch's Land in Northampton County, PA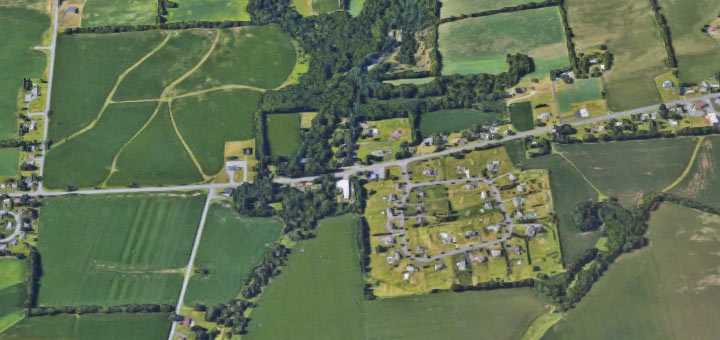 After Andreas Hagenbuch (b. 1715, d. 1785) arrived in Philadelphia, Pennsylvania in 1737, he went in search of suitable land to farm and live upon. Between 1738 and 1766, Andreas acquired around 178 acres of property in Albany Township, Berks County, Pennsylvania and established the family homestead there.
Yet, Andreas Hagenbuch's landholdings were not limited to Berks County. Research has shown that he also bought 155 acres in present-day East Allen Township, Northampton County, Pennsylvania. Unlike the homestead property, which was acquired through a land patent from the Province of Pennsylvania, the 155 acre parcel was purchased from a private landowner, Thomas Craig, on June 28, 1773.
Further investigation shows that the 155 acre tract was cut from a larger one of 500 acres. Craig purchased this from Casper Wister on March 28, 1738, and Wister received the land through a patent from the Province of Pennsylvania.
The Craigs were a prominent family in Northampton County during the 1700s. Thomas Craig (b. 1695, d. 1779) founded Craig's Settlement, also called the Irish Settlement, near what is today Weaversville, PA. This was centered around a Presbyterian church, whose cemetery still remains as Horner's Cemetery. The 155 acres Andreas purchased was located in proximity to the cemetery.
In 1773, Andreas Hagenbuch was 58 years old and Thomas was 78. It is unknown how the two men knew each other. Thomas was well-known in the region and served as Justice of the Peace in Northampton County. The men may have had mutual political interests or business dealings.
It is also not known why Andreas purchased the property, which is nearly 27 miles from the Hagenbuch homestead. He didn't relocate his family to the new acquisition and instead chose to remain in Berks County.
One clue, however, comes from the family member who lived closest to the property—Henry Hagenbuch (b. 1737, d. 1803). Henry was Andreas's eldest son, and in 1771 he received a deed for a lot in present-day Allentown, Pennsylvania. Allentown is less than 10 miles from Andreas's 155 acre parcel.
Henry was an innkeeper and ran the Cross Keys Tavern. The business would have required a reliable, cost-effective supplier of liquor. It is known that Andreas already ran a distillery in Berks County, so it stands to reason that he may have purchased the land in order to build a second distillery. As will be explained shortly, there is additional evidence to support this theory.
Shortly after purchasing the 155 acres, on August 10, 1773 Andreas sold one acre to a widow, Elizabeth (Wilson) Craig. Research shows that her husband was likely William Craig (b. 1715, d. 1772). William was the son of Thomas Craig (b. 1695). He served as the sheriff of Northampton County and as a captain in the Pennsylvania provincial militia under Major William Parsons during the French and Indian War.
Interestingly, William Allen (b. 1704 d. 1780) also sold one acre to Elizabeth around the same time. Allen was the founder of Allentown and held property that abutted Andreas's parcel. These land sales to Elizabeth may have been a form of aid in response to the death of her husband.
Andreas Hagenbuch held onto his remaining 154 acres in Northampton County until 1782, when he began subdividing and selling it. On July 26, 1782 he sold 149 acres to his son Christian (b. 1747, d. 1812) and on July 6, 1783 he sold five acres (some sources say six) to his youngest son John (b. 1763, d. 1846).
Christian Hagenbuch would go on to build a stone house on the property in 1783. Tax records also reveal that he ran a distillery there and had been on the land as early as 1781. These two pieces of evidence lend additional support to the theory that Andreas, along with the help of his sons, ran a distillery in Northampton County that may have supplied the Cross Keys Tavern 10 miles to the south.
On the other hand, John Hagenbuch does not appear to have developed his five acre parcel. On July 22, 1805 he sold it to his older brother Christian. Also around this time, John left Northampton County and relocated to Columbia County, Pennsylvania.
Andreas Hagenbuch's purchase of 155 acres of land in East Allen Township, Northampton County may have been purely land speculation, which ultimately benefited his sons Christian and John. Nevertheless, its connections to the Craig family and the Cross Keys Tavern, run by Henry Hagenbuch, cannot be ignored.
Further adding to this is the fact that a great grandson of Thomas Craig and a great granddaughter of Andreas Hagenbuch were eventually married. The great grandson was Thomas Craig, Jr. (b. 1796, d. 1858). Thomas's line is Thomas Craig, Jr. (b. 1796) < Thomas Craig, Sr. (b. 1739, served as a general in the Revolutionary War) < William (b. 1715) < Thomas (b. 1695). The great granddaughter was Catherine Hagenbuch (b. 1803, d. 1872). Her line is Catherine (b. 1803) < John (b. 1776) < Henry (b. 1736) < Andreas (b. 1715).
Such intertwining lines suggest that the Craigs and the Hagenbuchs maintained a close relationship in Northampton County. Andreas Hagenbuch's purchase of 155 acres of land from Thomas Craig may have been one of many dealings between these families.
Future articles will continue to explore Andreas's landholding in Northampton County, as well as the connections between the Craig and Hagenbuch families.