On Reunions and Summer Picnics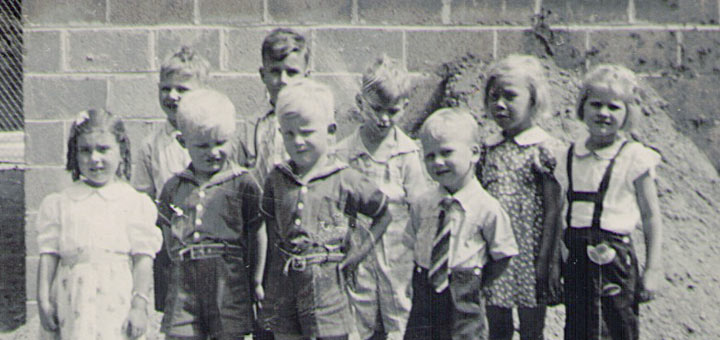 The 74th Hagenbuch Reunion, held at Oak Grove Lutheran Church a few weeks ago, got me thinking about other reunions of the past. Not only the previous 73 reunions whose attendees were primarily descendants of William (b. 1807) and Rebecca (Muffley) Hagenbuch, but also of other reunions or family picnics that are part of our heritage.
At one time, reunions were widely held by many families. As a boy, our family would attend the Hagenbuch reunion, as well as the Sechler and Hilner reunions. At times there was a gathering of two other families (from my mother's side): the Fauses and Gardners. Summer picnics of local farm families and churches were also held. And, once each year, my maternal grandparents, Odis and Minnie (Hilner) Faus, would hold a family picnic at their home in Shiremanstown, PA.
While searching through the Hagenbuch photo archives some memories of family gatherings were found.
Taken about 1890, this is a gathering of the families of Henry W. (b. 1834) and Hiram (b. 1842) Hagenbuch, who were brothers. Henry and Hiram are sons of Charles (b. 1811) and Elizabeth (Hess) Hagenbuch. Charles was the youngest son of Andreas' youngest son, John (b. 1763). Henry and Hiram lived in the Watsontown and Montgomery, Pennsylvania areas. Also, identifiable in the photo are two children of Hiram: Cora (b. 1874) and Edmund (b. 1876).
This large family is descended from another Charles Hagenbuch, who was born in 1819 and who was married to Julia Fosselman. The reunion photo was taken in 1925 near Utica, Illinois. Charles is a son of Jacob (b. 1777) and Magdalena (Knepper) Hagenbuch.   In 1854 he migrated from the Hagenbuch homestead in Berks County, Pennsylvania to Waltham Township, Illinois. Charles' grandfather was Michael (b. 1746), the second eldest son of Andreas.
In the photo is Charles and Julia's son, Albert Ira Hagenbuch (b. 1859). He is standing to the far right with the mustache. The descendants of Albert and his wife Martha (Kehr) still live and farm in Illinois.
The fourth Hagenbuch reunion of the descendants of William (b. 1807) and Rebecca (Muffley) Hagenbuch occurred on June 14, 1941 with 80 people attending. It was held at Sunnybrook Park near Danville, PA. This is a photo of some of the children who attended. Front row: Leona Bogart, Dale Beaver, Donald Beaver, Stanley Hagenbuch. Back row: Dean Beaver, Kenneth Bogart, Donald Reichard, Jean Hagenbuch, Elsie Reichard.
Although not an actual reunion, this photo, most likely taken in 1952, depicts the children of two Hagenbuch brothers: Homer Sechler (b. 1916) and Wilmer Henry (b. 1918). The brothers are the sons of Clarence (b. 1889) and Hannah (Sechler) Hagenbuch. Clarence's lineage is: Andreas (b. 1715) > Michael (b. 1746) > Henry (b. 1772) > William (b. 1807) > Hiram (b. 1847) > Clarence (b. 1889).
Identifiable are the two girls in the back: Barbara (daughter of Homer) and Nancy (daughter of Wilmer). Also identified is the young man with the suspenders which is Robert (son of Homer). The other three children could be the sons of Wilmer: Larry, Lynn and Dan. Lastly, could the other child be Homer's son, David?
Finally, there is a photo from 2007 when a "first cousins" reunion was held at the home of Mark and Linda Hagenbuch. The grandchildren of Clarence (b. 1889) and Hannah (Sechler) Hagenbuch gathered and had this photo taken. Front row: Nancy Hagenbuch, Barbara (Hagenbuch) Huffman, Kathleen (Robb) Shuler, Carol (Robb) Dunbar, Alice (Hagenbuch) Helder. Back row: Leon Hagenbuch, Lee Hagenbuch Jr., Lynn Hagenbuch, Mark Hagenbuch, Nevin Taylor, David Hagenbuch.
If you have photos of any family reunions or picnics, please consider sharing them so that this source of our heritage can be recorded for posterity.