Rethinking Andreas Hagenbuch's Family: Part 2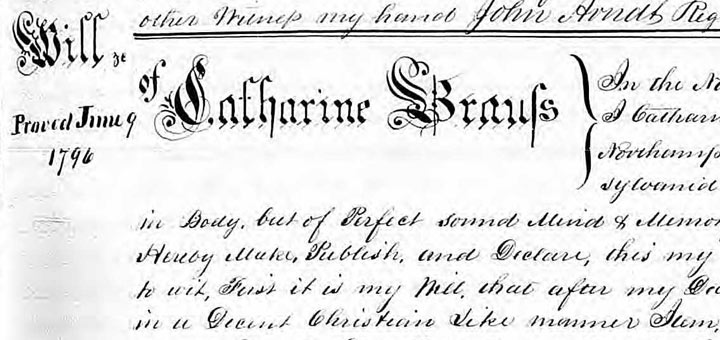 Our understanding of Hagenbuch family history is a work in progress. Discoveries shed new light on the past and sometimes rewrite what we thought we already knew.
Earlier this year, several changes were proposed to Andreas Hagenbuch's immediate family. The first was a revision to his birthdate, changing it from April 11, 1711 to March 15, 1715. The other was a modification to the birth order of his children, shifting Anna Barbara from the eldest to the youngest.
Additional research has suggested further changes to the ordering of Andreas's children, especially those with estimated birthdates (indicated by a "c." for circa in the lists below).
One clue comes from the records of Rev. Daniel Schumacher. In his book, Schumacher notes that Michael Hagenbuch and Maria Hagenbuch were confirmed in 1761. This indicates that the two children were close in age.
Previously, the order of Andreas Hagenbuch's children was thought to be:
Henry (b. 1736)
Catharina (b. c. 1738)
Maria (b. c. 1740)
Magdalena (b. c. 1745)
Michael (b. 1746)
Christian (b. 1747)
Anna Elizabeth (b. 1754)
Christina (b. 1759)
Anna Margaretha (b. 1761)
John (b. 1763)
Anna Barbara (b. c. 1764)
The above order shows that Magdalena, not Maria, was closer in age to Michael. If Schumacher's confirmation records are correct, this cannot be true. Maria must have been born a year or two before Michael.
We also know from Andreas's will that Magdalena was born after Maria. However, the will does not tell us where Michael and Christian fit into this order, since the two had received most of their inheritance prior to Andreas's death in 1785.
By combining the evidence from Andreas's will and Rev. Schumacher's records, one can reasonably place Michael and Christian between Maria and Magdalena. Only this order puts Maria directly before Michael, Michael immediately before Christian, and Magdalena after Maria.
The revised list of children then becomes:
Henry (b. 1736)
Catharina (b. c. 1738)
Maria (b. c. 1745)
Michael (b. 1746)
Christian (b. 1747)
Magdalena (b. c. 1749)
Anna Elizabeth (b. 1754)
Christina (b. 1759)
Anna Margaretha (b. 1761)
John (b. 1763)
Anna Barbara (b. c. 1764)
These revisions may appear minor, but they open a new possibility—that most of the children were born to Andreas's third wife, Maria Margaretha Friedler.
The earliest evidence of Andreas's marriage to Maria Margaretha comes from Anna Elizabeth's birth and baptism Fraktur. This document notes her parents as Andreas and Maria Margaretha Hagenbuch. Most researchers believe that Andreas married Maria Margaretha after the birth of Christian and before the birth of Anna Elizabeth. The seven year gap between the two children's births made this idea plausible.
Yet, the revised birth order of the children now suggests that Magdalena was actually born around 1749 or 1750, creating a smaller gap before Anna Elizabeth's birth. Also by moving Magdalena, a new seven year gap opens between the birth of Catharina around 1738 and the birth of Maria around 1745. This suggested that Andreas actually married Maria Margaretha then.
There is more circumstantial evidence supporting this theory too. In his will, Andreas singles out his eldest son and eldest daughter to receive a smaller inheritance than the rest of the children. He states that any money remaining from the estate should be divided evenly between his children, except "…my said son, Henry, and my daughter, Catharina, shall have nothing of the same…"
Reading this statement, one wonders why Andreas chose to give Henry and Catharina less? Perhaps, the two had a strained relationship with the family?
Such a family dynamic could be explained by Henry and Catharina having different mothers than their siblings. It is known that Henry was born to Andreas's first wife, Catherine (maiden name unknown), who died soon after his birth. It is also known that Catharina was born to Andreas's second wife, Maria Magdalena Schmutz. Might Maria Magdalena have died when the girl was young and the rest of the children were to the third wife, Maria Margaretha Friedler?
While researching this possibility, two additional discoveries were made. First, Catharina's will was located in Northampton County's records. This was written on November 22, 1795 and was probated in 1796. Her will makes no mention of a husband, who likely preceded her in death. However, it does make clear that her married name was Brouss and that she was a seamstress. It also appointed her brother, Christian Hagenbuch (b. 1747), as the executor of her will.
A second discovery helps to pinpoint the grave of Andreas's daughter, Anna Margaretha. This was located at Alsace Lutheran Church Cemetery outside of Reading, Pennsylvania and shows that she was born in 1761 and died in 1799. She was married to and buried with her husband, Johan Henrich Spengler.
Future articles will continue to explore the family of Andreas Hagenbuch, including his three wives and twelve children.