Henry Hagenbuch Meets Ichabod Crane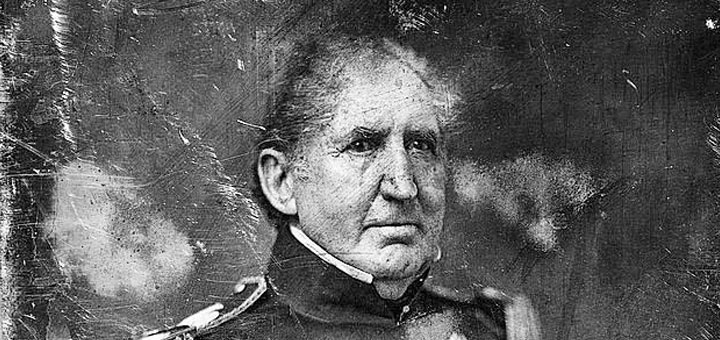 For many people, the name Ichabod Crane conjures images of a lanky schoolmaster being chased through the night by a headless horseman. That is, after all, the premise of Washington Irving's well-known story "The Legend of Sleepy Hollow." However, what most people don't realize is that Ichabod Crane was a real person who also shares a connection to the Hagenbuch family.
Ichabod Bennet Crane was born July 18, 1787 in New Jersey. Unlike his fictional counterpart, the real Ichabod pursued a career in the military and joined the United States Marine Corps in 1809. He was commissioned a second lieutenant and commanded a detachment of marines aboard the USS United States.
After a few years, Crane left the Marines and joined the United States Army as a captain. He served during the War of 1812 and eventually rose to the rank of colonel, before dying on October 5, 1857.
It is widely believed that in 1814 Washington Irving met Captain Ichabod B. Crane in Sackets Harbor, New York. At that time, Irving was serving as an aide-de-camp to New York governor, Daniel D. Tompkins, and he visited Sackets Harbor for an inspection of the Army's fortifications. The captain's unusual name made an impression on Irving, who later used it in his famous short story.
So what does any of this have to do with the Hagenbuch family?
Recently, while doing some research, I stumbled upon a "Henry Haughenbaugh" who enlisted in the United States Marine Corps in 1808. The name "Hagenbuch" is frequently misspelled in documents, and here was undoubtedly another instance of that. Yet, who was this Henry Hagenbuch?
A quick search of Beechroots helped to narrow down the possibilities. In 1808, there were only two Henry Hagenbuchs alive who could have served in the Marines: Henry (b. 1772) or Henry (b. 1786). Census records show that in the early 1800s the first Henry was settled in Columbia County, Pennsylvania and was raising a large family.
The second Henry, on the other hand, is more of a mystery. He cannot be found in Pennsylvania in the 1810 census, though he does appear in 1820, married and with children. Through the process of elimination, it is believed that he is the Henry who joined the Marines in 1808.
This Henry was the youngest son of Henry (b. 1736) and Susanna (Wettstein) Hagenbuch. For years, little was known about his life, leading some genealogists to suspect that he died young. But, new research has begun to reveal that he did marry and raise a family of at least seven children. One of these children was Reuben Hagenbuch (b. 1825), who was long thought to have had a different father.
Now, thanks to the discovery of Henry's enlistment records, we are able to fill in a bit more of his story. Henry Hagenbuch (b. 1786) left his home near Allentown, Pennsylvania and enlisted as a private in United States Marine Corps on April 12, 1808. While serving, he was stationed on the USS United States—a well-armed frigate. As noted on the original document, the commander of his unit was a young lieutenant named Ichabod B. Crane. It is through his service in the Marines that Henry would have met and reported to Ichabod.
Unlike Ichabod, it does not appear that Henry participated in the War of 1812, since no record has been found of him as a veteran of the conflict. Therefore, it is assumed that he served his country for several years prior to the war and then returned home to Pennsylvania. Back in Northampton County, he married Elizabeth (her birth name is unknown) and raised a family.
Researching family history can be full of twists and turns. That's what makes it interesting after all! Thanks to recent discoveries about Henry Hagenbuch (b. 1786), we are able to better understand his life as well as connect him to a notable American, Colonel Ichabod B. Crane.