First Thoughts on the 1950 Census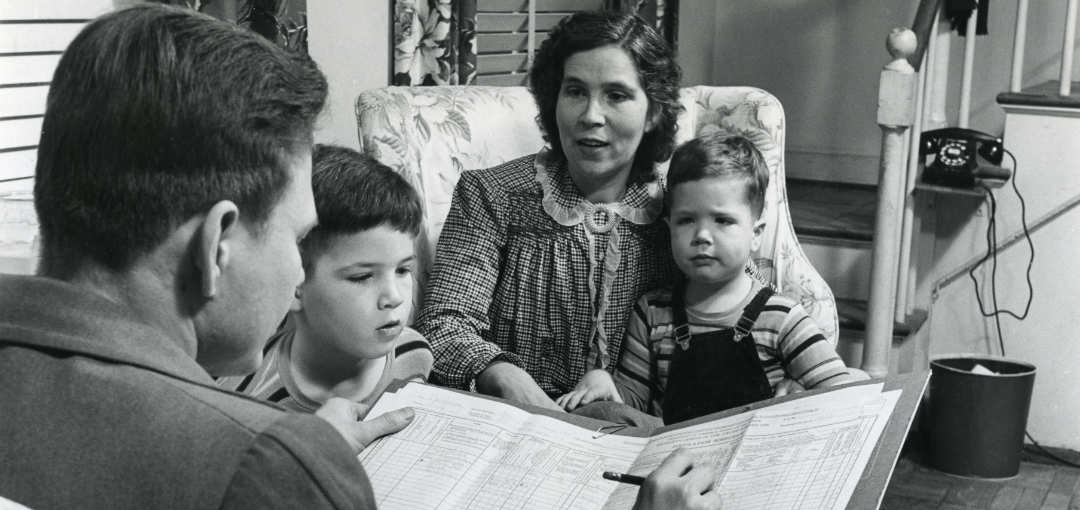 April 1, 2022 marked an important occasion for genealogists—and, no, it had nothing to do with April Fools' Day! On this day, family historians celebrated the release of the 1950 United States Census records, an event that occurs 72 years after a census has been conducted. The published data includes population schedules with information about American households such as the names, ages, and professions of people living there.
The 1950 census can be explored online at the National Archives. The data may be searched by entering a person's full name. However, because the original census documents were handwritten and computers have been used to transcribe them, searching by a person's name is imperfect at best. It is, therefore, more useful to search using place names and review the resulting population schedules for a location page by page.
This is exactly what I did on the morning of April 1st. My first task was to locate my grandparents. I figured that in 1950 my paternal grandparents, Homer (b. 1916) and Irene (Faus) Hagenbuch (b. 1920), were living in Limestone Township, Montour County, Pennsylvania. I pulled up the population schedules for this location and immediately noticed relatives on the very first page! The names included cousins Myron Cromis (b. 1918) and Harold Sechler (b. 1923), who were living with Myron's mother, Grace (b. 1882), and working as farmers. Further down the page was Percy Hagenbuch (b. 1880) and his wife, Gertrude (b. 1881).
Turning to the next schedule, I saw my great grandparents, Clarence (b. 1889) and Hannah (Sechler) Hagenbuch (b. 1889) and their daughters Ellen (b. 1926) and Mary (b. 1928). Both daughters, my great aunts, were living at home and working at a local factory, assembling radios. Clarence was working 60 hours a week on his farm. Several pages after this, I found my grandparents. The census records that Homer was working 80 hours a week as a farmer, while Irene kept house. Their three young children—Barbara, Robert, and David—were living with them. My father was not listed, since he wouldn't be born for another three years! Other families living near my grandparents include the Shultzes, Hoffmans, Cooleys, and Craigs.
Next, I went looking for my maternal grandparents, Roy (b. 1920) and Ethel (Brandt) Gutshall (b. 1918). 1950 was a big year for them, since they moved from Espy, PA to Centre Hall, PA. I wasn't sure what time of year the move happened, but I guessed it was before the census was conducted in April. I was wrong. After failing to find them in Centre Hall, I looked in Espy and located them almost immediately. Roy was listed as a minister working 60 hours a week, while Ethel kept house. They had two young children: Renna Mae and Barbara Kay. My mother was not recorded, since she would be born the following year.
One of their neighbors caught my eye—Elmer E. Hagenbuch (b. 1867). Years ago, when talking to my grandmother, she told me about two members of their church named "Elmer Hagenbuch." One went by "Big Elmer" and the other went by "Little Elmer." I cannot remember which was which. Yet, here was one of them living right beside my grandparents in Espy. It is worth noting that this Elmer has two Hagenbuch family lines, since as was discussed in a previous article his parents were cousins!
After locating my grandparents, I turned my attention to finding my great aunt, Gloria (Felix) Faus. Conversations with her revealed that she and my great uncle, Wilson Faus, were living in an apartment above her grandmother, Melissa (Swisher) Snyder (b. 1868), in Montgomery, PA. However, after a careful search of the census schedules for that area, I was unable to locate Aunt Gloria. I double checked my work, but continued to come up empty handed. Where was she?
My current theory is that the house she was living in at 63 Johnson Street was erroneously missed by the census taker. According to the Census Bureau, the 1950 census was the last census to be primarily conducted by people going door to door. By 1960, census forms were mailed to households and the results tabulated. Those who did not return their forms were visited by a census taker—just as is done today.
The Census Bureau believes it was able to document 95.9% of the Americans living in the country in 1950. In other words, 4 out of every 100 people were missed! Might my great aunt, her husband, and her grandmother be three of the people who slipped through the cracks? I plan to keep checking back as the 1950 census data is better indexed during the coming months. This process will improve its searchability and may reveal that my missing relatives were documented elsewhere.
My father, Mark, and I rely heavily upon accurate census data to research our Hagenbuch ancestors. With the release of the 1950 United States Census, we now have a new tool for digging into the past and telling the stories of our Hagenbuch family members. We look forward to sharing more about what we find.