Gone Fishin'… for Pheasants?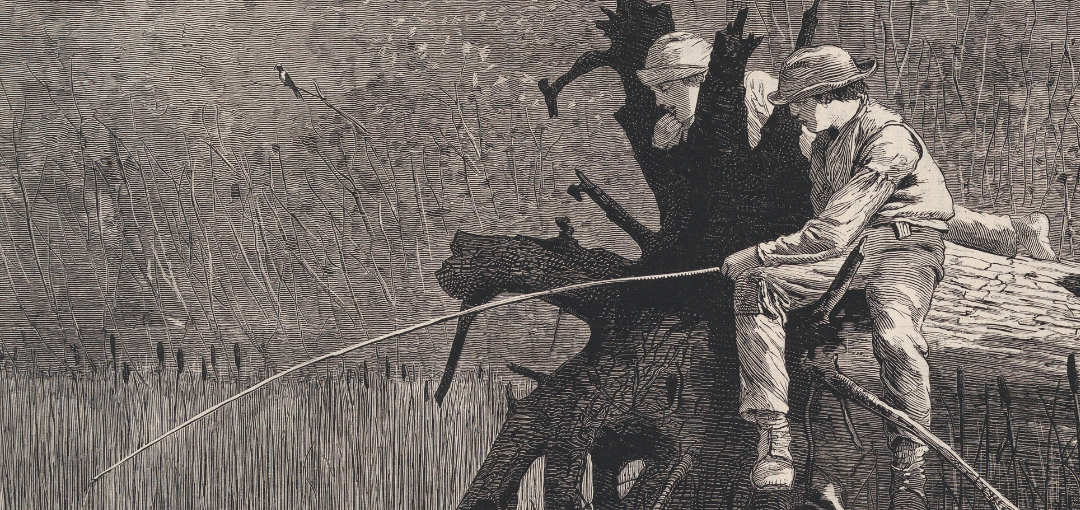 The following was reported 101 years ago in the "Short and Quick" section of The Evening News from Harrisburg, Pennsylvania:
"Corkie" Hagenbuch, of Jamison City, near Bloomsburg, while fishing yesterday in West Creek, caught a pheasant instead of a trout. Just as the boy was making a cast, a pheasant, scared from the undergrowth, ran into the hook.
I found this fascinating tale while searching for newspaper mentions about Hagenbuchs that were published on May 9th—today's date. However, as with so many aspects of our family's history, this neat little story raised several questions in need of answers.
First and foremost, who was Corkie Hagenbuch? Noting the quotation marks, I assumed "Corkie" was a nickname. Yet, it was worth confirming, just to make sure. A search of Beechroots and my father's paper records yielded nothing, suggesting that "Corkie" was a moniker the boy abandoned when he reached adulthood.
Thankfully, the newspaper snippet offered an important clue about Corkie's identity. He was from Jamison City, a small enclave in Sugarloaf Township on the northern end of Columbia County, PA. While conducting a detailed review of the 1920 Census, I found four Hagenbuch households residing near Jamison City:
Jacob Clark Hagenbuch (b. 1862)
Henry William (b. 1858) and Margaret (Heath) Hagenbuch (b. 1873) with one child: Mamie (b. 1887)
McHenry F. (b. 1892) and Letha Bertelle (Richart) Hagenbuch (b. 1895) with two children: Franklin Oscar (b. 1916) and Eleanor Evelyn (b. 1918)
Harriet (Buckalew) Hagenbuch (b. 1881) with two children: Karl Buckalew (b. 1905) and Evan George (b. 1908)
The majority of these Hagenbuchs could be eliminated as Corkie. Many were adults, such as Jacob Clark Hagenbuch and McHenry F. Hagenbuch, both of whom were featured in previous articles. Henry William Hagenbuch's child, Mamie, was grown and living with him and his second wife, Margaret (Heath). Of the remaining four children, only three were boys. In May of 1922 their ages and names were as follows: Franklin Oscar (age 6), Evan George (age 14), and Karl Buckalew (age 16).
Who of these was Corkie, the pheasant fisherman? I was stuck again.
I returned to browsing old newspapers to see if there were any other mentions of the boy. Soon I found one that had been published on May 6, 1922 in The Morning Press of Bloomsburg, PA. The article appeared to have been the original telling of Corkie's story. It revealed that the pheasant quickly escaped the hook—leaving behind some feathers— and that Corkie had been fishing in West Creek with a group of Boy Scouts.
The second detail was especially useful. A boy must be at least 10 years old to join the Boy Scouts of America. (Cub Scouts can be younger.) This eliminated Franklin, who was 6, and left only Evan and Karl. Either of these could have been Corkie. Evan was younger than Karl, but the name "Karl" shares some consonance with "Corkie." In fact, after searching Google, "Corky" appears to be a nickname sometimes used by a person named "Carl." Therefore, it seems most likely that Corkie was Karl Buckalew Hagenbuch, age 16.
According to the 1920 Census, Karl and Evan lived with their mother, Harriet (Buckalew) Hagenbuch, as well as their maternal grandmother, Clara J. Buckalew, in Benton, PA. Benton is only nine miles from Jamison City. Their father, Frederick D. Hagenbuch (b. 1880), had died in 1913. The boys' Hagenbuch line is as follows: Andreas (b. 1715) > John (b. 1763) > Daniel (b. 1803) > Frederick (b. 1827) > George Montgomery (b. 1853) > Frederick D. (1880) > Karl Buckalew (b. 1905) and Evan George (b. 1908). More about this family will be featured in a future article.
Local newspapers are a rich source of history, capturing details about minor events and trivial happenings. They help to shed light on the lives of our ancestors and give more depth to their personalities. Though this story about a Boy Scout, a pheasant, and a fishing pole, we are able to reconnect with another interesting branch on our Hagenbuch family tree.