Discovery: Joseph Hagenbuch's Baptism Record and Parents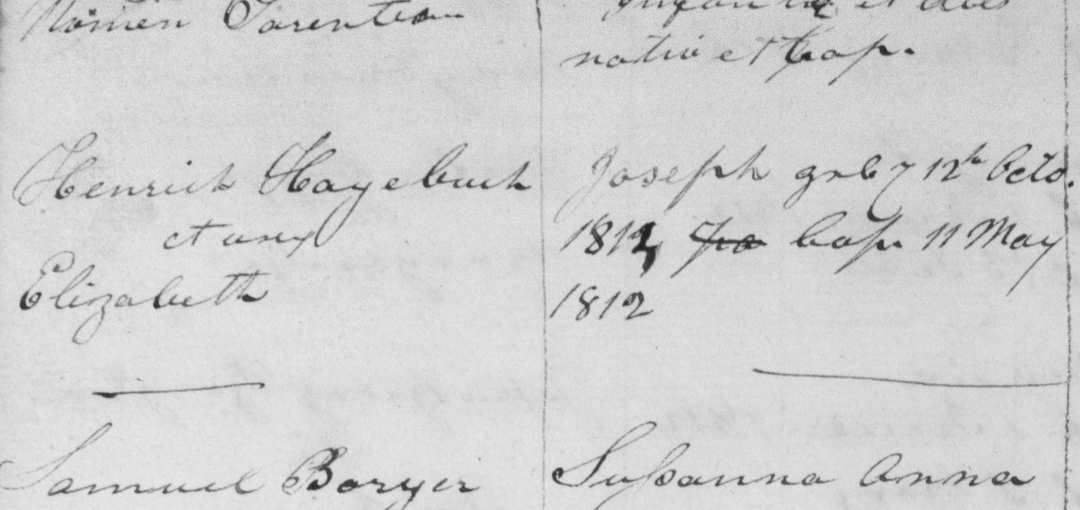 Our Hagenbuch genealogy has plenty of gaps, mysteries, and other unknowns. In August of 2018, we introduced one of these: connecting the descendants of Joseph (b. 1811) and Lydia (Hahn) Hagenbuch (b. 1812) to our family tree. At that time, my father mentioned our frustration at finding proof of Joseph's parents and proposed that Joseph's father might be Andrew (b. 1782), who was the son of Christian (b. 1747).
Though there was little proof that Andrew married and had children, there was enough circumstantial evidence to suggest that he was Joseph's father. First, Joseph lived and was buried in Bath, Pennsylvania, only a few miles from where Andrew once resided. Second, Joseph named one of his sons Andrew J. (b. 1852), perhaps in honor of a close family member. Lastly, no other Hagenbuch in Northampton County, PA was the right age or had space in their family group for a child born in 1811—or so we thought.
Sometimes our family mysteries are solved bit by bit, and a small discovery in one area might bear more fruit several years down the road. In 2019, we reported on new findings about Henry Hagenbuch II (b. 1786). Research had shown that he married, served in the United States Marines, and fathered several children. One of these was Reuben Hagenbuch (b. 1825), who was the father of Peter L. (b. 1858).
Several weeks ago I was picking my father's brain about Maria Ann (Hagenbuch) Scholl (b. 1813) who is buried in Bath, PA in the same cemetery as Joseph (b. 1811). My father consulted his paper records and made a remarkable discovery. Maria Ann Hagenbuch was the daughter of Henry II, and she had an older brother named Joseph. While the source for the former was the Scholl, Sholl, Schull Genealogy published in 1930, the latter came from a baptism at Zion Stone Church in Kreidersville, PA.
I needed to know more, so I pulled out a set of DVDs holding scans of the church's records. I had acquired these in 2018, during a day trip my father and I made to Northampton County in search of Christian's distillery and Joseph's grave. Little did I know how useful they would be! A scan of page 52 in the old church book recorded the following:
Parents: Heinrich Hagenbuch and wife Elizabeth
Child: Joseph, born 12th Oct 1811, baptized 11th May 1812
Sponsors: Samuel Borger and wife Hannah
The birthdate matched Joseph's gravestone perfectly, and the names of his parents were now confirmed. Joseph (b. 1811) was the son of Henry II and Elizabeth (Göbel) Hagenbuch, making him the grandson of Henry (b. 1737). The church record suggested something else too. After Henry II finished serving in the Marines around 1810, he returned home, married, and likely worked at his uncle Christian's distillery. When Christian died in 1812, the operation was managed by his sons—Henry II's cousins—Andrew (b. 1782) and Joseph (b. 1795). Their relationship may suggest why Henry II named his eldest son Joseph and why Joseph later named one of his sons Andrew.
The past few months have shown just how many puzzles remain to be solved in our Hagenbuch genealogy. Discovering Joseph Hagenbuch's baptism record puts to rest years of speculation and guesswork. It also helps another line of Hagenbuchs identify their correct lineage on our ever-growing family tree.