The Family of John Hagenbuch, Born 1802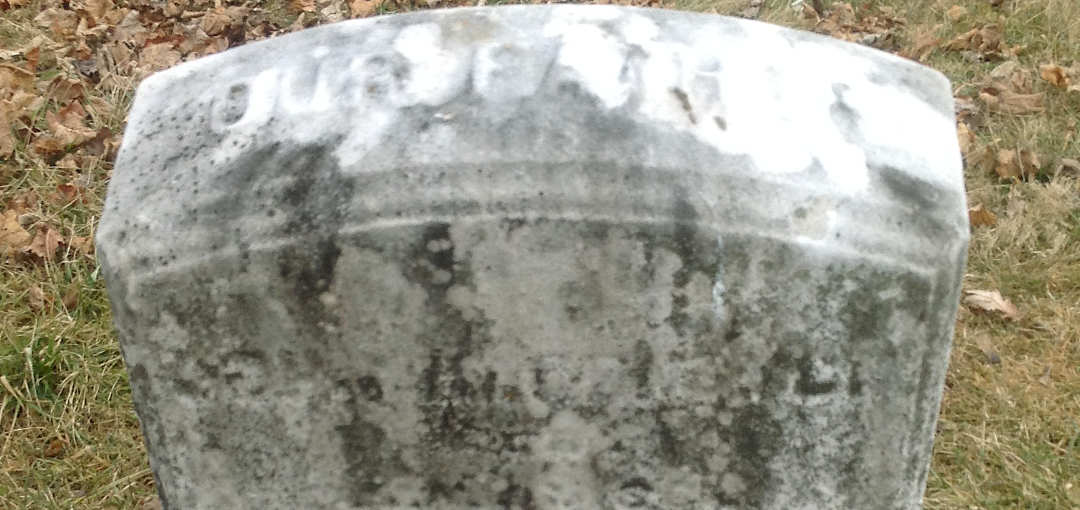 Andrew and I often feature families that are especially interesting, different, or have curious photos attached to them. Yet, so many of our ancestors were simply upstanding citizens with ordinary careers, conventional families, and no known photographs of them exist.  We believe they deserve to be the subject of articles too!
John Hagenbuch, born in 1802, is one of these family members. We don't have any photos of his family to share, only gravestones. But, his family's story is worth sharing because it exemplifies the rest of us modest Hagenbuchs. John's line is Andreas (b. 1715) > Henry (b. 1737) > Jacob (b. 1765) > John (b. 1802), making him a great grandson of Andreas, the patriarch. John's grandfather, Henry, was the owner and operator of the Cross Keys Tavern in Allentown, Pennsylvania which was passed down through the family. The Tavern went to John's brother, Jacob (b. 1797) and then to his son Benjamin (b. 1823). So, what about John?
John married Catherine Scholl (b. 1806) and they had three children: Henrietta (b. 1826), Matilda (b. 1835), and William (b. 1841). The family is listed in the 1850 census as living in Allentown. In the 1860 census, John's career is listed as a "yeoman" which is another term for a farmer who farms his own land. In 1870, John is then listed as a tailor still living in Allentown with wife Catherine and 29-year-old son, William. William's career is listed as a "segarmaker." There is the possibility that John may have raised tobacco and his son, William, used his father's crop to roll cigars. John died in 1879 and Catherine in 1870. They are buried in the Union-West End Cemetery, Allentown, Pennsylvania. Unfortunately John's stone is quite worn.
Let's now take a look at their youngest child, William. William H. Hagenbuch was born in 1841, married Mary (last name unknown), and died in 1889 in Philadelphia, where he was working as a "packer." William served in the Pennsylvania 129th Infantry during the Civil War. At this time, we know nothing about his service other than he was a private and that the 129th was involved in fierce fighting at Antietam, Fredericksburg, and Chancellorsville.
William is buried in the same graveyard as his parents at Union-West End Cemetery. But, his wife is not buried there. From this, we might gather that Mary remarried and is buried someplace else with a second husband. As far as we know, William and Mary had no children.
John and Catherine (Scholl) Hagenbuch's eldest child, Henrietta was born in 1826 and married Charles Nonnemacher. They had five children: Charles W. (b. 1848, d. 1913, m. Elizabeth Shelly), Jane Catherine (b. 1853, d. 1929, m. George Hock), Mary (b. 1855, d. 1935, m. Milton Miller),  Thomas (b. 1859, d. 1929, m. Elnora "Ellen" Yellis), and George (b. 1864, d. 1939, m. Elnora "Norah" Roberts). Charles and Henrietta lived most of their lives in Allentown. The 1880 census has them living in Mauch Chunk, PA (later renamed Jim Thorpe). Charles was a brick mason and died in Allentown in December of 1896. Henrietta died in August of 1896. They are buried at the Union-West End Cemetery.
Henrietta and Charles Nonnemacher's sons were men whose careers were solid examples of the American middle class. Charles W. Nonnemacher and his wife Elizabeth lived in Allentown. Charles was a dry goods clerk. Thomas and his wife Ellen also lived in Allentown. Thomas was a carpet salesman. George and his wife Norah lived in Allentown. He was a gardener.
John and Catherine (Scholl) Hagenbuch's middle child was Matilda, who married Ephraim Fink. Matilda and Ephraim had four children: Charles (b. 1854, d. 1926, never married), Oswell (b. 1863, d. 1886, m. Susan Deischer), Jane (b. 1869, d. 1896, never married), and Harvey (b. 1872, d.1933, m. Amelia "Millie" Steinbach).
In the 1920 census, Charles Fink is listed as a boarder living on Liberty Street in Allentown. His occupation is a laborer at the Jute Manufacturing company. Harvey and Millie lived on North Penn Street in Allentown. Harvey's occupation is listed as a railroad brakeman. Oswell and wife Susan lived on Chew Street in Allentown, and he worked in a bakery. Their son, Elwood, is another noteworthy example of middle class success and the ideal American life.
Elwood Fink's line of descent from Andreas Hagenbuch is: Andreas (b. 1715) > Henry (b. 1737) > Jacob (b. 1765) > John (b. 1802) > Matilda (Hagenbuch) Fink (b. 1826) > Oswell Fink (b. 1863) > Elwood (b. 1886). Elwood married Lena Neff and they had three daughters: Helen, Mildred, and Mabel. Elwood and his wife Lena moved to Atchinson, Kansas where he owned and operated a pretzel factory. After selling the factory in 1914, he worked for the Railway Specialty Company and then the Blish, Mize, and Silliman hardware store (both companies were in Atchison). The final portion of his career was spent as a rural mail carrier for 27 years before retiring. Elwood and Lena are buried at Oak Hill Cemetery, Atchison, Kansas.
Harvey and Millie (Steinbach) Fink had four children with middle class lifestyles. Edward "Eddie" Fink (b. 1889, d. 1957, m. Agnes Ginkinger) lived in Allentown where Eddie was a watchman and switchman on the railroad. Elsie Fink (b. 1891, d. 1959, m. William McCarthy) also spent her life in Allentown, where husband William was a plumber. Florence Fink (b. 1892, d. 1957, m. August Raetz) lived in Pottsville, Pennsylvania, where her husband worked as an electrician. Harvey and Millie's youngest child, Helen (b. 1895, d. 1926, m. William Lutkins), died young due to influenza. Her husband was a firefighter in Brooklyn, New York.
John and Catherine (Scholl) Hagenbuch's son, William, has no known descendants, but their daughters Henrietta Nonnemacher and Matilda Fink do. Although they do not carry the Hagenbuch surname, they are as much descendants of Andreas Hagenbuch as the rest of us. Henrietta's and Matilda's descendants are relatable to many of us as middle class Americans. Their information and stories need to be recorded and remembered.