Stuck on Charles W. Hagenbaugh, Part 2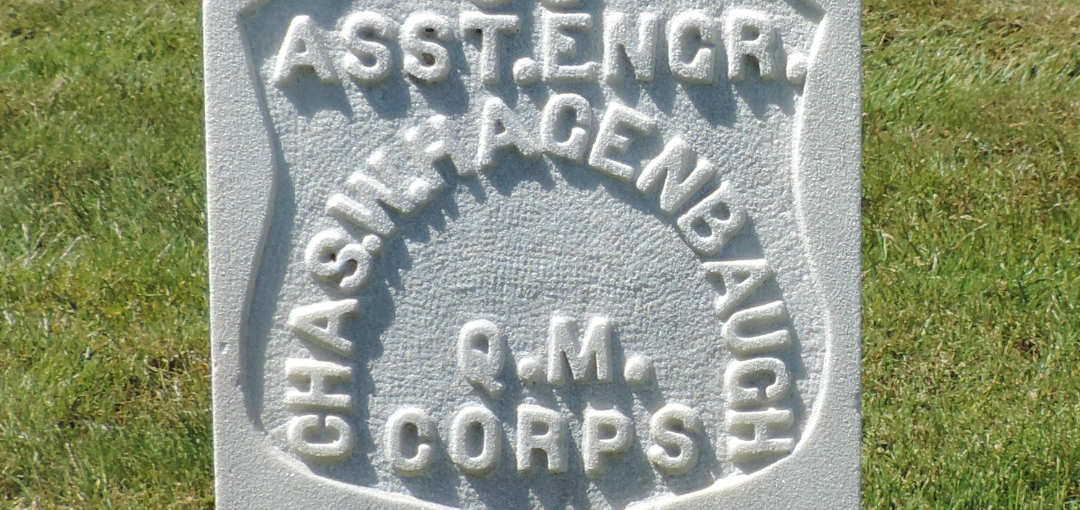 What happens when we cannot find the right spot to place one of our ancestors on our family tree? The first part in this series described one such case—that of Charles William Hagenbaugh—and traced his life backwards, beginning with the facts surrounding his death in San Francisco, California on May 31, 1913 and concluding with his mysterious Midwest origins and birth on February 27, 1862. Now, in the second part, we will further analyze his life, explore additional details, and finally attempt to draw conclusions about where he belongs in our genealogical records.
When I first discovered Charles about a year ago, I questioned whether he was even a descendant of Andreas Hagenbuch (b. 1715). After all, his last name was "Hagenbaugh" and not "Hagenbuch." The 1900 and 1910 United States Censuses put my doubts to rest, since they revealed that Charles' father was born in Pennsylvania—the same state where Andreas settled in 1737. This suggested also that Charles was related to certain descendants of Henry (b. 1737) and Michael (b. 1746), who moved west and changed the family name.
Next, I searched Beechroots for any Charles Hagenbaughs or Charles Hagenbuchs who were born around 1862. The results included:
Charles W. Hagenbaugh (b. 1857 in Ohio, d. 1937 in Ohio)
Charles M. Hagenbaugh (b. 1863 in Pennsylvania, d. 1924 in Louisiana )
Charles A. Hagenbuch (b. 1857 in Illinois, d. 1860 in Illinois)
Charles H. Hagenbuch (b. 1859 in Pennsylvania, d. 1919 in Illinois)
Charles C. Hagenbuch (b. 1859 in Ohio, d. 1928 in Kansas)
Charles E. Hagenbuch (b. 1860 in Michigan, d. 1920 in Michigan)
Charles E. Hagenbuch (b. 1867 in Pennsylvania, d. 1958 in Pennsylvania)
Unfortunately, none of these individuals fit the profile of Charles W. Hagenbaugh, who was born in 1862 in either Ohio or Michigan and who died in 1913 in California. However, the exercise did help to confirm that Charles really was a new addition to our family tree.
As discussed in the previous article, Charles appears on the 1895 state census for Minnesota. It records that he was working as an engineer and living with his wife, Albertina (b. 1875), in a third floor apartment at 206 Carroll Avenue, Saint Paul, MN. The census also lists a few other Hagenbaughs residing a few blocks away at 459 Inglehart Avenue. These were Andrew J. and Christopher Hagenbaugh, who were living with Cornelius Murphy, his wife Leonore, and their two daughters. Perhaps Charles was related to these individuals?
Returning to Beechroots, I learned that Cornelius H. Murphy (b. 1852) had married Leonore Hagenbaugh (b. 1848) in 1873 and that she had two older brothers, Andrew Jackson (b. 1832) and Christian "Christopher" (b. 1841). Additional research showed that around 1885 the Murphys moved from Chicago, IL to Saint Paul, MN with their young daughters Mary C. (b. 1876) and Susan A. (b. 1882). There, Cornelius worked as the advertising manager for the Saint Paul Globe in the same office building where Charles W. Hagenbaugh was employed as a power plant engineer. This had to be more than a coincidence!
Digging through an 1889 city directory for Saint Paul revealed that before marrying Albertina Tepper and moving to 206 Carroll Avenue, Charles had lived at 459 Inglehart Avenue—the house owned by Cornelius and Leonore (Hagenbaugh) Murphy. There must have been a family connection here, but what was it?
Leonore, Andrew, and Christopher were the children of Jacob and Catherine (Heckman) Hagenbaugh. Catherine was 51 years old when Charles was born in 1862, indicating she was not his mother. Leonore was just 13 in that year and likely not his mother either. Christopher was almost 21, but he was born in Ohio (instead of Pennsylvania) and is not believed to have married. This left Andrew as the remaining member of the household to explore.
Andrew Jackson Hagenbaugh was born on January 23, 1832 in Northampton County, PA. In the late 1830s, he moved west with his parents and settled in Bath Township, Greene County, Ohio just outside of Dayton. By 1860, Andrew was working as a teamster and was counted twice on that year's census: first with his eldest sister's family, Jacob and Ann Elizabeth (Hagenbaugh) Bressler, of Ottawa Township, Putnam County, OH and second with his parents in Dayton, Montgomery County, OH.
With the outbreak of the American Civil War, Andrew enlisted in the 4th Ohio Cavalry, Company H on September 1, 1861. He was badly wounded the next year and was discharged on July 21, 1862. He disappears from all records for several decades and doesn't appear again until 1880, when the census noted him as living with his parents in Ottawa Township, Putnam County, OH. It also marked that he was crippled and was either married or a widower (both columns were marked). Andrew moved to Saint Paul, MN in the early 1890s and lived in the same house as his siblings Leonore and Christopher along with the mysterious Charles. By 1900, he had left Saint Paul and on the census was listed as a widower residing at the National Home For Disabled Volunteer Soldiers in Jefferson Township, Montgomery County, OH. Andrew Jackson Hagenbaugh died on June 15, 1903 and is buried in the Dayton National Cemetery in Ohio. The paperwork for his burial recorded his next of kin as his sister, Elizabeth Bressler.
Was Andrew (b. 1832) the father of Charles (b. 1862)? If true, it would make Charles' line: Andreas (b. 1715) > Henry (b. 1737) > Christian (b. 1773) > Jacob (b. 1803) > Andrew Jackson (b. 1832) > Charles William (b. 1862). It also helps to explain several aspects of their lives through the following theory: In 1860, Andrew Jackson Hagenbaugh was living with his sister's family in Putnam County, OH, not far from where the state borders Indiana and Michigan. He was 28 years old and was from Pennsylvania.
By early 1861, he married an unknown woman, who became pregnant before he joined the Union Army in September of the same year. The child, Charles William Hagenbaugh, was born in 1862 while his father was away at war. The birth may have occurred in either Ohio or Michigan, depending upon where the wife was living. When Andrew returned home in the summer of 1862, he was crippled and unable to care for his wife and child. The family fell on hard times. At some point, his wife may have left and taken Charles with her, forcing Andrew to move in with his parents in the 1880s and later his sister in the 1890s.
Charles grew up and began working for the railroad in Fort Wayne, Indiana—not far from Putnam County, Ohio where his Hagenbaugh family lived. In the late 1880s, he moved to Saint Paul to stay with his aunt Leonore. Through his uncle Cornelius, Charles got a job at the Globe building as stationary engineer. His father, Andrew, joined the family in Saint Paul a short time later. Charles married in 1895 and relocated to Montana around 1899. Cornelius and Leonore moved with their daughters to Louisiana in 1896, forcing Andrew to go back to Ohio and into a home for disabled soldiers near his sister, Elizabeth. Andrew died in 1903, and his suspected son, Charles, in 1913.
Of course, the above is only a theory, and Charles could still easily be a nephew or cousin to this group of Hagenbaughs. Genealogy isn't a perfect science after all. New evidence, new names, and new ideas all force us to revisit and refine what we know—or think we know—all the time. Perhaps placing a person at exactly the right spot on our family tree isn't the most important part of this exercise anyway?
Let us remember Charles William Hagenbaugh and celebrate what we know about his life. Once forgotten to time, he has been found. His stone, like so many others in the San Francisco National Cemetery, has a story to tell—and the final word may not have been written just yet. While researching this article, I discovered that Charles has a death certificate on file in California and that a paper copy can be requested by mail for a fee. Might this document finally enable me to get unstuck? Stay tuned!