Grandma Hagenbuch, Scrivener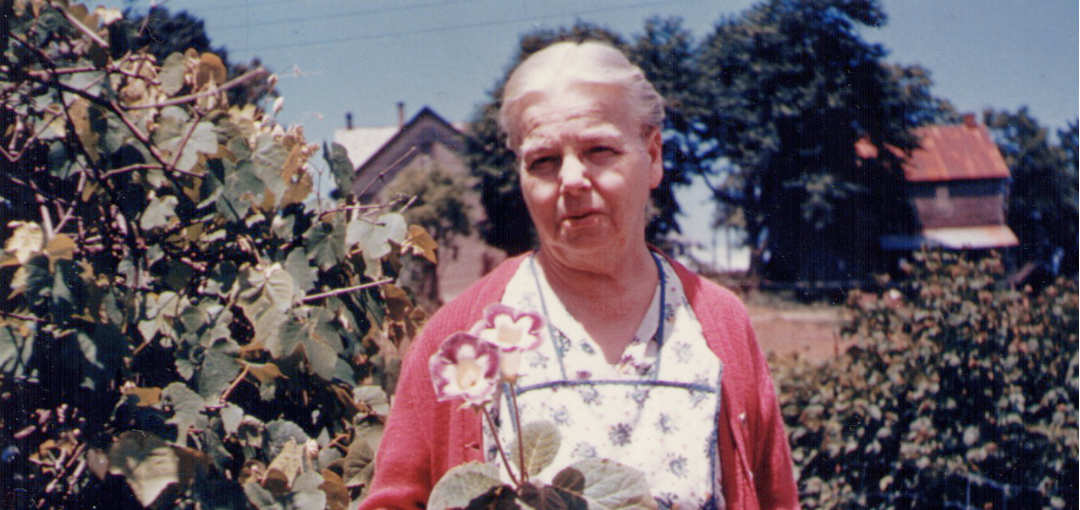 There is no doubt our readers realize that Andrew and I enjoy writing about our family's history, along with all of its streets, back alleys, lanes, dirt roads, highways, and byways. In other words, the written journey about our family leads us to many places, to many issues, and touches on many subjects. We write a few articles on the important data concerning a person or family group, but then change it up with an article about culture and traditions or foods and photographs. It's what keeps our articles fresh and interesting, not only for our readers but also for us.
When I wrote the articles about my Uncle Charles Hagenbuch and the box of ephemera that cousin Leon found in his attic, I pulled out some materials that Uncle Charles had saved that were written by his mother, my grandmother, Hannah (Sechler) Hagenbuch (b. 1889). I have written several other articles about Grandma. She was a teacher, an educated woman, a mother, a farmer's wife, and a poet. In her very distinct handwriting, she penned poems that I would liken to Grandma Moses' paintings—folksy, straightforward, enjoyable, and exclusively Americana.
But, she also wrote some prose pieces in addition to some letters to local newspaper editors which I found in the box. A letter to the editor of the Danville News, which Grandma wrote in 1962, is an example of her interest in family history and local stories. Although I am not familiar with the news story she is referencing, her letter brings a quirky smile to my face.
Editor of Danville News

Dear Sir:
After reading the "News" on Tues. and seeing the picture of the two graves and of Mr. Rockafeller I can tell you the particulars and how I know. My grandmother [Mrs. Hannah Davis] bought a small house and lot near Mooresburg while the Civil War was going on and lived there with her family for 10 years. They lived not far from the Cole family and knew them well. Mr. Cole and one of his neighbors could never agree about the line between the two farms. He became totally blind before his death. He said he wanted to be buried along the line fence, "To watch the line." When he died the family buried him where he had requested. But Mrs. Cole said she wanted to be buried in a graveyard; but just before she died she said, "Bury me alongside of Abraham." The only person living at the present time whose family were neighbors of the Coles is Miss Elizabeth Robbins, 98, of Pottsgrove. She is now at the Convalescent Home, Broadway [Street], Milton [PA] suffering with a broken hip. I think Mr. Rockafeller in caring for the graves is doing a worthy deed.

Respectfully,
Mrs. Hannah M. Hagenbuch
Of course, this is where my research begins. The Rockafeller named in the Danville News article is most likely Arthur (b. 1896, d. 1967) who lived near Mooresburg, Pennsylvania. Nothing can be found in the census records about Mr. and Mrs. Abraham Cole who were buried (and most likely still are) along their property line. No grave records exist for them because they were not laid to rest in a cemetery. At this point, I am not sure where the Coles lived but further research may yield a spot which will lead me to taking a field trip someday to see if I can find grave markers for Abraham and his wife. I just find this letter not only fascinating, but a testament to my grandmother's interest in curious circumstances.
In April of 1964, my grandmother wrote a letter to the editor of the Prairie Farmer, which calls itself the "oldest continually published magazine in America" having begun publication in 1841. My grandparents must have had a subscription to the Prairie Farmer. Grandma was, to say the least, upset with a letter that had been written by another subscriber. In the box from my Uncle Charles is both a clipping of a portion of Grandma's letter which had appeared in the magazine and a handwritten copy of the original letter she sent.
Editor of Prairie Farmer

Dear Sir:
When I read the letter from L. S., Davies Co., Ind. in your March 2 issue of Prairie Farmer it made me plain mad. Who is he that he thinks he can call the farmer yellow when he is too yellow to sign his name to his "loud mouthed, profane" letter. In it he calls his fellow man "hogs" and "dogs." L.S. is surely no lowly farmer, but I'd wager that when it's all said and done the lowly farmer feeds him. Likening our hardworking honest farmers to swine sounds like "Hitler talk" to me.

A retired Farmers wife.
Mrs. Hannah M. Hagenbuch
Sometime during the presidency of John F. Kennedy, Grandma read a news article in the Milton Standard which raised her hackles. It's a known fact that my Hagenbuch clan were mostly teetotalers. Grandma Hagenbuch wrote the following letter to the editor of the local Milton, PA newspaper expressing her great dislike of liquor. As a side note, Grandma certainly wasn't aware that George Washington was one of the largest individual distillers of whisky during his lifetime! It was one of the many businesses that Washington dabbled in at Mount Vernon.
Dear Sirs:
I read this enclosed clipping in the Standard last night. Don't you think that keg of cognac is safely packed with the other refreshments on the boat that JFK is on today on the Potomac river, that fair river so closely associated with our first great President? Do you think that Pres. George Washington would have went on a drinking party on the 22nd of February during the Revolutionary War days? I do not. I think that liquor, if something is not done about it, will be the ruination of our country, sooner or later.
Unlike Grandma's written opinions, her poems are well known by her grandchildren. Growing up, I was reminded often that Grandma was a poet and once in a while a poem would come to light which would solidify that fact. Grandma wrote a poem about our family church, Oak Grove Lutheran, which has been featured in a previous article. She wrote a poem entitled "My Treasures Three," also featured in a past article, that explained the sadness she felt at the death of her infant son, Lawrence, in 1922.
She wrote a poem in 1908, "The History of the Class," which she recited at her Pottsgrove High School graduation ceremony—a huge accomplishment since most women of that time in rural Montour County, PA did not graduate from high school. Finally, her poem "Break of Day" is a lovely, sophisticated poem in the vein of Emily Dickinson. The last of its four stanzas reads:
Oh 'tis then I love to listen,
While the soft winds fan my cheek,
And far away in the distance,
I hear the murmuring creek.
And as the light grows brighter,
And the day rolls rapidly on,
I often think and live o'er again,
The Beauty of the dawn.
Grandma's poems and prose are filled with her love of nature, her fondness for friends and family, and her Christian beliefs. She wrote about her appreciation of Montour County where she lived all her life: the Chillisquaque Creek and Limestone Run, the Upper and Lower Chillisquaque Cemeteries where our Sechler ancestors are buried, and the pleasant valley, ridges and fields of the area. It's an appreciation I also share, since I grew up in the same locale. When I read her writings about Montour County, I get nostalgic and homesick especially since I moved from the area when I got married in 1974 and began my first teaching job. Going back to the areas of Limestoneville, Washingtonville, Pottsgove, and my family church of Oak Grove, takes me back to simpler times of growing up on the farm where nearby lived most of my large Hagenbuch family. Grandma's poems and prose grip at my heart and mind transporting me back to the halcyon days of my youth.
Of Grandma's poems, there are two more I want to share. As I have written before, much of my Hagenbuch family—descendants of my great grandparents Hiram and Mary Ann (Lindner) Hagenbuch—attended Oak Grove Lutheran Church which is located among the farms that were once owned by family members. The church was very important to all of us, especially to Grandma. Probably in the 1950s, she wrote a poem for a cousin, Lottie (Tanner) Hagenbuch (b. 1900), whose husband Raymond Hagenbuch (b. 1896) was a second cousin to Grandma's husband, Clarence Hagenbuch (b. 1889), my "Pap Pap". Lottie was ill and had missed attending church, as well as the Lutheran Church Women (LCW) meetings that were held monthly. Grandma wrote this poem for Lottie:
Dear Lottie:

The LCW has come to call,
And visit awhile with you.
For we have always found you to be,
A friend both loving and true.
We miss you very much, Lottie,
In Church and Sunday School,
In our fellowship together,
Of keeping the Golden Rule.
So we will watch and pray, Lottie,
That you will be well real soon.
And come back to your loved ones,
In your own dear, happy home.
In light of the upcoming Hagenbuch family reunion still scheduled for Saturday, June 18, 2022, the following poem is relevant. Grandma wrote the poem in 1963 to call the family together, just like Andrew and I are calling all of you together after a three-year hiatus. The "Sunnybrook" mentioned in the poem is "Sunnybrook Park" which is located just north of Danville, Pennsylvania. Many of the early Hagenbuch reunions were held at Sunnybrook.
Hagenbuch Reunion by Hannah M. Hagenbuch.

Come, Folks get yourselves ready
For the twenty-second time,
To attend the Hagenbuch reunion,
It won't cost you a dime.
Come to Sunnybrook on the 27th of July.
Come one, come all,
But if it would be rainy,
Come to Washingtonville Fire Hall.
Grandma Hagenbuch died in January of 1967. I was 13 years old. As a child, I did not fully appreciate the creativity and wisdom that my grandmother possessed to put together such meaningful words in prose and poetry. Now, as a scrivener myself, her words reach out to me across time to memorialize, not only the nostalgic significance I have for Montour County, but also the beautiful significance of my grandmother's words. Once again, our genealogical journey has yielded memories that live on long past one of our ancestor's life.