A Continued Conversation with Andreas Hagenbuch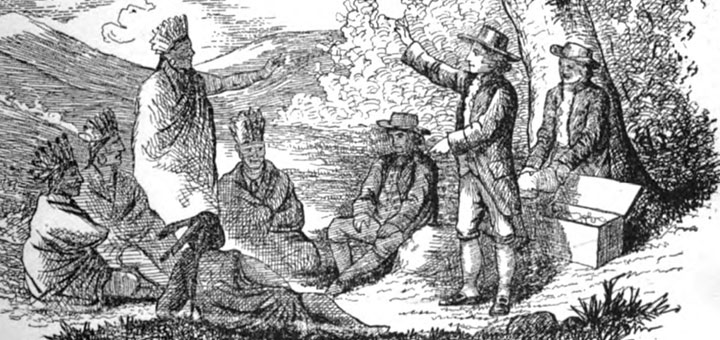 Newspaper correspondent John Smith continues his conversation with Andreas Hagenbuch one spring evening in 1784 as told in first person by Mr. Smith. In reference to the previous article, Andreas and his son Michael are sitting with Mr. Smith in the Heilige Eck of Andreas's home.
I had brought my portable ink writing set with me and parchment. I drew these from the bag I had carried in with me when the door opened from the Gang (that is to say the hallway when entering the house). The two boys who had taken my horse to the barn walked in and approached their father, Michael. Andreas greeted them with a nod then introduced them as his grandsons, Henry and Jacob.
The boys said something quietly to their father. Michael nodded and the boys walked to the opposite corner of the Stup where there was a large chest. They took out a blanket, laid it in front of the hearth and lay down, their small faces resting on their hands as they prepared to listen to their grandfather.
I asked Andreas how long he had lived in this place. "I crossed the ocean in 1737 with my second wife and my two oldest children. My first wife had died in Wurtemburg where I lived. There were great tragedies in my life. My first wife Magdalena died in giving birth to my son Henry. Work was difficult to find; so many people having skills and those with some ground had only a small piece of land to till. Many of our people were going to America and in prayer I asked the Lord Jesus what should become of me and my two young children.
"I believe that God's hand guided me to the marriage with my second wife, Maria Magdalena. And it was she who had the greatest desire to leave Wurtemburg because others of her family had already traveled to America. I had saved enough money for the trip and I had skills that I knew would keep me in good stead for a new start in life. Many said I was a good businessman along with being industrious with farming and leather tanning, a skill I learned from my father. The trip was arduous and long. We prayed daily for the lives of those around us and for my two babies, so young they were. Through God's grace we all came safe to Philadelphia in October of that year, although there were many deaths due to sickness and the filthiness of our sleeping area. The babies, Henry and Anna Barbara, my dear wife Magdalena and I lived because of the grace of God."
"But, I was told that your wife now is your third wife", I asked
"Ja, my dear Maria died soon after the birth of Christian, Michael's brother. That was in 1747. I was blessed by God a third time with my wife Maria Margaretha."
Michael spoke up. "I never knew my real mother. Father married again a few years later to the only woman I have known as my mother who you met earlier." Michael looked at his father with a slight frown. "You had tragedies in Wurtemburg, father. But, we've had our share of tragedy and death here in the Allemaengel! Death from savages, death from childbirths and sickness. Even the death of Uncle Jacob!"
I looked at Andreas with surprise. "Your brother was with you when you came to America in 1737?"
Andreas looked away in one of those far-off stares that I would begin to recognize as his way to think through a difficult answer. I looked over at the two young boys who had sat up with expectation of another story. Andreas spoke.
"My younger brother Philip Jacob came to America in 1751. He was with us, here, for a while; a good man, but then…well…"  The old man seemed to age even more as his voice trailed off. But, he pulled himself together and said, "But the Lord had other plans for Jacob. Michael: we will speak no more of this! Now, Mr. Smith what else is it that you wish to know?"
I asked Andreas: "Your son mentions savages and I know there were atrocities committed here by French-led Indians. The tavern keeper I spoke to in Reading told me that you were instrumental in protecting the families in this area during that time."
Andreas sat up and the previous despair he had displayed was gone. A bit of a smile played around his lips which surprised me considering he was going to talk about that violent period on the Pennsylvania frontier.
"Mr. Smith, when I brought my family here in 1737 we spent the winter in Philadelphia with friends of some acquaintances we made on the voyage. In the spring of the next year I received a warrant for land. I should not have accepted it without seeing it, but I was hungry for my own acreage. My wife and the children came with me after I purchased supplies, a cart, and oxen. But, God was testing me as the land was not good and our small family suffered for the first two years until through prayer I realized that He must be testing us to see if we were serious in doing His work here in a new land.
"We found this piece of land, 150 acres, with all that was needed. Through those first few years I made contact with the Indians in this area who were even at that time beginning to move north and west as we Deitsch and others were encroaching on their land. But, for some reason, those few Indians that were still here taught me their way to tan hides, by using the organs of the animal, making the whitest leather that was much sought after by the English. And, I sealed my reputation as a fair man whom those Indian friends respected. That respect boded well for me when we had the troubles several years later when Indians attacked the homes around us and savagely killed a few of our best folks."
"We Hagenbuchs were never attacked and I had no fear of them as we believed in the Lord Jesus and his protection. Several times our neighbors came to this place for help. Most of my children were young, except for Henry who was a man. Michael there was about ten years of age. You have memories, don't you Michael?"
Michael nodded. "Father, you may not have been fearful because of God's promise through prayer. But, we young ones were terrified. The stories of the disfigured bodies and violence were worse than what Mother had read to us in Bible stories. I would say that we were protected not only because of your reputation as a fair man, but also the stories that your Indian friends told of your quiet strength and belief in the power given to you by God. That is what kept us safe during those years."
Michael looked to me and spoke with sadness as he continued. "We had neighbors murdered in those days. My sister's husband's family, the Reichelderfers, were almost wiped out and their homestead and crops were burned. Our good friends, the Trumps and the Baileys, had family killed by those savages and in ways that no Christian can speak of. I cannot even try to describe the horrible death of the Schissler woman. Father not only protected the neighbors here but we would run to their aid and somehow, each time, our family came away unharmed."
Andreas nodded and looked upwards as if to heaven, "Ja, Mr. Smith. I have been blessed. Jesus Christ is my shield and my defender. As the reformer Luther wrote–a mighty fortress is our God! My life would have been much different in Wurtemburg. God has tested me and formed me into a strong believer just as a blacksmith strengthens a piece of metal in the forge."
During this small religious speech, I noticed that the two boys had laid down and were asleep. Even Michael, at the end of the table, had heavy lidded eyes and his head was nodding. I realized that Andreas, with his religious zeal, had given this talk many times for his family to hear.
The elder reached up on the book shelf behind him and took down a worn leather bound volume. At first, I thought it to be a Bible. But, I noticed it was not inscribed with the German "Heilige Schrift" so I was curious as to its title and significance.
"Mr. Smith: second only to the Bible is my Wahren Christenthum. Oh, in English, True Christianity whose author is Johann Arndt, the great religious writer. I have lived as best I could by the word of God and by the word of Arndt. Listen to what Arndt wrote." The old man opened the book to a dog eared page, one that he certainly had read from many times and he read: "God is to completely possess man from within and without. We have an example of this in our Lord Jesus Christ, who is a perfect image of God in that he completely sacrificed his will to his heavenly Father's will in highest obedience, humility, and meekness without any self-honor, self-love, self-gain, or possessiveness and without any self-joy or pleasure, but he allowed God to work everything in and through him in whatever he thought, spoke, or did. In a word, his will was God's will and pleasure."
"These words, Mr. Smith, and many others of Brother Arndt's, I have lived my life by. This book has been in my family for three generations. I brought it with me on the voyage and I expect to pass it on to one of my sons, but not as a family heirloom. It was passed to me by my father because he believed I needed its teachings the most when I was a young man. If only he would have known that my brother Philip Jacob would have needed it more! But, that is nothing now to speak about."
Andreas's voice became soft and he looked at Michael as if to make sure he was not listening in sleep. "I plan to pass Wahren Christenthum on to my youngest son, John, who is now living in Philadelphia and, well, needs more than just God's word. He needs Arndt's words to get him back on the straight and narrow. I only hope that my future death will not be too late for him to receive the book to give him the truth of God's purpose for his life."
I sat silent at Andreas's revelation about Arndt's book and its power to change lives, and his hope that it would change his youngest son's life. Much of his plan for the book was not understood by me but it set in me ever stronger the realization that this man was a deeply religious man; a man who had his life figured out; a man who took responsibility for the lives of his family and neighbors; who did not waver from his strong beliefs and opinions, all the while keeping a positive outlook on his past, present and future.
Andreas quietly called to his son, Michael. "Son, take your two boys up to bed and show Mr. Smith the blankets laid out for him.
"Mr. Smith, be ready for a hearty breakfast and I will spend more time with you tomorrow. Maybe Michael can tell you about his short life as a soldier. But, now, my old bones need a soft place and the warm arms of my wife. Gute nacht!"