Hiram Hagenbuch's Farm Rediscovered Near Milton, PA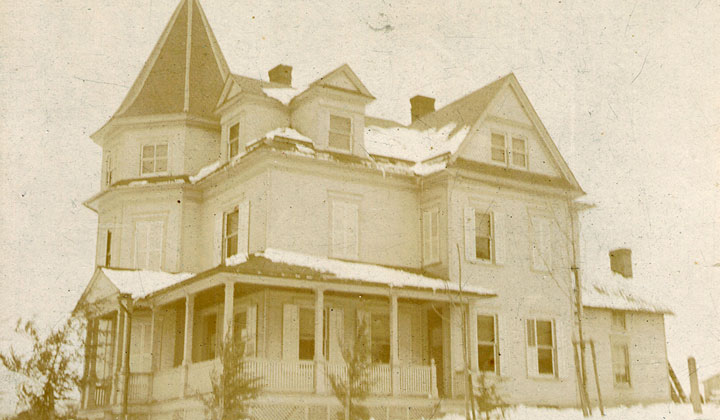 The exact location of Hiram Hagenbuch's home and farm were recently rediscovered just north of Milton, Pennsylvania. Besides solving a family mystery, their discovery has helped to uncover an important relationship between Hagenbuch cousins.
Hiram Hagenbuch was born in 1847 and died unexpectedly in 1897 of typhoid fever. His line is: Andreas (b. 1711), Michael (b. 1746), Henry (b. 1772), William (b. 1807), and finally Hiram (b. 1847). Hiram was born near Hidlay Church in Columbia County, Pennsylvania. In 1853 his father, William, moved the family to a farm near Oak Grove Lutheran Church in Liberty Township, Montour County, PA.
Hiram married Mary Ann Lindner (b. 1853) in 1872. It is likely that they stayed in Montour County for several years after marrying. By 1880 they had relocated their young family to Turbot Township, Northumberland County, Pennsylvania. This is confirmed by the 1880 census which shows Hiram and Mary Ann Hagenbuch living there along with their children, Joseph William, Henry Bruce, Francis Eugene, and Kathryn Jane.
Hagenbuch family historians have long known that Hiram owned a farm just north of Milton, PA near the present day Wynding Brook Golf Club. Though the exact location of the farm was forgotten, one tantalizing clue remained – a photographed labeled as the home of Hiram Hagenbuch.
Another clue, while not immediately understood, came from an 1874 map showing the location of a farm owned by Peter Hagenbuch (b. 1819). Peter served in the Union Army during the Civil War, and he was married to Julia "Landbach" Hagenbuch (b. 1815). His farm was located just north of Milton along the Susquehanna River in Turbot Township, Northumberland County.
Peter and Hiram were first cousins once removed. In other words, Peter Hagenbuch was a first cousin to Hiram's father, William. Peter's line is Andreas (b. 1711), Michael (b. 1746), Andrew (b. 1786), and finally Peter (b. 1819). Peter Hagenbuch was born in Columbia County, PA near Hidlay Church. All evidence points to him being well off. He owned several farms in Northumberland and Union Counties, as well as a home in Milton. Peter and his wife, Julia, never had any children.
Peter Hagenbuch died in 1875. Without any children, one would assume that his farm was sold out of the family. But new evidence suggests otherwise. In June of 2015, the Hiram Hagenbuch house was rediscovered on the eastern side of the land once owned by Peter. Peter Hagenbuch's farm did not pass out of the family. Instead, it was sold to Peter's first cousin once removed, Hiram, demonstrating the strong connections within the Hagenbuch clan.
That said, there is one complication with this story. Hiram Hagenbuch's house does not appear on the 1874 map. This begs the question: why would Hiram build a new home when one already existed on the property? The answer to this most likely comes from the proximity of Peter's original house to the Susquehanna River.
In the last few hundred years, there have been a number of disastrous floods along the Susquehanna. One of these occurred in 1889. In fact, this flood is the third largest on record for Milton, Pennsylvania! Any house near the Susquehanna River during the 1889 flood was likely waterlogged, if not totally destroyed.
Using Peter's information, census records, and flood data, we can begin to construct a clearer picture of events. In 1875 Hiram Hagenbuch, who was in need of a farm of his own, bought a property previously owned by his cousin, Peter. Hiram and his wife, Mary Ann, moved there and were raising a family in Turbot Township when the 1880 census was taken. In 1889 a massive flood struck, damaging the house and farm buildings that were near to the Susquehanna River.
As a result, the family relocated to the eastern side of the property, away from the river, and onto higher ground. Soon after completion of the new house, a photograph was taken of it, possibly around 1890. In the picture, the new home can be seen surrounded by saplings. Today, some of these trees are still there. They are fully grown and prevent anyone from viewing the house from the road. A gallery of images of the house can be found at the end of this article.
Sadly, Hiram Hagenbuch and his family would not enjoy their new home for long. Hiram and his son, Henry Bruce, both died of typhoid fever in 1897. Three years later the widow, Mary Ann "Lindner" Hagenbuch, moved the surviving family members back to the farm of Hiram's youth in Liberty Township, Montour County. The house on the hill and its connection to Peter Hagenbuch were both eventually forgotten.
From this story, there are two other pieces of family history worth noting. The first pertains to the appearance of the name "Julia" within the Hagenbuch family. Seeing Hiram's connection to Peter Hagenbuch, it is likely that Hiram named his daughter Julia Rebecca Hagenbuch (b. 1884) in honor of Peter's wife, Julia.
The second related to the close proximity of Peter and Hiram's land to the old Milton Fairgrounds. Hiram's 1897 obituary mentions that his home is found just east over the railroad tracks past the Milton Fairgrounds. In fact, both the railroad tracks and the remains of the Milton Fairgrounds can be seen in the satellite imagery below.
An oval-shaped depression can be seen just west of the house and the railroad tracks. Today this is a golf driving range. However, in the late 1800s, it was the location of the Milton Fairgrounds.
Without careful preservation, family histories and stories fade with time. Thanks to a labeled photograph, a map, and an obituary, the location of Hiram's Hagenbuch's house has been rediscovered. And, for those who call Hiram and Mary Ann "Lindner" Hagenbuch family, it means they can now put those names with an real place.
Below are some additional images of Hiram Hagenbuch's house as it was in June of 2015.