Life on a Hagenbuch Farm, Part 1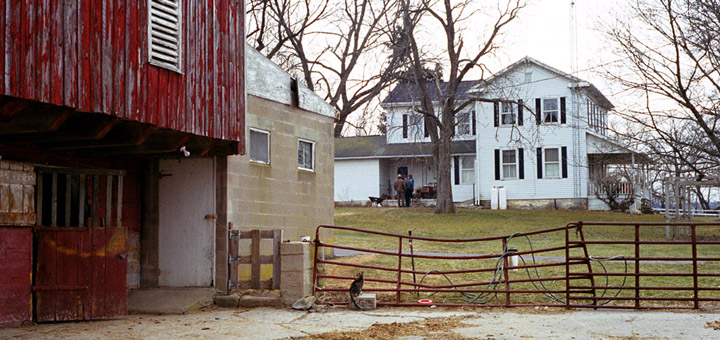 As a boy, I didn't realize how much of an impact growing up on a farm would have on me. Because I moved from the farm when I was 13, I mostly only remember the positive, fun experiences that I had. The drudgery, hard work, sweat, dirt, heat, and freezing cold all pale to my memories of the hours I spent playing in the pasture and barn, the freedom of wide open spaces, and the boisterous, entertaining experiences. Growing up on the farm has helped me over the years relate to the farming folks that I have dealt with during my long career in education, here in the Dillsburg area and the Herndon/Dalmatia area. I find it most enjoyable when I go back to Montour County and relive those "Tom Sawyer" days.
There is a huge advantage to remembering and writing about these experiences. As my son, Andrew, and I document more and more about our family history, we keep wishing that our ancestors and their kin would have written down their daily experiences. We could learn so much about their lives, their social contacts, their work, their recreations, and their thoughts. If they had only realized how important those writings would have been to future generations – just as important as knowing birth and death dates!
A few years ago I seriously began "thinking" about my life on the farm near Limestoneville, Montour County, Pennsylvania. I lived there from my birth in 1953 until 1967 when my parents decided to move from farming. I closed my eyes one day and took a mental walk around and through the buildings. A farm is a small plantation with various operations and numerous buildings.
Our farm basically had 13 structures: the house (with an attached shanty), barn (divided into several sections: grainery, straw/hay shed, machinery storage, chicken house), silo, pig pen (with more chickens above), two milk houses (one old and one new), the shed, outhouse, second outhouse (used to store "junk"), woodshed, coal shed, smoke house, and (separate) chicken coop. Each building had its special uses, nooks and crannies, and equipment/machinery/furniture to make it an interesting place for a young boy. If you've never lived on a farm, you have no idea the number of hiding places and imaginative corners there are to explore and investigate.
As I walked through the buildings in my mind I remembered details that brought up questions. How large was the barn (exact measurements); how many floors did the shed actually have; what was in the cupboards on both sides of the entry way; what did I remember about our house and its furniture; what was the old milk house like inside? It was great fun to try to remember all this and dredge up memories. And, I realized that someone 100 years from now might find what I remembered to be very interesting. I grew up at a time, and a place, and had experiences that would be foreign to my grandchildren, similar to my curiosity about the lives of my grandparents and older ancestors when they were young people.
These mental walks led me to ask my brother Bob, a retired draftsman in Kansas City, Missouri, to make an aerial drawing of the farm and its buildings. We talked several times about the outside measurements of the buildings so he could draw it to scale. And, I talked to all three of my siblings (Bob, Barb, and Dave) about the placement of the buildings, their uses, and what was kept inside. We had a great discussion about the bake oven which I thought was located behind the shanty but they remembered was beside the smoke house (older memories prevailed!). If anything has been gained, it has been a continued bonding of the four of us as we've talked together and remembered our experiences on the farm. I expect we'll continue to do our mental walks together.
Bob's expert drawing appears below. Several weeks after he drew the diagram, my nephew Tom Huffman, Jr. and I were actually in the area of the farm, so we stopped in and took measurements of all the buildings. Surprisingly, Bob and I were very close in our estimations.
To give one a sense of the size of the barn, the longest side (north) is 118 feet long and the front (east) side is 90 feet long. The barnyard is 48′ x 70′. The machinery shed with corn cribs is 41′ x 47′. The house including the shanty is 30′ x 72′. Since moving off the farm in 1967, the chicken coop, pig pen, coal shed, wood shed, the left outhouse (junk holder), old milk house, and smoke house have been torn down. Foundations of some of the buildings are still there – for example the pigpen (19′ x 36′) and the woodshed (16′ x 19′). The well discussed bake oven had fallen apart before we moved there in 1952.
When Tom and I arrived at the farm, the present owner (I believe the farm has had three owners since 1967 ) was just ready to leave to run some errands. I introduced myself and told him our family had once owned the farm. He knew the name Hagenbuch and then he said, "So, you're the one who carved initials at several places on the stable doors." I said I wasn't sure what he meant. He laughed and said that he has seen several "MH" initials: "You must have had fun with your pocket knife as a boy". Well, his statement rang true as I suddenly remembered being quite handy with the pocket knife that my father had given me when I was about six. It was only to be used to cut the twine on hay and straw bales, but I remember sticking it in trees, whittling wooden knives and other objects, and playing mumblety-peg – the "stretch" version of the game. Dave and I would stand opposite each other and throw our pocket knives close to the outside of our feet, getting as near as possible so we would not have to move our feet outwards. The loser eventually fell over.
The owner told us to roam all we wanted, explore, and enjoy the memories. He would be back later. My tape measure, paper and pencil were kept busy for the next hour as Tom and I tramped all over, inside and outside the buildings. When we got to the stable doors, sure enough there were several sets of my initials, fifty plus years after being carved. We also found another treasured carving.
Before our immediate family moved to the farm in 1952 (from another farm located about 2 miles east), my grandparents. Clarence and Hannah "Sechler" Hagenbuch, had raised their children there: Charles, my father Homer, Wilmer, Lee, Florence, Ellen, and Mary (Read: Clarence and Hannah Hagenbuch Family). The treasured carving we found on an outside wall of the stables was a horse head and inscribed beside it "Lee's Mare". I can imagine my Uncle Lee, maybe 12 years old or so, using his pocket knife in the barn nearly 80 years ago. This is wonderful family memorabilia! To add to found inscriptions, Tom found his grandfather (my father) Homer's initials with a 1950s date engraved in a section of concrete on the north side of the barn. I had never seen this before and it was a good feeling to know that Dad had left his mark on the barn, the most prized structure of the farm.
Bob's drawing and my trip back to the farm have awakened long forgotten memories which I need to write down for future reference. Whether others at this time are interested in them or not makes no difference to me. They not only do me a world of good through mental exercise and remembering important parts of my childhood; but they also serve as a testament of life on a Hagenbuch family farm 50 years ago.
Years from now it will be these memories that will benefit my descendants by giving them an inside view of what life was like for a Hagenbuch boy living on a farm in Montour County. As stated earlier, I only wish my great grandfather, Hiram, his father, William, or (oh, how wonderful a thought!) Andreas and his son, Michael, would have written down the daily experiences they had growing up; and they would recorded the layout of their farm and buildings. I won't have that same oversight. None of us should.