Town of Hagenbuch, Switzerland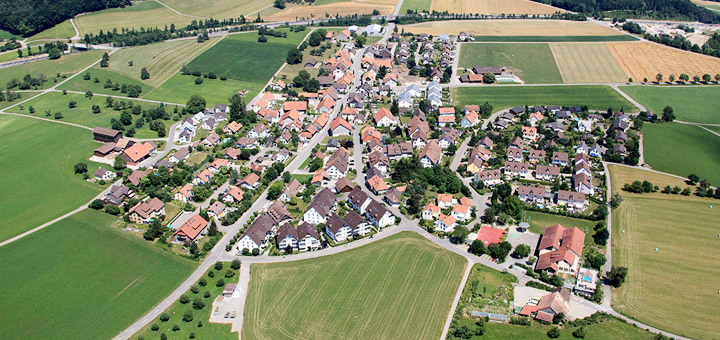 Before Andreas Hagenbuch and his family immigrated to America in 1737, they lived in either Grossgartach or Lomersheim in what is now southern Germany. While Andreas was a native German, his ancestors were not. Rather, they were Swiss and appear to have immigrated to Germany only a few generations earlier during the 1600s. Their likely place of origin was the town of Hagenbuch, Switzerland.
The earliest recorded mention of Hagenbuch is from 856 and the town still exists today. It is located in the Winterthur district within the canton of Zurich in northern Switzerland. To put things into perspective, that is only about 140 miles from where Andreas Hagenbuch would later be born in Germany.
Hagenbuch is a small, rural village in the middle of a land comprised mostly of farm fields and forests. In 1467 there were about 85 people living there with, perhaps, ten or so families. By 1850, the number of residents had grown to 636. Today 1,112 people live in the town.
The Hagenbuch coat of arms is the symbol of the town. As discussed in a previous article, the coat of arms is a visual representation of the name Hagenbuch which means "an enclosure of beech trees." The coat of arms can be seen on various signs and buildings around the village.
Though it is a small town, Hagenbuch occasionally makes the news. For the past several years, Hagenbuch has hosted an annual airshow called Flugfest (translation: Flightfest). Held during late summer, the town temporarily converts a farm field into an airstrip. Pilots are able to fly in, show their aircraft, and perform flying demonstrations for the public. Flugfest even advertises that during the event attendees can fly to Hagenbuch from places as far away as New York City or Miami! This is done by flying into Zurich and then taking a small plane from there to Hagenbuch.
In 2014, Hagenbuch made international news because of a proposed tax increase. The increase was necessary after a woman and her seven children moved to the town. The family, who were refugees from another country, was to received approximately $60,000 of support from the local government annually. Given the small size of Hagenbuch, there wasn't enough money in the municipal budget to cover this expense. Therefore, a tax increase of five percent was proposed. This outraged many in the village and led to international attention.
Hagenbuch isn't a popular tourist destination. However for those with the last name Hagenbuch, a pilgrimage to the town can be a memorable experience. Mark and Linda Hagenbuch visited there in the late 1970s. Mark writes:
We arrived there in the summer of 1979 and walked around the town. I remember it was small and there was no one on the streets. We went to the local Gasthaus and ordered some food. I joked with the waitress that we should get it free because my name was Hagenbuch, and I was coming home. She just sort of laughed. I showed her my driver's license, though it didn't impress her.

While in the Gasthaus, someone told us that there was a hill outside town where the castle once stood. I don't know if it necessarily had anything to do with our family, but we did go and look at it. It was just a grassy hill with nothing else there.

After we flew home, I got in touch with the mayor of Hagenbuch. I had a correspondence going with him for a few years, and he asked for a Pennsylvania flag which supposedly they flew on special days.
For most, the town of Hagenbuch is nothing more than a blip on a map. It has only a handful of residents, little industry, and few attractions. However, for those who share its name and see it as the birthplace of their ancestors, the small village holds more significance. Hagenbuch, Switzerland remains an important reminder of this family's roots and of its Swiss-German heritage.