Eli Thornton Hagenbuch Family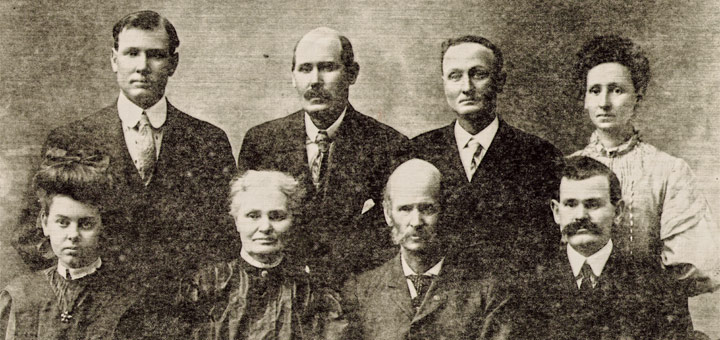 The heyday of adding new families to the Hagenbuch genealogical records was from the mid-1970s to the mid-1990s, when I was in contact with Hagenbuch families across the country and when The Beech Grove newsletter was being published. During that time, many Hagenbuchs and allied families were contacting me to add and update family information to the family records, building a huge paper trail of family sheets, letters, and photos which I now hold.
Most families that contacted me for the first time could take their lines back 3 or 4 generations but often had problems hooking into those first two generations that inhabited America; in other words, making the connection to Andreas Hagenbuch and his children. Most times, dates, and names fit into the puzzle and, even without the research of census records and church records, I could be sure that the connection was made and was correct.
The Eli Thornton family is one of those families where I am 99% sure that the connection is correct. However, after the 1992 demise of The Beech Grove, I did not keep in contact with many of the folks who had been sending me information to update my records. Thanks to distant cousins Nancy Cruse of Illinois; Ardele Hagenbuch of Minneapolis; Anna Mae Hagenbuch and Carmen "Andrew" Howell both from Iowa; and Eldon and Gladys "Hagenbuch" Miller from Kansas City, Missouri, the connection was made in their family to Andreas. It has been more than 20 years since I have been in contact with the descendants of Eli Thornton Hagenbuch. Maybe through this article, those folks or their relatives can reconnect with me.
Andreas Hagenbuch's son Christian (born 1747, married to Susanna Dreisbach, both buried at the Lutheran church in Kreidersville, PA) had seven children one of which was John, born Oct. 19, 1785. We believe that John was married twice: first to Phebe and second to Susan, last names unknown. At some point John moved to Columbia County, Pennsylvania, where his uncle John (born 1763) and first cousin Henry (born 1772) were already living. It is through John's second wife, Susan, that we trace the line to Eli Thornton Hagenbuch (a future article will trace John's descendants with his first wife Phebe).
We know of two children born to John and Susan: Benjamin, born Feb. 5, 1818, and Samuel, born April 15, 1821; both sons were born in Columbia County. Samuel was married to Sarah Vance and he died April 12, 1846. Benjamin married Larina Thornton on May 4, 1841. Sometime after 1855 they moved near Mt. Pleasant, Iowa and are buried in Henry County. Benjamin died on April 29, 1884 and Larina died on Nov. 7, 1904.
They had five children, all born in Bloomsburg, Columbia County. Eli Thornton was born on March 7, 1843. He was married on April 23, 1868 to Margaret Elizabeth Beeler and he died on March 10, 1917. Phebe Ann Hagenbuch was born on June 6, 1845 and was married to Will Lewhew. She died on Nov. 29, 1904. Rachel Willets Hagenbuch was born on Nov. 20, 1848 as was married to Dan Helphrey. She died on Dec. 15, 1915. Samuel Boyd Hagenbuch was born on May 12, 1853 and died on July 29, 1854. Lastly, Elizabeth Sarah Hagenbuch was born Aug. 21, 1855, married Will Cade, and died on July 4, 1929.
As stated, in 1868 Eli Thornton married Margaret Beeler, who was born on April 26, 1848 in Bedford County, Pennsylvania. She was the daughter of Samuel and Barbara Ann "Smith" Beeler. Eli died in 1917, and Margaret died March 22, 1922. They are buried in Iowa City, Iowa. The couple had six children: Hugh born Dec. 23, 1869 in Mt. Pleasant, Iowa; Albert born Nov. 27, 1871 in Mt. Pleasant; Harry Thornton born April 16, 1877 in Grafton, Nebraska; Myrtle Margaret born Sept. 6, 1879 in Grafton; William Benjamin born May 12, 1881 in Grafton; and Anna Mae born May 1, 1891 in Geneva, Nebraska. Anna Mae was unmarried and died on Aug. 28, 1981.
Hugh Hagenbuch married Mayme Palmer on Feb. 5, 1913. He died on Jan. 29, 1957, and she died on Dec. 2, 1946. They are buried in Oakland Cemetery, Iowa City, Iowa. They had one son, Ralph, born in 1915 who died in 1930.
Albert Hagenbuch married Effie Lawson on Sept. 15, 1904. He died on May 6, 1909 by a lightning strike, and she died Sept. 9, 1950. Effie remarried. Her second husband was Frank Petsel and her third was Joseph Havstad. Albert and Effie are buried in Oakland Cemetery, Iowa City and had two children. Lee Grand Hagenbuch was born in 1905 and was married to Ethel Wicklund. Lee died in Feb. of 1957. In the 1930s, Lee changed his last name to Higgens. He and Ethel had no children.
The second child of Albert and Effie was Wayne Sylvester Hagenbuch who was born in 1908. He married Ardele Anderson and died in 1965. They had two children: Gayle Carolyn, born in 1939 and married first to Donald Johnson and second to Thomas Ticen; and Shirley Ardele born in 1941 and married to Douglas Ogren.
Harry Thornton Hagenbuch married Josephine Petsel on Dec. 25, 1906. He died Feb. 6, 1938 and she died Dec. 28, 1970. They are buried in Oakland Cemetery. They had four children all born in Johnson County, Iowa: Helen Jocile born in 1910, died in 1968; Alice Mae born in 1912, died 1962; Gladys Louise born in 1915; and Earl Thornton born in 1920. Helen married Earl Andrew. They lived in Iowa and Oregon, and had four children: Dorothy, Charlotte, Carolyn, and Carmen (who provided me with family information in the 1980s). Alice married Roy Bontrager and had one son, James. Gladys married Eldon Miller and had no children. Earl married Betty Coots. They lived in Bakersfield, California and had two children, Danny and Elizabeth.
Myrtle Margaret Hagenbuch married William Forsythe on Sept. 24, 1903. She died on Nov. 15, 1971. They had 5 children: Paul who married Ann Howe, Ralph who married Charlotte Hahn, Kenneth who married Alana Maltzberger, Dorothy who married Harold Kindschi, and Gladys who married G. Robert Williams.
William Benjamin Hagenbuch married Stella Baurer on Sept. 13, 1926. He died Sept. 1, 1960. No children are listed for them in my records.
There are holes in the records for Eli Thornton's descendants. They are certainly plentiful and most probably still live in the mid-west. One of the goals of this website is to update family information, filling in missing information, correcting incorrect information, and updating information to the present day.
Please contact us using Facebook or the forums if you have any information on persons above or are able to make contact with them so they reach out to us personally.