Pennsylvania Deitsch Recipe: White Peppernuts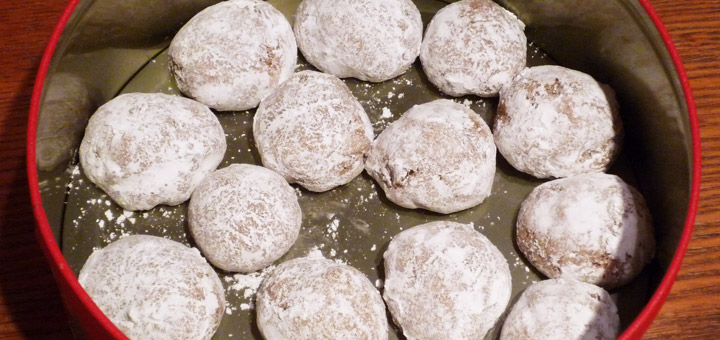 The first few generations of the Hagenbuch family in America spoke a German dialect. This is evident from their wills which were written in Sütterlin – a form of German cursive script. German appears to have been used within the family until at least the mid-1800s, over a century after Andreas Hagenbuch arrived from Europe.
Pennsylvania is still recognized for its first German settlers and their culture. The most prominent reminders of this are found in the popular images of Lancaster County's Amish and Mennonites. Today, these religious groups typify what it means to be Pennsylvania Dutch.
Pennsylvania Dutch is, of course, a misnomer. Pennsylvania Germans referred to themselves as Deitsch, which is rooted in the word Deutsch meaning German. English speakers heard Deitsch and mistook it for the word Dutch. The name stuck, even though the Deitsch were not from the Netherlands.
At one time, the Pennsylvania Deitsch included many more people than just the Amish and Mennonite religious groups. The Hagenbuchs, who were Lutheran, almost certainly considered themselves Deitsch. They would have seen themselves as culturally unique from the English settlers living in Pennsylvania.
Culinary traditions are an important aspect of culture. Some Pennsylvania Deitsch foods, such as pretzels, sauerkraut, and potpie, are well-known. Others, however, are less recognized. The early Hagenbuch family of Berks County would have enjoyed a variety of foods, some of which are unfamiliar to their modern ancestors.
Below is a recipe for white peppernuts, as published in the book Pennsylvania Dutch Country Cooking by William Woys Weaver. According to Weaver, this recipe appeared in the Neuer Gemeinnütziger Pennsylvanischer Calender in 1895.
White peppernuts (called Weiss Pefferniss in Dietsch) are similar to a white gingerbread, which lacks molasses. These holiday treats were likely enjoyed by some of Pennsylvania's first Hagenbuchs. If you happen to try this recipe during the holidays, know that you are connecting with Pennsylvania Deitsch culture, as well as previous generations of the Hagenbuch family.
---
White Peppernuts
Makes 9 dozen
3 1/4 cups (400 g) organic whole-wheat pastry flour
1 3/4 cups (400 g) superfine sugar
2 teaspoons baking powder
1 tablespoon grated nutmeg
1 tablespoon ground cinnamon
1 teaspoon ground clove
grated zest of 1 lemon
1/2 cup (95 g) minced citron
4 large eggs
5 tablespoons (75 ml) sour cream
1 cup (125 g) all-purpose flour
confectioners' sugar (optional)
Sift the pastry flour, sugar, baking powder, nutmeg, cinnamon, and clove together three times in a large bowl. Add the lemon zest and citron. Beat the eggs until lemon colored and combine with the sour cream. Make a well in the center of the dry ingredients and pour the egg mixture into it. Stir to form a sticky dough. Then knead in the all-purpose flour until the dough no longer sticks to the hands. Form the dough into a ball, cover, and set in the refrigerator to ripen for 2 days.
To bake, preheat the oven to 325°F (170°C). Break off pieces of dough and roll into balls the size of large cherries. Set them on greased baking sheets, allowing ample space for puffing. Bake 12 minutes, then cool on racks. Roll in confectioners' sugar if desired. Store in airtight containers at least 2 weeks before serving. The flavor of these cookies improves with age.