Making Jumbles, a Deitsch Cookie Recipe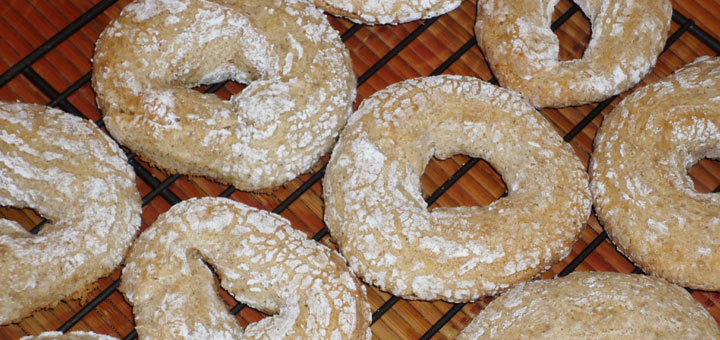 Cooking together has always been an important activity for Pennsylvania Deitsch families like the Hagenbuchs. This is especially apparent during the Christmas holiday, when candies, cookies, and sweet treats are prepared in order to be shared with loved ones.
The custom of making Christmas cookies isn't unique to the Deitsch. However, there are certain cookie recipes that can be called their own. One of these, featured last year, is for white peppernuts. This year, a Deitsch recipe for Kutztown jumble cookies has been selected.
The first jumbles were made in Europe during the Middle Ages. While commonly considered cookies, they also bear a resemblance to small pastries or cakes. Jumbles are typically shaped into rolls or rings. However, some recipes suggest forming them into knots or looping patterns.
By today's standards, jumbles are a simple, mildly sweet cookie. They lack icing, chocolate, or colorful decoration. To create a pleasing flavor, jumbles rely upon spices such as nutmeg, vanilla, aniseed, coriander, cinnamon, or caraway seed.
Below is a recipe for Kutztown jumbles (called Kutzeschteddler Krenzlin in Deitsch), which comes from the book Pennsylvania Dutch Country Cooking by William Woys Weaver. According to Weaver, the recipe was first published in 1870 by Isaac Christ of Kutztown, Pennsylvania.
This holiday season, as you make cookies, consider trying this recipe for jumbles. Though they may not be as sweet and colorful as other confectioneries, they are sure to start a conversation about the Hagenbuch family and its Deitsch roots.
---
Kutztown Jumbles
Makes 4 to 5 dozen
3 large eggs
2 cups (500 g) superfine sugar
1 cup (250 ml) sour cream
5 cups (700 g) pastry flour
1 teaspoon baking soda
1/2 teaspoon ground mace
1 1/2 teaspoons ground cinnamon
1 1/2 teaspoons grated nutmeg
confectioner's sugar
aniseed
Beat the eggs until lemon colored, then gradually add the sugar. Beat until light and the sugar is dissolved, then add the sour cream. Sift together the flour, baking soda, mace, cinnamon, and nutmeg twice, then fold into the egg mixture to form a soft dough with the consistency of peanut butter. Cover and set aside to ripen overnight in the refrigerator.
Preheat the oven to 325°F (165°C). Dust a clean work surface liberally with confectioner's sugar. Using the hands, roll large scoops of dough in the sugar to form long ropes about 1/2 inch (1 cm) in diameter. Cut these into 4 inch (10 cm) lengths and join at the ends to form rings. Scatter aniseed on greased baking sheets and lay the rings on the seeds. Bake 18 to 20 minutes or until the cookies are golden brown on the bottom. Cool on the racks and store in airtight containers.
Notes:
The confectioners' sugar allows the dough to be handled, but too much handling rubs off the sugar. It is the generous coating of sugar that gives these jumbles their characteristic "crinkly snow" appearance.
If mace is unavailable, simply replace it with an equal amount of nutmeg.
The aniseed may be omitted if the taste of this is disagreeable. The cookies will still have a pleasantly sweet cinnamon-nutmeg flavor.