More Friends of the Family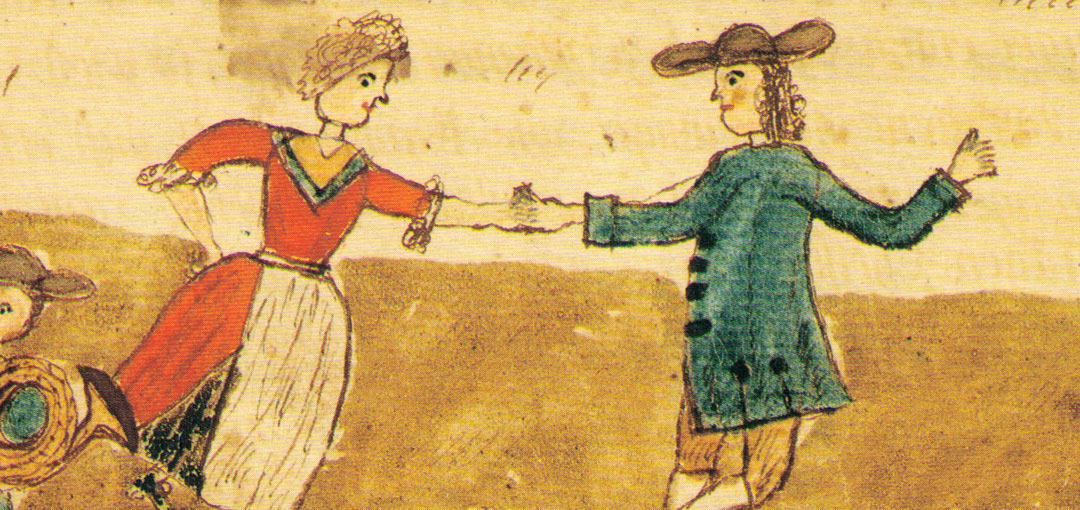 As I prepared to write more about the friends of Andreas Hagenbuch, I thought, "If only Facebook was available in the 1700s and Andreas and his family were on it. We would know who he had 'friended'!"
In the last article, I explored Andreas' friends who were associated with him through religion (baptism sponsors like John Hein) and through his last will and testament (trusted witnesses like John Brobst and Jacob Schmitt).
Another document which sheds light on possible friends is the inventory of Andreas' effects, which was also attested to by Brobst and Schmitt. In addition to clothing and household goods, the document includes a list of loans that Andreas made. Besides loaning money to his sons, Michael and Christian, Andreas loaned 40 pounds to Michael Reichelderfer, 25 pounds to Michael Brobst, 17 pounds to Jacob Kistler, and 21 pounds 4 shillings to Gottfried Seidel.
According to the Reichelderfer genealogy, the Michael which Andreas loaned money to was born in 1749 in Montgomery County, Pennsylvania and died in 1822 near the location of Andreas' home in Albany Township, Berks County, Pennsylvania. The Reichelderfer family was very large. Michael is reported to have 14 brothers and sisters, one of which was Johannes Reichelderfer (b. 1741) who married Andreas' daughter Anna Elizabeth (b. 1754). Thus, this family relationship may have been the impetus behind Andreas loaning Michael Reichelderfer 40 pounds. Interestingly, the 40 pounds that Andreas loaned to Michael would be worth approximately $2,700 today.
In the previous article on friends, information about the Brobst/Probst family centered around the witness to Andreas' will, Johann "John" Michael Brobst. However, the Michael Brobst whom Andreas loaned 25 pounds to was likely Michael Brobst, who was born in 1751 in Albany Township and died in 1814. Michael's father was Jean Michael Brobst (b. 1721) who was a brother to will witness John Brobst. As with the Reichelderfer family, the Brobst family was large and can be genealogically confusing!
Michael Brobst, the likely recipient of the 25 pound loan from Andreas, owned and operated the Union Forge in Albany Township. He owned a lot of land and also a flour mill. According to family genealogist Jan Binkley, he was known to have a bad temper and even disowned one of his daughters because of her religious beliefs. Michael was a Lt. Colonel in the Northampton County Militia during the Revolutionary War. The amount of 25 pounds that Andreas loaned to Michael Brobst is approximately $1,700 in today's money.
Jacob Kistler received a loan of 17 pounds from his father-in-law, Andreas Hagenbuch. Jacob was born in 1751 and was married to Andreas and Anna Maria Margaretha Hagenbuch's daughter, Christiana (b. 1759). The couple had six children together. Jacob joined the local militia in 1777 under the Michael Brobst mentioned above. Jacob and Christiana owned 130 acres in Albany Township and were faithful members, along with many of the Kistler family, at Jerusalem Red Church where they are buried. Although a close relative of Andreas and the family, he was certainly counted as a close friend.
Now I come to Gottfried Seidel. This man is a mystery. Nothing definitive can be found on this fellow. The only reference of a Gottfried Seidel in Pennsylvania during the 18th century is a marriage record in the Moravian Church in Bethlehem. On June 28, 1758 Christian Gottfried Seidel married Maria Catherine Linder. To be sure, Andreas had business dealings with people outside of Berks County. He may have known Gottfried through this avenue, or possibly through his son, Henry, who owned the Cross Keys Tavern in nearby Allentown, or possibly Andreas knew the Linder family. We may never know why he loaned the 21 pounds, 4 shillings to Gottfried. But, since these records show that he probably only loaned money to relatives or close associates, we can assume that Gottfried Seidel was also a friend of the family.
In the first article on Andreas' friends, other families are mentioned because of the close association Andreas and his family had with them. The friends and families who married into the early Hagenbuch family included not only the Brobsts, Reichelderfers, and Kistlers, but also the Gearharts, Stapletons, Kunzes, Brauchers, Schisslers, Stumpfs, Kneppers, and Frieses. Similar to the farm community I grew up in, relatives and neighbors in Albany Township were the weekly, and sometimes daily, friendly contacts of our early ancestors.
My father and mother would meet their friends and relatives at church, at community gatherings like fairs and festivals, and when they would shop or go to local businesses like Max's Weld Shop in Limestoneville or the local general store. My mother would see her lady friends at Grange meetings and Garden Club. My father would see his man friends when he frequented Berger's Garage and take us boys for hair cuts in nearby Washingtonville. It was common to meet friends as we drove on the back country roads, waving to them through the churned up dust produced by our Chevy Bel-Air or one of our tractors.
We can imagine that Andreas and his family did not have as many opportunities to see friends and relatives because of the distances between them, the single path trails, and the modes of transportation—horses and walking. But, Sunday gatherings, harvest times, baptisms, and funerals were certainly occasions when friends and relatives gathered together in that rugged northern corner of Berks County called the Allemaengel. They made the effort to stay in contact, share the news, and discuss their ups and downs with each other. As with so much of our genealogical research, I just wish I knew more about the "friends of the family."