Right Under Our Noses: Finding Allen S. Hagenbuch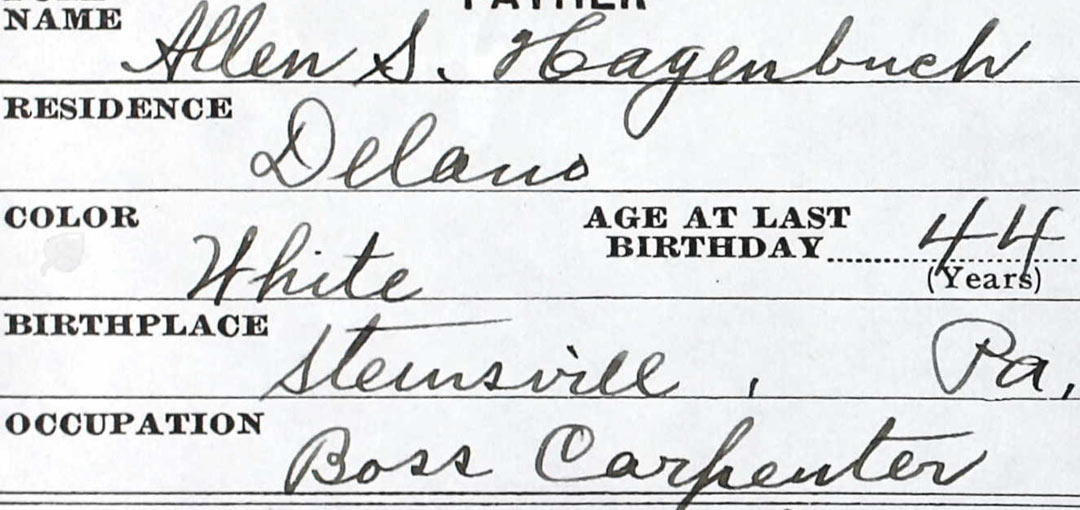 A few months ago, my father, Mark Hagenbuch, and I received an email from Diane Grose. In the message, she inquired about what we knew of Allen S. Hagenbuch who was married to Emma Heiser. We didn't immediately recognize this couple, so we set about to find more information.
Using records from the United States census, we found an Allen S. and Emma E. Hagenbuch living in Baltimore, Maryland in 1920. Further communication with Diane confirmed that these were the right people. She had seen this census information and shared that the couple had several children. This prompted more research and several new questions.
First, we wanted to know Diane's connection to this family line. She revealed that her great grandparents were Thomas and Mary (Brosius) Heiser, who lived in Shenandoah, Pennsylvania in the mid-1800s. Their daughter, Emma Elizabeth Heiser (b. 1865), was Diane's great aunt and Allen S. Hagenbuch (b. 1862) was her great uncle.
Second, we were curious how Allen S. fit into our larger Hagenbuch family tree. Initially, a search of my father's paper records produced few leads. We were aware of Hagenbuchs living in and around the town of Shenandoah, some of which have been featured on this site. However, none had a son named Allen. After hitting a number of dead ends, I finally had the sense to type "Allen S. Hagenbuch" into Beechroots. There he was! He had been in our digital records all along—right under our noses.
Why was Allen in Beechroots and not in the older paper records of the Hagenbuch Archives? Well, it was only recently that we began to process information from an unabridged version of Enoch Hagenbuch's family history, which was published in the late 1800s. This new information was entered directly into Beechroots, as my father's paper records are no longer updated.
In the unabridged version of his history, Enoch writes:
Benjamin L., son of Michael Hagenbuch, born August 26, 1841. He married Hannah Lutz in 1860. Two children were born. A daughter born January 9, 1861, died as an infant. Allen S., born April 22, 1862. Benjamin's wife died, and he married a sister of his first wife, Sarah Lutz, in 1863. To them two children were born. A daughter, born January 5, 1864, died as an infant. Lewis C., born February 7, 1866, and died July 17, 1867. Benjamin died April 10, 1883.
Allen's line can be summarized as follows: Andreas (b. 1715) > Michael (b. 1746) > Jacob (b. 1777) > Michael (b. 1805) > Benjamin L. (b. 1841) > Allen S. (b. 1862). Enoch's history, along with other research, shows that Allen was the only child of Benjamin L. Hagenbuch to survive infancy. He was born on April 22, 1862 in Steinsville, Lehigh County, Pennsylvania—just a few miles from the Hagenbuch Homestead.
Allen worked as a carpenter and married Emma E. Heiser around 1883. At first, the couple lived in Mahanoy City, Pennsylvania, close to Shenandoah where Emma grew up. Eventually, they moved nearby to the town of Delano. Allen appears to have been active in the community and served as leader of the local Moose Lodge.
Together they are believed to have had six children, five of whom are known by name. These are as follows: Gussie (b. c. 1886, d. unknown), Lloyd (b. 1888, d. 1902), B. "Harry" Harrison (b. 1889, d. 1956), Anna May (b. 1893, d. unknown), and Ralph Norman (b. 1906, d. 1984). By 1920, the United States census reveals that they had moved to Baltimore, Maryland and lived near their daughter Anna May, who had married Raymond Hampton. Allen died in October of 1935 due to a work accident.
It is known that Allen and Emma had a number of grandchildren. The 1956 obituary of their son, B. Harry Hagenbuch describes the following family members:
Surviving are his widow [Eva (Stocker) Hagenbuch]; two sons, Rev. George S., of Tiffin, OH; Allen J., of Allentown; three daughters, Mrs. Kenneth Mertz, Mrs. Kenneth Kriebel, both of Allentown; Mrs. Stanley Oswald, of Cetronia. Also surviving are a brother and sister; 15 grandchildren and four great-grandchildren.
Noting this, it is almost certain that there are Hagenbuchs from the line of Allen S. living in the United States today. Thanks to a chance message from Diane, a bit of searching on Beechroots, and some additional research on Ancestry, we've been able to fill out this branch on our family tree. One day soon, we hope to make contact with and hear from some of the ancestors of Allen S. and Emma E. Hagenbuch.