William S. Hagenbuch Family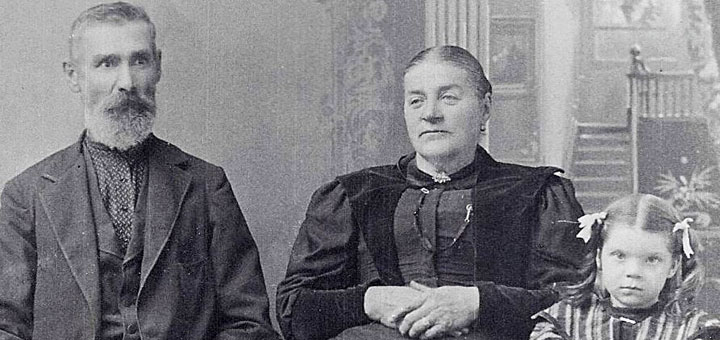 William S. Hagenbuch (b. 1836, d. about 1906) was one the last Hagenbuchs to be raised at the Hagenbuch homestead in Albany Township, Berks County, Pennsylvania. His great great grandson, Will Mangold, graciously contributed photographs and information found within this article.
William was the son of Michael (b. 1805, d. 1855) and Abigail "Stapleton" Hagenbuch (b. 1811, d. 1883). He was a great great grandson of Andreas Hagenbuch (b. 1711, d. 1785). His father Michael died in 1855 without a will, and according to court records, neither William nor his siblings petitioned to take over the family farm. As a result, the Hagenbuch homestead was sold and the proceeds were used to support Abigail and the family.
After his father's death, William did not immediately leave Albany Township. An 1860 map of the area shows him living not far from the former Hagenbuch homestead with his wife Lucy Ann Knepper (b. 1841, d. about 1905). The couple had married on October 25, 1859.
Together William and Lucy had seven children: Isaac (b. 1860, d. 1860), Maria Ann (b. 1862, d. unknown), Amanda Jane (b. 1864, d. 1936, m. Jesse Jackson), Mahlon T. (b. 1869, d. after 1915), Sarah B. (b. 1873, d. unknown, m. Henry Stroll), William H. (b. 1877, d. 1909) and Charles (b. 1882, d. unknown).
William worked as a carpenter, as noted on his draft registration during the Civil War. He may also have been a school teacher like his uncle Timothy Hagenbuch. The above essay by William may have been written in order to gain a license to teach.
Sometime between 1865 and 1868, William, Lucy, and their growing family moved west. Such a move is of little surprise, given that William's uncles Enoch, Amos, Daniel, Charles, and Aaron had already left Pennsylvania and headed to Indiana and Illinois. William and Lucy eventually settled in Polk Township, Marshall County, Indiana where they raised their family.
Their daughter Amanda Jane Hagenbuch married Jesse Jackson in 1888. They lived in Indiana and had 14 children together. Their daughter Blanch Marie Jackson (b. 1902, d. 1956) is the grandmother of Will Mangold, who has helped to document this family's line.
Additional research remains to be done on the children of William and Lucy Hagenbuch. It is known that their daughter, Sarah B. Hagenbuch married Henry Stroll and that Maria Ann Hagenbuch married Eli Inman. Eli was a cousin to Jesse Jackson, Amanda Jane's husband. Below is a picture of Inman family.
Thirty years later, around 1898, William and Lucy moved yet again. This time they relocated to Rock Lake, Towner County, North Dakota which is in the central part of the state not far from the Canada border. Here they staked a claim to 160 acres of free land. Ownership of the claim could be had if it was lived on continuously for five years and improved.
Towner County, North Dakota is true prairie land, and trees are scarce. Not surprisingly, sod houses were some of the first structures built in this area by settlers. Improving such land was a challenge, especially for a man in 60s like William.
Why did he undertake such an endeavor after already establishing a home in Indiana? Will Mangold posits a theory that it was William S.'s sons Mahlon and William H. who were the driving forces behind the move. Indeed, the sons staked their own claims near their father's land. In time, William S. and William H. purchased other land adjoining their original claims, binging the total owned by the Hagenbuchs to 720 acres. All three men received the deeds to their claims in 1904, and by all accounts they did well for themselves in North Dakota.
The brothers Mahlon and William H. Hagenbuch ran a threshing company which worked a number of farms in the area. Records document that the business was prosperous enough that a cook had to be hired to feed all of those working for it!
Success, however, was short lived. Lucy died around 1905 and William S. soon after. They are buried in a cemetery near Rolla, North Dakota.
Late in their lives William S. and Lucy looked after their granddaughter, Lucy Ann Jackson (b. 1892, d. 1936), who was the daughter of Jesse and Amanda Jane "Hagenbuch" Jackson. One theory for this arrangement is that the Jackson's 14 children were simply too many for them to care for economically. After the death of her grandparents, Lucy Ann continued to live in North Dakota under the care of her uncle, William H.
However, William H. Hagenbuch died suddenly on August 26, 1909. Besides working as a farm laborer, he also was a mail carrier. Perhaps it is because of this that he was well-known and liked within the community.
With his brother and parents gone, Mahlon Hagenbuch continued to live in the area for several more years. Documents show that in 1915, he was residing in Armourdale Township, Towner County, North Dakota. He was listed as single, owning a house, and having his own income. Sometime between 1915 and 1935, Mahlon left the United States and crossed the border into Manitoba, Canada. There is no record of him ever returning.
With her grandparents and uncles gone, Lucy Ann Hagenbuch returned to Indiana to be closer to her parents and siblings. She brought with her the many photographs and newspaper clippings that had been in the possession of the Hagenbuchs in North Dakota.
In 1918 she married Howard L. Nelson (b. 1888, d. 1951). Together they had two daughters: Mable M. (b.1919) and Helen C. (b. 1921). Much credit goes to Lucy Ann Hagenbuch and her descendants for preserving these Hagenbuch memories and images.
One final photograph in the collection remains a bit of a mystery. It is labeled "Kaiser, Amanda's brother." The Amanda referenced here is almost certainly Lucy Ann's mother, Amanda Jane "Hagenbuch" Jackson. Besides William H. and Mahlon, Amanda Jane had a younger brother, Charles, who was born in 1882.
Might "Kaiser" have been the nickname of Charles Hagenbuch, the youngest son of William S. and Lucy "Knepper" Hagenbuch? Little is known about his life or descendants. Perhaps one of his descendants, if there are any, will read this and be able to help complete this family's tree.