Brother and Sister Day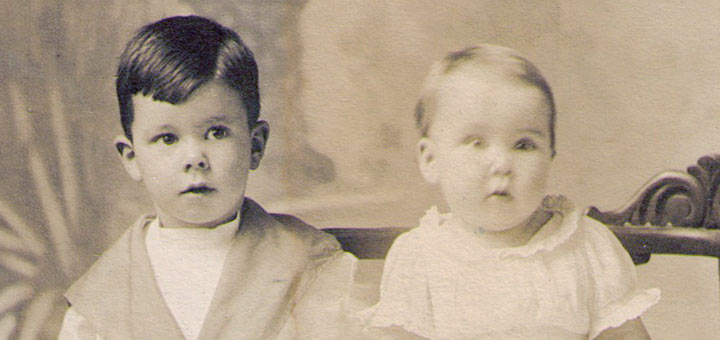 Preceding Mother's Day is a little known celebration entitled Brother and Sister Day which is held on May 2nd. The following are photos from the past of Hagenbuch brothers and sisters. These photos were selected randomly from the large collection of photos kept by Mark Hagenbuch.
Kathryn Jane and Julia Rebecca were daughters of Hiram b. 1847 and Mary Ann "Lindner" Hagenbuch. Kathryn or Katie (standing on the left) was born May 2, 1879 in Turbot Township, Northumberland County, PA. She was married in 1902 to William Jacob Roat. They had one son, William Paul Roat. Katie Roat died in 1961. Seated on her right is sister Julia born Oct. 21, 1884 in Turbot Township. Julia was not married and died in 1968. Her career was nursing at Johns Hopkins Hospital. The photo was taken around 1900.
These cute siblings are Tilman and Madge Paul. The photo was taken in November 1916. Tilman and Madge's great grandmother was Mary Ann "Hagenbuch" Foust b. 1842, sister to Hiram Hagenbuch mentioned in the paragraph above. Mary Ann was married to Tilman Foust, a well known livery stable owner in Milton, PA. They had 9 children, one of which was Ella Rose b. 1869 and married in 1888 to William Edward Paul. William and Ella "Foust" Paul had one child–Tilman Harrison Paul b. 1889 and married to Alice Madge Hollingshead in 1913. They had two children: Tilman Harrison Paul, Jr. and Madge Hollingshead Paul.
Young lad Tilman Paul, Jr. was born Nov. 12, 1914 in Milton, Pennsylvania. In 1936 he married Dorothy Pardoe and he died in 1946. His sister, Madge was born Aug. 21, 1916 in Milton and married in 1941 to John Storey, Jr.
This mother and her two children are from the same family as the Paul children. Mother is Lillian "Foust" Reed, sister to Ella "Foust" Paul. Lillian was born in 1881 and was a daughter of Tilman and Mary Ann "Hagenbuch" Foust. In 1905 Lillian married Edgar Reed from Lairdsville, Pennsylvania. They had two children pictured in the photograph. Edgar and Lillian's son with the golden curls is Edgar Foust Reed born Feb. 1, 1908 in Scottsdale, PA. He died unmarried in May, 1949. The baby on Lillian's lap is daughter Mary Ann Foust Reed born Oct. 14, 1911 in Milton, PA. She died unmarried in May, 1964.
This photo is marked on the back as May 28, 1944. These are the sons of Lester and Mary Kathryn "Hagenbuch" Beaver. Mary b. 1908 was the daughter of Percy (b. 1880) and Gertrude "Hill" Hagenbuch, and granddaughter of Hiram b. 1847 and Mary Ann "Lindner" Hagenbuch. Mary Kathryn married Lester Beaver in 1932 and they had 4 children, the 3 sons pictured here. The youngest of their children is Edna Mae b. 1939 married 1957 to Stephen Gray Steiner. The eldest son pictured is Dean Tillman Beaver born in 1933 married 1954 to Shirley Ann Hoffman. The other two sons are twins: Dale Leroy Beaver b. 1935 married 1957 to Faye Arlene Confer; and Donald Lester Beaver b. 1935 married to Joyce Estella Auten.
Another child of Percy and Gertrude "Hill" Hagenbuch, mentioned above, was John Robert Hagenbuch b. 1910. John married Ola King in 1938 and they had two daughters, pictured here and taken about 1954. Marjorie Lee is on the left. She was born July 14, 1944 and was married in 1974 to Kenneth Cockrell. Older sister Mary Ann is on the right. Born on Aug. 25, 1941 she was married in 1964 to Luis Lizondo.
Marjorie's son, Darren, lives in Oakland, California, where Hagenbuch website co-creator Andrew Hagenbuch lives. Over Christmas, 2015 Andrew, his wife Sara, and parents Mark and Linda Hagenbuch visited with Marjorie and her three sons. A previous meeting between these two branches of the family was documented in this article.
Featured in the first photo in this article are Kathryn and Julia Hagenbuch. One of the oldest original photos in the Hagenbuch collection is taken in 1880 and shows "Katie" at the age of one with her two older brothers, Francis Eugene on the left and Henry Bruce in the center. Francis Eugene (Featured in One Silver Dollar) was born in 1877, married in 1906 to Gertrude Robbins and died in 1913. Henry Bruce was born in 1875 and died on July 10, 1897 the day before his father Hiram (born 1847) died. They both died of typhoid fever. Henry Bruce was not married. The photo was taken by Rippel Brothers Art Galleries which at that time was located in Milton and Sunbury, PA.
Taken in about 1893, this photo shows three Hagenbuch sisters. Hiram Hagenbuch (b. 1847) had a brother Joseph who was born in 1852. Hiram and Joseph had four sisters, one of which is mentioned above–Mary Ann "Hagenbuch" Foust. This family's parents were William Hagenbuch b. 1807 and Rebecca "Muffly" Hagenbuch b. 1816.
Joseph b. 1852 was first married in 1877 to Sarah Elizabeth Robbins who died in 1881. They had two daughters–Martha Jane born 1878 and Mary Emma born 1879, both in Liberty Twp., Montour Co., PA. Joseph remarried in 1886 to his first wife's sister, Mary Emma Robbins. With Mary Emma, two more children were born: Annie Frances in 1889 and Raymond Joseph in 1896.
The photo shows from left to right: Mary Emma b. 1879 who in 1905 married Raymond William Taylor and had a large family; Annie Frances b. 1889 who in 1910 married Charles Warren Masteller (Annie died in 1911); and Martha (Mattie) Jane b. 1878 married in 1905 to Charles White (no children born to this marriage).
The above photo was taken at Christmas, 1953. These are the children of Homer (b. 1916) and Irene "Faus" Hagenbuch. From left to right is Barbara Catherene b. 1941 married in 1961 to Samuel Thomas Huffman; Mark Odis b. 1953 married in 1974 to Linda Faye Gutshall; Robert Homer b. 1944 married in 1966 to Marcia Ann Monti; and David Clarence b. 1948 married in 1982 to Niki Robin Routzong.
It looks like Santa was good to these children. Barbara received ice skates, Robert got a Mr. Potato Head, David received a toy trailer truck full of animals, and baby Mark got a rocking horse! Mark is the writer of this article, his family line is: Andreas b. 1711 >Michael b. 1746 > Henry b. 1772 > William b. 1808 > Hiram b. 1847 > Clarence b. 1889 > Homer b. 1916 > Mark b. 1953.
The only color photo in this article is of Katie, Andrew and Julie Hagenbuch (in that order around the tree), children of Mark and Linda "Gutshall" Hagenbuch. Linda is on the right and Mark was taking the photo. The photo was taken in the summer of 1993 at the Avenue of the Giants, the beautiful and huge redwoods located in Northern California. The family had taken a memorable road trip which lasted 36 days. Not only did they see many wonders of America like the Grand Canyon, Crater Lake, Yellowstone, Yosemite, and Zion; but they also visited Hagenbuch relatives: Bob and Marcia Hagenbuch in Kansas City, MO; Chuck and Ethel Hagenbuch near Ottawa, IL; and Will and Kathleen Mangold in Terre Haute, IN.
Brothers and sisters, old and not so old memories, descendants of Andreas Hagenbuch, all sharing not only their immediate family ties, but also genealogies into the far reaching past.