Searching for Andreas Hagenbuch's House: Part 3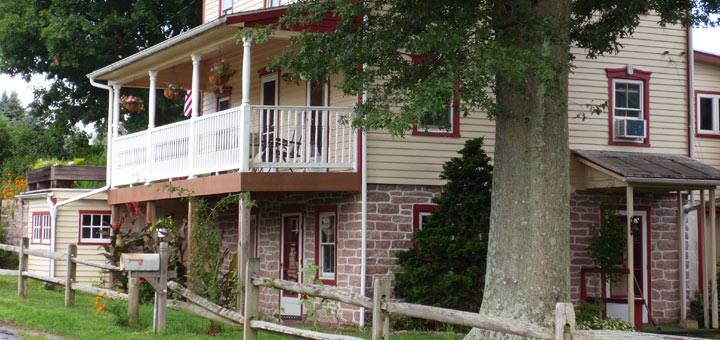 In 1741, Andreas Hagenbuch (b. 1711, d. 1785) acquired 150 acres of land in Albany Township, Berks County, Pennsylvania. For decades, it was assumed that the original homestead on the site was located close to a stone farmhouse built by Andreas's great grandson Michael Hagenbuch (b. 1805, d. 1855) in 1851. However, new evidence has come to light calling this into question.
The first article in this series proposed several possible sites for Andreas Hagenbuch's home, while the second article explored the most promising of these locations. Referred to as Site B, this spot is within the boundaries of the original 150 acre property and includes an older home, barn, and outbuildings. The following article, the third in the series, presents additional research compiled during two subsequent visits to Site B.
Andreas Hagenbuch was a farmer and a distiller. Both of these activities require a reliable source of water. Sure enough, Site B is located along a creek. During a discussion with the current owner of the property, it was confirmed that the creek is spring-fed and has a strong flow, even during the driest summer months.
There is also an old well on the property that can still provide drinking water. This is located only a few feet from the corner of the house within a small building. Neither the structure around the well, nor the hand pump attached to it appear to be original. Though further investigation is needed, the well is likely hand-dug and lined with stone.
When establishing a new homestead, settlers needed to put a roof over their heads quickly. Where trees were plentiful, log houses were typically built. The home on Site B has three stories and an attic. The first level is made of stone, while the upper floors are log. Such a substantial structure would not have been built by a family in immediate need of shelter.
Nevertheless, there is some debate as to the exact timing of the home's construction. Like many older houses, it was remodeled and added onto over the years, making it tough to discern the original appearance of the structure. There is no cornerstone, and only one date has been found. In the attic, someone appears to have written their name along with the date October 30, 1888.
The stone first story, however, appears to be much older than the attic. The evidence for this is twofold. First, a wooden beam of a substantial size is visible inside the structure – something that is more commonly seen in homes built before 1800. Second, the bacon stone used in the walls is quite weathered. This is especially noticeable when comparing it to the stone visible in Michael's 1851 stone farmhouse. As a result, the house on Site B was almost certainly built before the mid-1800s and may even date from the 1700s.
Who would have built this house, though? One theory holds that Andreas's son, Michael (b. 1746, d. 1809), constructed at least part of it. In his 1789 essay describing Pennsylvania's Deitsch citizens, Benjamin Rush mentions that the children of German immigrants often built for themselves a stone house to replace an original log structure. Indeed, it is known that Michael's younger brother, Christian (b. 1747, d. 1812), built a stone house near Kreidersville, PA.
It is possible that the home on Site B began as a one story stone structure and was expanded over time. For example, there is no sign of the original chimney, which was likely made of stone. The two brick ones visible today are from a later renovation. It has been suggested that the house may have had a center chimney, as was common in early Deitsch homes. This was eventually removed and replaced by a center staircase.
A second and even more fascinating theory proposes that the house was partially built by Andreas Hagenbuch himself, possibly in the 1740s. Though it is exceedingly rare to find frontier structures from this time period, there is some evidence to support the idea.
It is known that Andreas settled in Albany Township in 1738 and was living only a half mile away from the 150 acre homestead property he acquired in 1741. With a roof already over their heads, the Hagenbuch family had more time to prepare Site B before moving there. This may have included building a one story stone house, instead of a log one.
The theory is further bolstered by the knowledge that the Hagenbuchs' house served as a place of refuge for local residents and troops during the French and Indian War. Unlike log structures, stone houses were stronger and less susceptible to being burned during an attack.
Such a structure would not be without precedent. Built in 1743 and located in Lebanon County, Pennsylvania, the Heinrich Zeller House is a one story stone structure that also sheltered local families under threat. Might a stone house on the Hagenbuch homestead have served the same purpose? If the theory is true, it would explain why neighbors and militia were drawn to it for protection.
Similar to the house on Site B, the barn appears to date from 1800 or before. Besides having a small footprint, which is typical of early barns, the structure contains many hand hewn beams. While it is possible that these were reused from another barn, it is more likely that they are original.
Interestingly, the barn foundation does contain a cornerstone. This notes a date of 1954 along with the names of W. Stump and D. Wagaman. Property deeds show that David Wagaman was an owner of the property in the 20th century, and likely completed a renovation of the barn in that year.
One structure that has not yet been located is the Hagenbuch distillery. It is known that the family produced brandy and later whiskey at their homestead. Since distilling requires water, it stands to reason that their stillhouse was located near the creek. However, a wooden pipe could have been used to channel water some distance. Additional research into this structure is needed.
While the above evidence raises additional questions, it also provides strong support for the idea that Site B is the original site of Andreas Hagenbuch's house. Future articles will continue to explore the property, structures, and the rich history of the Hagenbuch homestead.