Dutch Treats: Reviewing a Cookbook Full of Tasty Recipes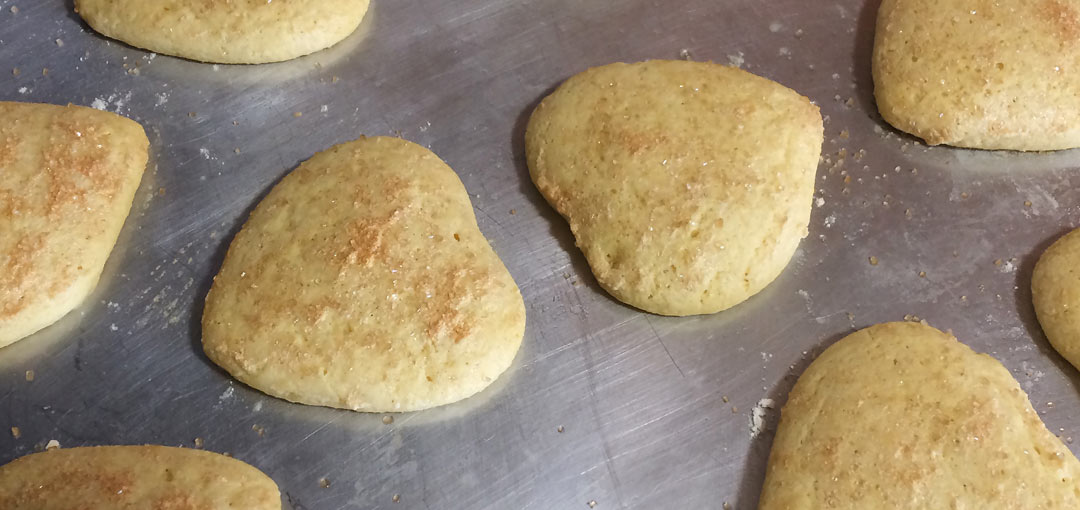 Food is an important part of our Hagenbuch family, and numerous recipes have been featured on this site over the years. One cookbook that we have mentioned a few times is Pennsylvania Dutch Country Cooking by William Woys Weaver, and many recipes from it have been tried over the years, such as white peppernuts.
Recently, while emailing with Weaver about a recipe, he suggested I check out another one of his books: Dutch Treats: Heirloom Recipes from Farmhouse Kitchens. Published in 2016, Dutch Treats is 187 pages of illustrated recipes for breads, cakes, cookies, pastries, cakes, pies, tarts, and puddings—all of which would have been enjoyed by our Deitsch ancestors. In fact, many of us are still eating these today!
If you haven't seen one of Weaver's books before, it's tough for me to convey just how much food and culture is packed into its pages. Instead of simply being a collection of recipes, Dutch Treats takes the reader on a culinary journey through Pennsylvania's Deitsch peoples and country. Along the way, there is plenty of history and stories too. The cookbook is just as interesting to read, as it is to cook from. What's more are the lovely photographs found on nearly every page, making the book a joy to leaf through.
Due to the pandemic, my wife, Sara, and I have been at home a lot more. So it only made sense to pull out Weaver's cookbook and try a few recipes. The first one we made was Ritner Roll-Outs, a type of sugar cookie. In keeping with Weaver's style, the recipe is prefaced with a bit of history. This transports the reader to the 19th century, when cookies like these were more common than the mass-produced confections that fill our supermarket aisles today. Weaver writes:
Joseph Ritner (1780–1869) was governor of Pennsylvania from 1835 to 1839, one of several Pennsylvania Dutch governors of the state. Born in Reading, he espoused anti-upper-class politics and became a member of the Anti-Masonic Party. Perhaps more importantly, he was also an outspoken Abolitionist which earned him great popularity well beyond the borders of Pennsylvania. Why his name became attached to a cookie is still a matter of conjecture, yet it may have something to do with his Abolitionist connections. These popular cookies were served during his funeral at his Cumberland County farm in 1869.
---
Ritner Roll-Outs (Sugar Cookies)
Makes about two dozen cookies
4 oz unsalted butter
1 cup caster sugar or granulated sugar if not available
2 eggs
1/2 cup buttermilk
2 teaspoons almond flavoring
2 cups all-purpose flour
3/4 cup almond flour
1/2 teaspoon salt
1 tablespoon baking powder
1 egg white and some raw sugar (for the topping)
Cream the butter and granulated sugar until fluffy. Then, beat the eggs until frothy and lemon colored. Add the buttermilk and almond flavoring. Combine this with the butter mixture. Sift together the flour, almond flour, salt, and baking powder in a large mixing bowl. Then, combine this with the liquid ingredients. Work this into soft, sticky dough, cover it, and refrigerate it for at least two hours before using. Once ready, preheat the oven to 350ºF.
Using a cold rolling pin made of glass or marble, roll out the dough on a clean work surface that is well-dusted with flour until the dough is 1/4 inch thick. Cut out the cookies with a cookie cutter. (Weaver suggests using a fluted-edge cutter and cutting a star from the center of each cookie. We used a heart-shaped cutter instead.)
Place the cookies on a well-greased baking sheet about 1 inch apart. Beat the egg white until stiff and forming peaks. Brush each cookie with the whites. Sprinkle sugar on top and bake in the oven for 15 minutes. Cool on racks.
---
Joseph Ritner, who succeeded George Wolf as governor, almost certainly knew of and ate these cookies during his lifetime, as did our family in Berks County. Research shows that along with being against slavery and elite societies like the Masons, Ritner strongly supported public education in Pennsylvania. One can only wonder if the Hagenbuchs of the early 1800s shared similar beliefs, considering that some were school teachers or members of rhetoric societies.
Food and our family's heritage are closely intertwined. If you have an interest in cooking, culture, and the Pennsylvania Deitsch, I encourage you checkout Dutch Treats by William Woys Weaver.