Your Husband, Ben: Letters from the Civil War, Part 5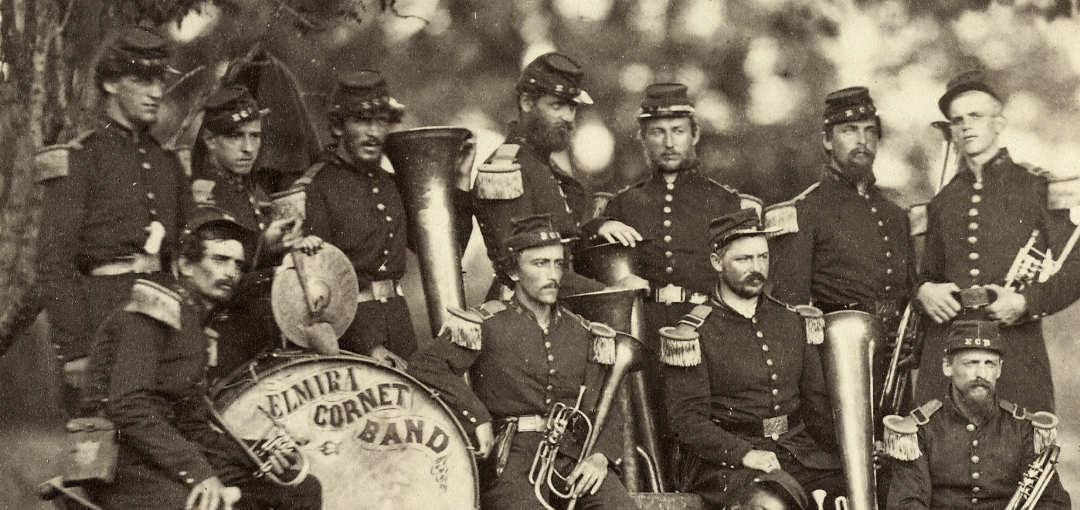 In the previous article in this series, Benjamin "Ben" Del Fel Hagenbuch (b. 1833) remained in camp with his unit near Hatcher's Run, Virginia. He hoped for the end of the Civil War and requested that pictures of his family be sent. His letter from March 10, 1865 ended abruptly, though. This article begins with correspondence which might be the missing portion of that letter to his wife, Sarah Jane (Ammerman) Hagenbuch (b. 1831). Read Part 1, Part 2, Part 3, and Part 4 in this series.
---
Benjamin Del Fel Hagenbuch Civil War Letters
Part 5: March 10, 1865 – April 9, 1865
---
[This letter is undated. It may be the end of the March 10, 1865 letter written in camp near Hatcher's Run, Virginia]
Oh but I am sleepy. Still I wish this to go out with the morning's mail so I must, if my eyes with great effort can be kept open, have my say now. I have the promise of a furlough.1 Unless there is a move preventing it, I think I can get one. Oh but I would like to be there about moving time. The way the roads are here and the rain continues to fall, there are good reasons that there will be no move, as long as that continues.
My old bed fellow, Bill Thomas, is very sick and taken to the hospital. Some thought it was doubtful if he [will] recover. I hope he may. All my mess mates are out except one, John Thomas, a good fellow who is my bed mate since Bill left. The boys in the guard are all my friends. I have not an enemy in the army, nor do I wish one. If we had not so much duty to do, we would have it very nice here, but it will not last long as they are court-martialing them2 as fast as possible and sending them to their regiments. Oh but how the rain rattles on the roof while I sit before a blazing fire, the light of which enables me to pen those few lines. It almost lulls me to sleep.
Hello, here comes Fred—a great big six foot youth of 19, rather good looking. As he can stick,3 I cannot write while he is up and must wait until he is in bed.
The boys are in bed I have lit my pipe to keep awake. The army has [taught] many a one to smoke, for how can one pass away the lonely hours without his pipe? [It] is the constant companion of almost every soldier.
Robert4 said he caught some rats. If he was here with his trap, he could catch rabbits and squirrels for they are very plentiful. Once in a while a deer is killed. An old planter, not far from here, had a park full of deer and other game. On the approach of our army, it was opened and the animals all left run.
It is too bad to see the waste of property. Beautiful mansions knocked down or burned up, every board or shingle picked up for doors on the shanties of our brave boys. Chairs, sofas, looking glasses, and all kinds of costly furniture adorn the homely little huts of our soldiers and not a few have musical instruments of different kinds to drive dull care away, for music hath charms to soothe the savage breast. Oh I must stop. You can see, I cannot keep the line.5
Write soon My Dear Wife. A kiss for all.
Your Loving Husband,
Ben
---
Saturday, March 18, 1865
Camp Near Hatcher's Run, Virginia
Dear Wife,
I received your letter last night. I was glad to hear you were all well and that my money arrived safe. I began to fear it would not get through. Not getting any word for so long, I wrote you a letter the other day and in it I sent you two dollars. I hope you got it.
We then had marching orders and have yet. I thought before this we would be on the move, where to we cannot form any conclusion. All suttlers and tradesmen are sent back.6 All sent their extra clothing home by express. I sent my overcoat to Jackson. You can get it. It is awful dirty. Wash it and get Mother to color it black. I am well and hope you are all the same. We expect to move any day.
Yesterday was St. Patrick's Day. There was quite a time here and in the 2nd Corps we had several horse races. 3 men were killed in different ways, fell off or run over. It was the biggest turnout ever I saw. You say Pat is not a going to war. I am glad to hear it. I heard yesterday that my brother Isaiah7 has enlisted and was in Camp Curtain and had Sergeant's stripes on his arm. I wish I knew what command he was in and also John. Every train load that comes, I am looking for them. I think this is the best part of the army to come to. I do not think there will be much fighting anymore, for it is the opinion of all that they are whipped and badly too. I hope it is the case.
I am sorry that Robert still continues to have the ague.8 Do your best for him. Get Doctor Harrison to see him. I have faith in him. Take good care of him and all the rest. Leave nothing untried that will keep them healthy and happy. Oh but I would like to come home. I went for my furlough last night but could not get it. I am afraid the Spring Campaign will now commence and that will put an end to all furloughs, unless we get some heavy rains soon to start the mud again.
There appears to be quite a bustle amongst the officers today. I just ascertained the cause. There is another horse race. For my part, they may run their races. I shall stay out of the way of army officers' horses. I got a letter from Aunt Isabella last night they are well. She said she had company for Annie. She wishes I could be one, for she would like to get some meals for me. I must bring my scribbling to a close, as there is two horns from one of the bands here for me to fix this afternoon. I mended one the other day.9 Now they know who can mend them, and I expect I will have plenty of it to do, as there is not anyone in this corps that can mend them and there is so many bands. I think I must join one of them. I had an offer the other day to play the big drum in the Overland Brigade Band. But to carry a big drum on a march is a little too much for me. I must quit now and fix the horns. Write soon, Dear One. I remain as ever your husband.
My friend Baler Hower is sitting here writing to his wife. He is armorer for our division.10 I can use his tools. He has a solder iron and files. I do not see why Jackson does not write to me about that money. I wrote to him and told him to answer as soon as he got it. I will send you the receipt in this that I got from the Christian Commission. They sent my captain away too. Burr's Regiment is getting a good many recruits. There must be a great many men enlisting for the cars are loaded. Every train that passes brings a hundred to the front. They must also think that the war is pretty near over, for I am surprised at some that have come out who was afraid to enlist sooner.
Well I have fixed now those horns and now I can write more. I made two dollars. I will send it in this letter. If I can send you two dollars in every letter and about two letters a week that will do. I have made some at barbering and hope to make more. But when the bands all find out where they can get there instruments repaired, they will keep me busy. There is nothing new here — not a gun been fired for some time. Deserters still continue to come in our lines by the hundred, all hard looking fellows and all tired of the war and of Jeff Davis. They do not want to starve to death. I hope his whole army will desert, and they will if they get a chance. I sincerely hope this will soon be over.
Well dear ones I must now close. Kiss the little ones for me and goodnight, Dear Wife.
Ben
---
Sunday Morning, March 26, 1865
Hatcher's Run, Virginia
Dear Wife,
Once more I take up my pen to write you a few lines to inform you I am well and hope you are the same. I received a letter from you two days ago. Oh but I was glad to hear from you. I was a going to answer it yesterday, but we was roused up at daylight. The rebs had made an attack on our line in front of the 9th Corps. The fight continued all day until after 8 o'clock.11 The loss was heavy on both sides. Our loss is supposed to be two thousand killed, wounded, and missing. We captured twenty-eight hundred prisoners, 4 generals, and 60 officers. The field is covered with their dead. One of our men said there was over four hundred dead in a little square, not as big as a town lot. We was not in to it. I believe some of our corps was in. How true it is I do not know. The 2nd Corps was in it all afternoon. What there success was, I have not ascertained, yet we looked for it to open this morning.
It is now 9 o'clock, and it has not commenced, yet all is quiet. Yet I hope it may continue. It is thought the rebs are now evacuating Petersburg, as the skirmish line cannot find any along the line in front of our corps. I cannot write much today. The excitement is too great. All is prepared for the fight. Let it come as soon as they please. They will find us ready to receive them. I wrote a letter the other day to Robert. I hope you get it. I saw Jim. He is all right. I must close now. [When] this is over and I get more news, I will write again. I just now heard our loss was not over one thousand at the 9th Corps.
I must go and see Jim to see what news he has. I would like to visit the battleground, but I dare not leave now. My love to all and my prayers for the welfare of us all, is all I ask.
Your Ever Faithful Husband,
Ben
Find two dollars in this. Write soon.
---
Thursday, April 9, 1865
Camp on the Battlefield, Near Hatcher's Run, Virginia
Dear Wife,
[I write] while sitting here on a log in the mud almost knee deep alongside of a fire. [We have been] without cover since Sunday. [I am] pretty near smoked to death and the clothes burnt pretty near off me and one foot froze. I thought I would let you know of my whereabouts, for I expect you have heard of our battle before this, which lasted two days: Monday & Tuesday.12
On Sunday we had a small fight with the rebs, drove them and capturing a lot of prisoners. On Monday we found them almost too strong for us, but we, after a hard fight, got this place. On Tuesday they undertook to drive us out, but they could not come to it. We provost guards stayed behind to drive up stragglers. Still we were not out of reach, for the balls and shells flew around us awful thick. A shell struck in the ground not but a few feet from me and splashed the mud all over us. We had charge of several prisoners. There was a good many wounded.
The 210th Regiment lost about 100 men. Several of the Danville boys were wounded. Bill and Jim and them are all right yet. It is thought the fight will be renewed today or tomorrow. How true it is I do not know. I hope they will soon take us back to our old quarters for when we left, we had light marching orders and left all but our blankets. So I think we will be relieved as soon as another corps comes up. They must do something soon for the men cannot stand this laying in the mud. Oh it is awful in the day time and at night it freezes hard, so that our clothes freezes fast in the mud and [we] cannot get our blankets out until it thaws. Oh what suffering there was those two nights amongst the wounded that had to be left on the field, but were brought in as fast as possible. Where I am sitting now, several shells came right over our heads and lodged a few yards beyond — one of them cutting a drummer boy in the middle. The sight was awful.
Well my Dear One, thank God so far I am safe and I pray I may be kept. I cannot write much now if I would, for my fingers are too cold and my eyes pretty near smoked out, so I will close now and write soon again.
From your Husband,
Ben
Direct as ever.
---
Footnotes
For several months, Ben has been hoping to receive a furlough to spend time at home. It appears he never received one.
Ben mentions court-martialing soldiers, a related duty of the provost guard.
"As he can stick" seems to refer to Fred "sticking around" and making it difficult to write.
Ben's eldest son was Robert Del Roy Hagenbuch (b. 1853).
"Keep the line" appears to be keeping a line of conversation without meandering.
Suttlers and tradesmen provided goods and services for soldiers to buy during winter camp.
Isaiah Bomboy Hagenbuch (b. 1836) was a younger brother of Ben.
Ague is a term for a fever.
Ben had previously worked as a tinsmith, indicating he possessed skills to fix instruments made of metal.
An armorer had tools to fix weaponry, such as the soldering iron Ben mentions.
Ben is describing the Battle of Fort Stedman on March 25, 1865. This was the last major Confederate attempt to break the Union siege of Petersburg. Click here to learn more about the battle.
Ben appears to have been at the rear of the Union Army as it followed the Confederate retreat from Petersburg. The battles at Sailor's Creek and High Bridge occurred on April 6th and 7th respectively. Ben's April 9th letter was written the day General Robert E. Lee surrendered the Army of Northern Virginia at Appomattox Court House, though he doesn't mention it indicating he may not have heard yet.