Your Husband, Ben: Letters from the Civil War, Part 6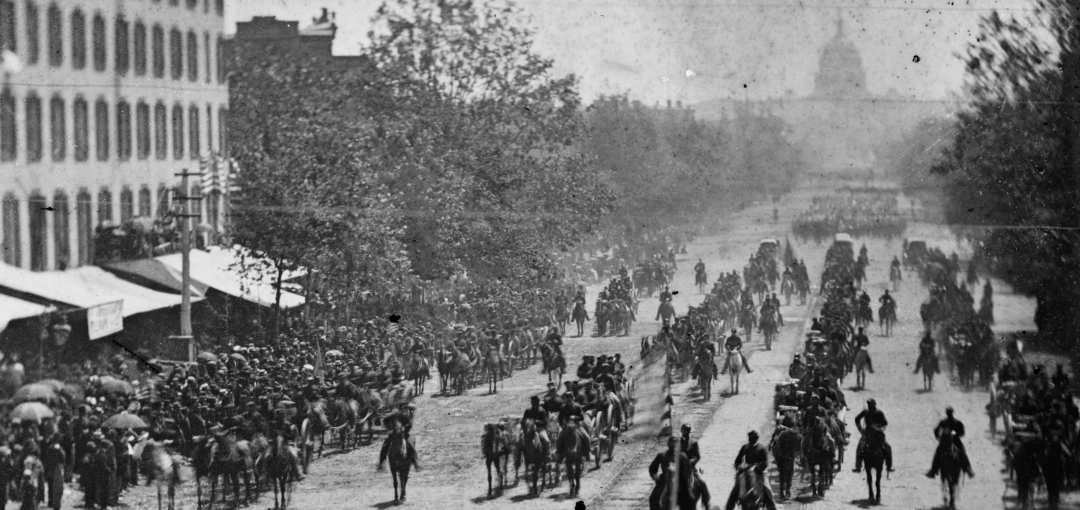 In the final part of this series, Benjamin "Ben" Del Fel Hagenbuch (b. 1833) is camped with his unit along the Nottoway River in Virginia. Although the Confederate Army of Northern Virginia had surrendered on April 9, 1865, the Civil War was not yet over and Ben remained in active service. This article begins with his final letter to his wife, Sarah Jane (Ammerman) Hagenbuch (b. 1831), and concludes with some additional details about Ben's life after leaving the Union Army. Read Part 1, Part 2, Part 3, Part 4, and Part 5 in this series.
---
Benjamin Del Fel Hagenbuch Civil War Letters
Part 6: April 28th, 1865
---
April 28, 1865
On the Banks of the Nottoway River, Virginia
Oh what a beautiful shady camp.
Dear Wife,
Oh how I wish they would keep us here until we are discharged. Here we have the best of water and can catch any amount of fish. They are small but good. It is in the woods on a hill side, where the cool wind has all the chance to fan our heated brows. It is a very retired and lonely place along the railroad which our boys are guarding.1 All that is wanting for me to be content with any situation is a letter from you.
I have wrote five or six since we left our winter quarters and, as yet, I have not received an answer to one of them. It is true I got one or two, but they where written before or about the time we started, so I hardly know what to write anymore than to let you know where I am and that I am well. My face is about well, and I am glad to tell you that there will be no scar left that can be noticed. You spoke of the chickens wanting to hatch. Let them—all that wants to—for I think I can help eat some of them this fall. Do the best you can with the lot, but do not hurt yourself a farming it. Save the trees, if you can, from the worms and plant whatever you think best, but do not neglect the children for the whole concern.
They are giving furloughs again. Sometimes I think I will not try to get one, as I have but four months yet to stay, and it would cost a month or two of pay to come there. Again, I would like awful well to come and see you all. Oh but I think I could enjoy the time very well with you, for it seams a long time to be without you and a long time yet before I can come, unless we are disbanded or I do come on a furlough.
I cannot write much this time. I am on duty today until 4 o'clock then I want to go a fishing. If only I had plenty of hooks. Send me some small eel hooks—10 or a dozen in your next [letter]. I wish I had that ink.2 I could be earning something. I wrote to Charley for it.3 Give my respects to Pats and Annie and write soon. I hope this may find you all, as it leaves me, in the best of health. Thank God for His kindness toward us all.
Write soon, and I remain as ever,
Your true husband,
Ben
Did you get that money and them buns?
Ben
---
Auburn University's collection of letters from Ben ends here. We know from history that even with the surrender of General Robert E. Lee's army, the Union victory was not complete. Confederate forces in other parts of the United States continued to fight on, and surrender, throughout April of 1865. This culminated on May 9th with President Andrew Johnson, who took office after Abraham Lincoln was assassinated, declaring that the Civil War "may be regarded as virtually at an end."
Ben's unit, the 210th Pennsylvania Infantry, marched to Washington D.C. and participated in the Grand Review of the Armies from May 23rd–24th. The massive parade and celebration honored the soldiers who had fought to preserve the Union. He then mustered out of service on May 30th with his unit and returned home to Columbia County, Pennsylvania.
The 1870 census confirms that Ben had bought some land, probably around 1863, and was farming this. By that time, he and Sarah had six children: Robert (b. 1853),4 Charles (b. 1855), Mary (b. 1858), Clara (b. 1863), Cora (b. 1866), and Hannah Lillian (b. 1869). Their farm was located in Scott Township, Columbia County, PA near the town of Lightstreet.
Ben's life as a farmer was short lived, and by 1880 he and Sarah had moved into a house on 3rd Street in Bloomsburg, PA. There he worked as a tinsmith, just as he had done before the Civil War. Ben died on December 7, 1883 at the age of 50 and was buried in Bloomsburg at Old Rosemont Cemetery. Sarah outlived him by several decades and died in 1912 at the age of 81.
Benjamin "Ben" Del Fel Hagenbuch's letters to his wife provide a fascinating look at the Civil War through the eyes of a family member. His words, written between 1861–1865 and preserved for over 150 years, enable us to better understand the experiences, hopes, and fears of someone who lived during that tumultuous moment in our country's history.
Yet, his letters do more than simply present a window into the past. They give us perspective on our lives and struggles, reinforcing what it means to be Hagenbuchs as well as Americans. We are grateful to have such artifacts in our family's history and thankful to know the descendants of Ben and Sarah, some of whom are readers of this site.
---
Footnotes
This is likely the South Side Railroad.
It's not clear what Ben wants the extra ink for, perhaps to help illiterate soldiers write home.
He appears to have written his brother, Charles (b. 1835), and requested that he send some ink.
Read a previous article to learn more information about Robert Del Roy Hagenbuch.