Civil War Brothers and Cousins: Part 1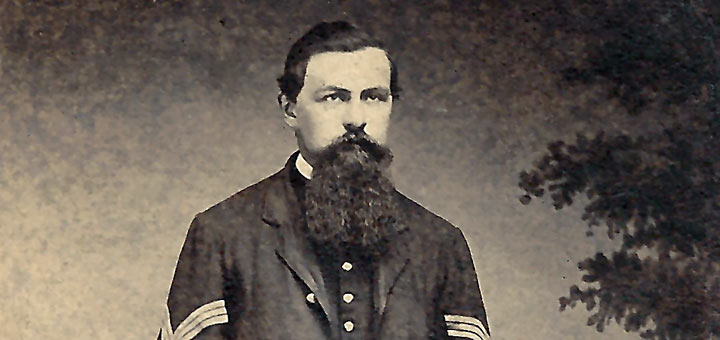 There are many Hagenbuch family lines yet to be explored and shared with our readers. Recently, we received a message from Tom Myrick of Virginia. It seems that Tom's great aunt and great uncle were members at St. John's Lutheran Church, also known as Delaware Run, in upper Northumberland County, Pennsylvania. This church is a Hagenbuch church, was the parish of my wife's father, Rev. Roy A. Gutshall, and will be the location of the Hagenbuch reunion in 2020. When Tom was a young man, he became interested in the Civil War. His great aunt had purchased some photographs of Civil War soldiers and gave them to Tom. Two of these photos were of Solomon and Samuel Hagenbuch who we know were brothers.
Through a fluke, Tom recently came across Hagenbuch.org, and he realized that Andrew and I might know something about these brothers. Tom and I are now in communication, and I have relayed to him the importance of St. John's Church to the family and to me personally. This communication also made me realize that we have not written much about this family line, especially about Solomon and Samuel.
The brothers are descended from Andreas' youngest son, John (b. 1763). John and his wife Maria Magdalene Dreisbach had eight sons. The next to eldest son was Johann Conrad (b. 1790) who married Mary Ruckle. Conrad and Mary had seven children and the eldest of these was John Phineas (b. 1812). He married Barbara Ann Dentler and the two had eight children.
John Phineas and his family moved from Columbia County, PA to Delaware Township, Northumberland County, PA (near to St. John's Delaware Run Lutheran Church) in about 1839. Three years later, they moved just across the Susquehanna River to Union County, PA. A few years after that, they moved to Winchester, Virginia, and about ten years later they moved back to Union County, PA.
John Phineas and Barbara Ann's children are: Solomon (b. 1838, d. 1864); William (b. c. 1840, d. as a child); Samuel (b. 1844, d. 1900); Jacob (b. 1847, d. 1910); Hannah (b. 1849, d. unknown); George (b. 1850, d. 1915); Henry (b. 1857, d. 1931); and John (b. 1860, d. 1941).
John Phineas' and Barbara's eldest son, Solomon, enlisted in the Union Army in September 1861 with Company H, 53rd Regiment of Pennsylvania Volunteers. He was 23 years old. Solomon renewed his enlistment in December 1863 and was a sergeant. He was killed at the Battle of Petersburg on June 16, 1864, and he is buried in the St. John's Delaware Run Church cemetery.
Third son, Samuel, enlisted in the Union Army in February 1864 when he was 19 years old. He was a private in Company D of the 80th Regiment of the 7th Pennsylvania Cavalry. We have a description of Samuel. He was almost 6 feet tall with a dark complexion, dark hair, and blue eyes. He was discharged at Macon, GA in August 1865 with no injuries sustained in combat.
Solomon Hagenbuch's first cousin, Henry W. Hagenbuch, was also a member of Company H of the 53rd Regiment. Henry enlisted in the 53rd in October 1861 as a corporal. On his service record it is noted: "Not accounted for on muster out roll." It is possible that Henry did not "re up" when his enlistment was over—possibly in 1863. For this reason, he may not have been present at the battle of Gettysburg in July 1863. Unlike Solomon, who was present during the battle, Henry's name does not appear on the Pennsylvania Monument at the Gettysburg Battlefield.
Henry W. Hagenbuch was well known in the Milton, Pennsylvania locale as a photographer. He was born in 1834 and died in 1893. Henry was married to Emma Troxell. They are buried at St. John's Delaware Run Lutheran Church. Henry's family line is: Andreas (b. 1715) > John (b. 1763) > Charles (b. 1811) > Henry W. (b. 1834).
Read more about the Civil War service of Solomon, Samuel, and Henry W. Hagenbuch in the second part of this article series.