Dutch Butter Cake with Some Digital Nostalgia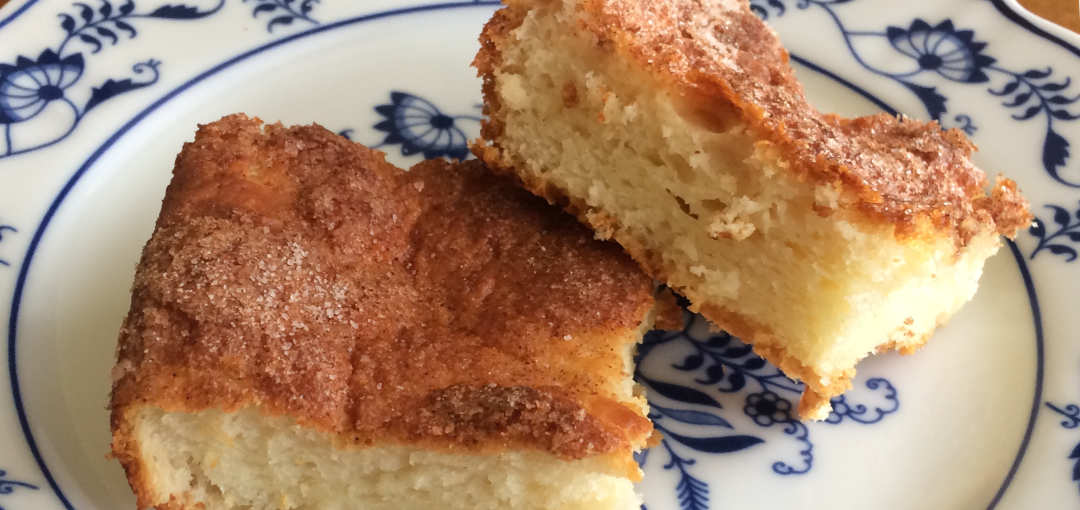 What were you doing the summer of 2020? Personally, I hadn't thought much about it.
Then, a week ago I started browsing through some images in my digital archive. Many of these are photos taken on my phone, but there are other things too, documenting the places my family has traveled and the things we have done together.
My father, Mark, has written at times about the ephemeral nature of digital files, and how their less tangible qualities may eventually lead to a loss of family memories and history. It's a valid concern, though I am diligently working to prevent it. Keeping multiple backups, some even stored at a location outside of my home, is one way to ensure the long term preservation of data.
Some of my earliest files date to 1994 and consist of crude digital photos, pixel art drawings, and school reports. Back then, I was storing information on computer floppy disks and a 250 megabyte hard drive. As technology advanced and drives expanded in size, my archive grew to include high resolution images, mountains of email, and videos of all sorts. Today, I estimate I have a few terabytes of data, excluding many more terabytes of redundant backups.
Browsing through my photos, I can't help but feel a bit emotional. This is the nostalgia part of the article, in case you are wondering! Recently, I looked through images from the summer of 2020—not too long ago really—but it sure feels like ages have past. That summer, my eldest son, William, wasn't even a year old yet, nor was the pandemic. My wife, Sara, and I were new parents, attempting to navigate a world turned upside down. We spent much of that time close to home, enjoying our days with William, and cooking. We tried lots of new recipes, a number of which have been featured on this site already.
As I clicked through photos of baby William, I happened upon a cake Sara had made in July of 2020. It took us a moment to figure out what it was—Dutch butter cake—or as it is known in Pennsylvania Deitsch, budderkucke. The recipe had come from William Woys Weaver's cookbook, Dutch Treats: Heirloom Recipes from Farmhouse Kitchens. I remember enjoying the cake, and it being light and buttery with the flavor of cinnamon.
---
Dutch Butter Cake
Makes about 8 servings.
Ingredients:
1/2 ounce dry active yeast
1/2 cup lukewarm milk
1 teaspoon sugar
8 tablespoons unsalted butter at room temperature
1/2 cup sugar
1 teaspoon salt
1 cup sour cream (or yogurt)
2 large eggs
2 cups bread flour
3 tablespoons cold, unsalted butter, chopped into small pieces
2 tablespoons coarse granulated sugar (or regular sugar)
1 teaspoon powered cinnamon
Dissolve the 1 teaspoon sugar into the milk. Proof the yeast in this and set aside. Cream the butter with the 1/2 cup sugar and salt. Add the sour cream to this to create a batter. Beat the eggs until lemon in color and frothy. Then, vigorously whisk the eggs into the batter. Add the proofed yeast and sift in the flour to make a soft, sticky sponge. Cover and set aside in a warm place until it doubles in bulk.
Preheat the oven to 375ºF, then stir down the sponge. Grease a 10 x 2 x 10 inch cake pan and dust with breadcrumbs. Add the proofed sponge to the pan, spreading it evenly throughout. Cover with a warm, damp cloth and allow the sponge to recover in a warm place until the cake has risen almost to the top of the pan.
Remove the cloth and scatter the small pieces of butter on top. Combine the cinnamon and 2 tablespoons sugar. Sprinkle this over the cake. Bake 30–35 minutes or until the cake is done in the center. If the cake appears to be darkening on top, cover it with foil to prevent burning. Do not remove the cake early or it will fall. Let it cool before cutting.
---
While there are a variety of recipes out there for Dutch butter cake, we found this one a tasty balance of simplicity and flavor. For Sara and I, the cake connects with a particularly memorable time, the summer of 2020, when the pandemic filled the news and we were just beginning our journey as parents. A bit of family nostalgia inspired by a slice of dessert—what could be sweeter?