Traditional Gingerbread Men: Mummeli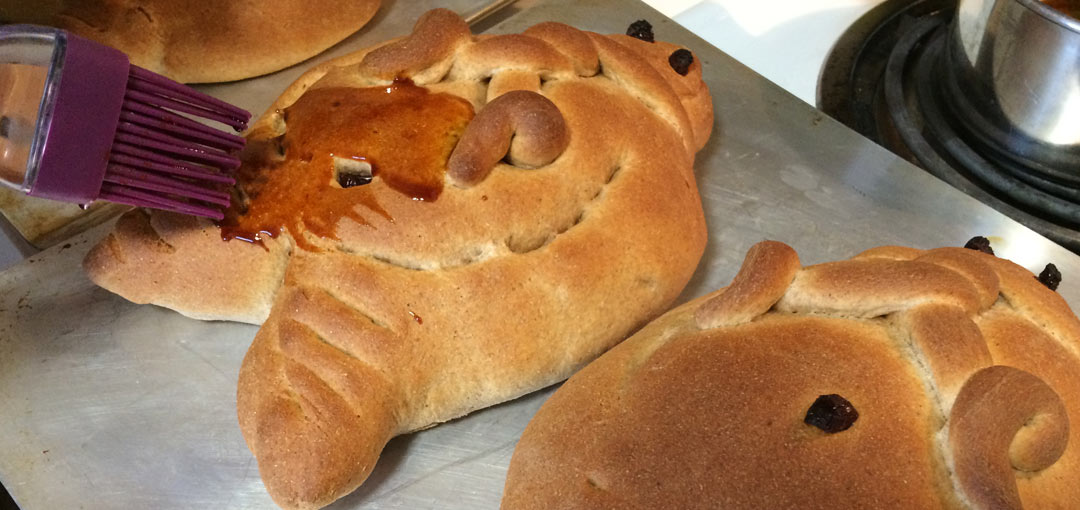 Each Christmas, my wife Sara and I prepare cards and treats for the various family members we will see during the holiday season. This tradition encourages us to spend time together and allows us to try new recipes, including some from our Hagenbuch family's Pennsylvania Deitsch heritage. White peppernuts, jumbles, and ginger beer have all been featured on this site.
One of our favorite cookbooks filled with traditional recipes is Pennsylvania Dutch Country Cooking by William Woys Weaver. While leafing through the Christmas chapter, I happened upon a recipe for Mummeli, which are old-fashioned gingerbread men. I found the shape of these particularly appealing. When right-side up, the Mummeli look like chubby little men wearing curly scarves. When up-side down, they turn into stylized pig masks!
In his book, Weaver writes:
[The recipe for Mummeli] is one of the earliest types of gingerbread that I have come across in Pennsylvania Dutch cookery. The basic recipe was brought to America in the eighteenth century by immigrants from Hessia. Mummeli are still baked in the New Berlin area of Union County and other parts of central Pennsylvania.
It should be noted that the recipe for Mummeli contains no ginger and, when finished, produces a mildly sweet bread that is perfect to eat alone or with a meal like breakfast.
---
Mummeli
Makes 4–5 Mummeli depending upon the size desired
1/2 ounce active dry yeast
2 cups lukewarm milk
1 cup warm water
10 and 1/2 cups whole wheat flour
1/2 cup unsalted butter
3/4 cup honey
4 large eggs
1 tablespoon ground nutmeg
1 teaspoon sea salt
2 tablespoons molasses
2 tablespoons saffron water (made from 1/4 teaspoon saffron powder in 2 tablespoons water)
Dried fruit like cranberries or raisins
Add the yeast to the lukewarm milk and mix this with the cup of warm water. Let it bubble to proof the yeast.
Next, put 3 cups of the whole wheat flour in a large bowl. Make a well in the middle of the flour, and stir the yeast into this to form a thick slurry. Cover the bowl, and set it in a warm place until the slurry has risen and is covered in bubbles. Then, stir until the slurry releases the air bubbles.
Cream the butter and honey. Beat the eggs until lemon colored. Blend both of these together, and add the mixture to the slurry. Sift together the remaining 7 and 1/2 cups of flour, the nutmeg, and the salt.
Slowly stir this into the slurry. Add only enough flour so that the dough is not sticky when handled. It is okay if a bit of the flour is left over or if you have to add in a small amount more to reduce stickiness (the latter may be required in humid weather).
Knead the dough for 15 minutes on a clean surface, then mold into 4 or 5 balls of equal size. Break off a small piece from each dough ball, and roll these out to form 16 inch long ropes.
Form the dough balls (not the ropes) into Mummeli figures as shown in the pictures in this article. Lay the Mummeli on greased baking sheets. When creating the heads and feet, twist the dough in these areas for better results. Use a knife to cut the dough to form the arms and decorate the legs. Wrap a rope of dough around each figure to make a scarf. Finally, use a knife to make holes for eyes and a belly button, placing a piece of dried fruit into each of these.
Set the Mummeli aside to rise in a warm place for about 20 minutes. Preheat the oven to 375ºF. Once the Mummeli are risen, bake them for 20 to 30 minutes (less time is needed if you are making 5 smaller Mummeli versus 4 larger ones). While they are baking, mix the saffron water with the molasses.
Remove them from the oven and glaze with the saffron-molasses mixture. Place the Mummeli back in the oven for 15 minutes more. When done, set them on cooling racks.
While the finished Mummeli don't taste like the sweet gingerbreads we have come to expect on Christmas, they do have a unique flavor with hints of nutmeg, molasses, and saffron. It's a reminder of our Pennsylvania Deitsch heritage and a time when recipes relied upon molasses instead of white sugar. Best of all, the Mummeli have a great look to them and are sure to impress any holiday guests.
From our Hagenbuch family to yours: May you have a very Merry Christmas.