Family Recipes: Scrapple Apple Mac and Cheese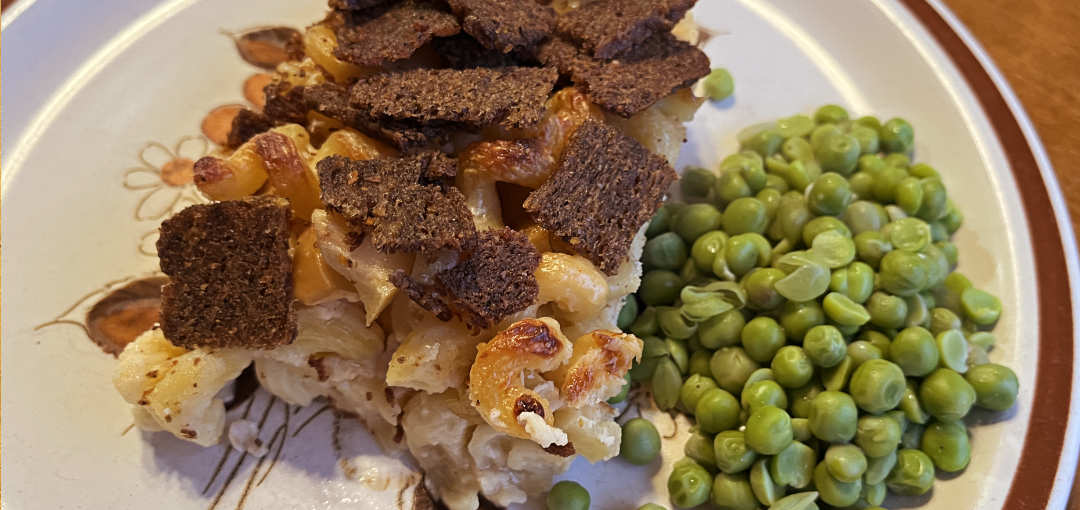 Over the years, a number of recipes have been featured on Hagenbuch.org. Some are old, family standbys that came from the handwritten cookbooks of relatives. Others were researched and found by aficionados of Pennsylvania Dutch cuisine, such as William Woys Weaver. All are many decades old, having been passed down from generation to generation. But what of new recipes, ones that put a new twist on classic ingredients or Pennsylvania Dutch fare?
In my household, we usually have scrapple in the freezer. Now, for those who regularly eat scrapple, you may be asking, "Why?" Scrapple is not at its best once frozen. Ice crystals change its consistency and, once thawed, it becomes quite mushy, making it difficult to cut into thin slices. One way to deal with this problem is to let the scrapple defrost just long enough so it can be cut into slices. The partially frozen slices are then layered in a container, separated by wax paper, and placed into the fridge. When needed, they can be pulled out and fried.
We get our scrapple from a few places. Our best scrapple comes from family in central Pennsylvania. Because butchering only happens in winter, any scrapple that won't be eaten immediately must be frozen. When that supply runs out, we turn to local sources including an Amish butcher at the farmer's market or the grocery store. When we must buy from the grocery store, we typically purchase Habberset brand scrapple.
Scrapple is, of course, known as a breakfast meat served in the morning alongside eggs, toast, and other similar foods. Yet, my wife, Sara, and I wondered: If bacon could be used in all sorts of other cooking and meals, why not scrapple? We set about to introduce scrapple to the supper table.
An initial scan of our Pennsylvania Dutch cookbooks didn't yield any recipes for scrapple dinners. We did find a recipe for a scrapple dip made with Old Bay Seasoning in the book Pennsylvania Scrapple by Amy Strauss. However, this was not a complete meal. (We have made this recipe in the past and found that it really didn't feature much scrapple.) RAPA Scrapple, a brand based in Delaware, does have some interesting dishes on their site, including ones for scrapple pierogies and scrapple stuffed peppers. Although, we had a hankering for something else.
During the past few decades, there has been a culinary trend to revamp comfort foods and make them more exciting. One dish that is frequently modified is the venerable macaroni and cheese. Sara and I started exploring ways we might enhance this family favorite with scrapple. Scrapple should be served crispy, and we wanted to ensure the new recipe kept it that way. Also, it is complemented by something sweet. In our Hagenbuch family, that is often King Syrup. Since the scrapple would be for supper, we decided to use a different ingredient and mix this into the macaroni and cheese. Eventually, we ended up selecting apples. After all, dried apples, or schnitz, are a Pennsylvania Dutch staple! Below is the recipe we developed.
---
Scrapple Apple Mac and Cheese
Makes about 8 servings.
Ingredients:
For the Macaroni and Cheese
1

pound pasta (such as elbows)
Salt

4

tablespoons unsalted butter

1/4

cup all-purpose flour

4

cups whole milk

1

clove garlic, grated

1

teaspoon smoked paprika
Freshly ground pepper
8 ounces sharp Cheddar cheese, grated

8

ounces fontina or Gruyère, grated
8 ounces gouda, grated
3 apples, chopped
Instructions:
Cook the pasta in a large pot of salted boiling water until it's almost al dente. This is important, since the pasta will cook more in the oven. Drain the pasta and set aside.
While the pasta is cooking, heat butter in a medium pot (big enough to hold the cooked pasta) over medium heat. Whisk in flour and cook, stirring constantly, until the flour is foamy and starting to turn a golden brown, about 4 minutes. Slowly whisk in milk to avoid clumping. Add the garlic and paprika. Bring to a simmer, while whisking constantly. Make sure the flour mixture is fully incorporated.
Add grated cheese and whisk until the cheese is completely melted. Season with salt and pepper to taste. Add cooked pasta and the apples, stirring to coat well.
Fry the scrapple or bake it in the oven at 400 degrees (whichever is your preferred method to crisp it). You may have to cook it in batches. Break the crisped scrapple into one inch pieces.
Heat the oven to 425 degrees. Transfer the macaroni and cheese mixture to a 9 x 13 inch baking dish. Bake 25 minutes, until the macaroni and cheese is almost finished, bubbling, thickened, and creamy. Remove from the oven and scatter the scrapple over the top, and return to the oven for 5 minutes to heat through. Remove from the oven and let cool slightly before serving.
Ultimately, we were pleased with our scrapple supper and served it with a vegetable befitting of comfort food—green peas. We plan to make it again. For my family, scrapple apple mac and cheese is a tasty reminder that the Pennsylvania Dutch heritage of our Hagenbuch family is still alive and relevant today. It also isn't just about remembering the past. It's what we do, create, and make now and in the future.