A Pleasant Event: Tuesday, October 1, 1901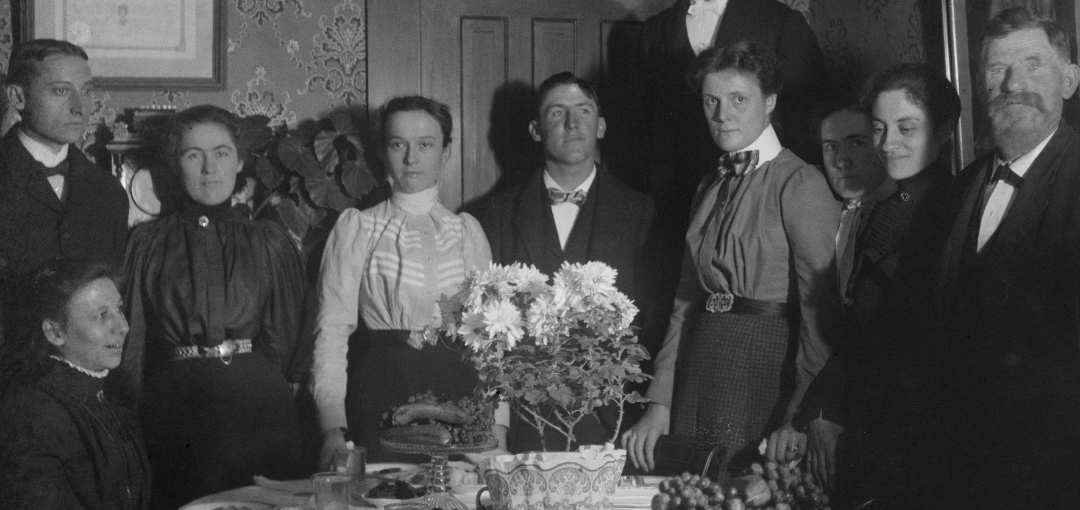 Archival newspaper clippings provide fascinating insights into the lives of our ancestors. However, given the conventions of the time, it can be challenging to know which of our relatives are being discussed in specific articles from the past, creating a bit of a puzzle.
Take, for example, a recently discovered piece about a 50th birthday from the October 10, 1901 edition of The Columbian. While the author provides numerous details about the event and the attendees, the celebrated quinquagenarian is simply noted as "Mrs. F. H. Hagenbuch" leaving one to wonder about her true identity.
---
A Pleasant Event.
---
Tuesday evening, Oct. 1, marked an event, the memory of which will be long cherished in the home of Mr. and Mrs. F. H. Hagenbuch, near Hidlay church. It was Mrs. Hagenbuch's 50th birthday, the day which marked the beginning of the new half century in her life, and many of her friends and neighbors taking advantage of the occasion met and gave her a most pleasant surprise. The evening was spent in a very enjoyable manner, and all present will ever look back with much joy and pleasure to this happy occasion.
A large table ladened with the best of the land, and the richest delicacies of the season, was made ready and at 8 o'clock a number began relieving it of its contents; it was again and again replenished, and at the first "wee" hour of the night the last number bid it adieu saying there still remains an abundance. The table was nicely decorated and on its center was placed a large cake having on it twenty-three small wax tapers, which when lighted made a most beautiful appearance. As a token of the love and esteem of her many friends and in remembrance of the day and occasion Mrs. H. was made the recipient of a very beautiful cut glass dish. It was presented by the guests through a few well chosen remarks by Mr. Ammerman and received for her by Rev. H. E. Harmon. Those present were:
Misses Olive Moyer, Hattie Sommers, Bessie Moyer, Lydia Pollock, Clara Pollock, Maybelle Hagenbuch, Sadie Scott, Ella Hagenbuch, Mr. Claud Mosteller, wife and daughter, Messrs. Chas. Drake, Roy Beagle, Ralph Fornwalt, Paul Snyder, Lloyd Kitchen, Chas. Newman, Harvey Leiby, John Gorry, of Bloomsburg; A. C. Hagenbuch and wife, F. P. Hagenbuch and wife, Elisha Hagenbuch and wife, Chas. Lee and wife, Irvin Lee and wife, Hiram Bower and wife, Joseph Heckman and wife, William Hidlay and wife, William Stahl and wife, Oscar Ohl and wife, Hervy Townsend and wife, Chas. Sitler and wife, J. L. Williams and wife, George Hagenbuch, A. C. Creasy and wife, John Coleman and wife, Mrs. Alice Sharretts, Mrs. Chas. Deiterick, Mrs. Henry Vanderslice and daughter, Mr. Phillip Harris, Misses Clara Hagenbuch, Cora Hagenbuch, Emma Hagenbuch, Emma Creasy, Emma Urbedict, Agnes Hidlay, Mae Yetter, Nora McKenzie, Grace McKenzie, Messrs. Rutter Hagenbuch, Pierce Hagenbuch, Wilbur Stevens, Joe McKenzie, Robert Harris, Clarence Creasy, Center; Mrs. Wilde, Mrs. Amerman, Mrs. Jacob Shultz, Mrs. Hervy Shultz, Mrs. Clarence Clever, Mrs. Rogers, Mrs. Kimbel, Mrs. Yeager, Mrs. Eavens, Mrs. Lyons, Mrs. S. M. Trumbower, Mrs. Sidler, Mrs. Harner, Mrs. John Jacobs, Mrs. Houser, Mrs. Cromwell, Miss Lottie Divel, Messrs. Chas. Amerman and L. S. Amerman of Danville; Mrs. Myers, of Denver, Colorado; Miss Jacobs, of Hazleton; Thomas Hagenbuch and wife, Rev. H. E. Harmon, wife and baby, Miss Ella Miller, Master Paul Harmon, of Espy.
---
Identifying Mrs. F. H. Hagenbuch began with a quick search of Beechroots for a Hagenbuch born in 1851. This query returned Eudora Clementine (Fowler) Hagenbuch who was married to Franklin Hill Hagenbuch (b. 1845). Franklin Hill's line is: Andreas (b. 1715) > John (b. 1763) > Daniel (b. 1803) > Franklin Hill (b. 1845). The couple lived in Columbia County, Pennsylvania, which is where Hidlay Church is located.
Beechroots and Findagrave noted that Eudora was born at the end of October, suggesting that her birthday party occurred several weeks before she turned 50. That didn't seem quite right. An investigation of her death certificate revealed this information to be in error and that her correct birthdate was September 30, 1851. Therefore, the party was held the day after her 50th birthday.
What makes the above article so interesting is the number of Hagenbuchs who were in attendance, including relatives from different family lines. "A. C. Hagenbuch" appears to be Andrew Creveling Hagenbuch, while "Thomas Hagenbuch" must be his brother, Thomas Willis Hagenbuch. Their line is: Andreas (b. 1715) > Michael (b. 1746) > Andrew (b. 1785) > Henry W. (b. 1812) > Andrew Creveling (b. 1837) and Thomas Willis (b. 1841). The brothers were second cousins once removed from Eudora's husband, Franklin Hill.
Some of Andrew Creveling's children are listed too: Rutter (b. 1877) and Andrew Pierce (1881), who went by "Pierce" and whose descendants have been featured in a previous article. These brothers were Franklin Hill Hagenbuch's second cousins twice removed.
"F. P. Hagenbuch" likely refers to Franklin Pierce Hagenbuch, whose brother, Elisha, was in attendance as well. Their line is Andreas (b. 1715) > John (b. 1763) > Jacob (b. 1792) > Jeremiah (b. 1814) > Elisha (b. 1838) and Franklin Pierce (b. 1852). The brothers were first cousins once removed from Franklin Hill.
"George Hagenbuch" is probably George Montgomery Hagenbuch. His line is: Andreas (b. 1715) > John (b. 1763) > Daniel (b. 1803) > Frederick (b. 1827) > George Montgomery (b. 1852). Though he was only seven years older, Franklin Hill was George's uncle!
The identities of the numerous Hagenbuch women at the party are more difficult to determine. "Ella Hagenbuch" and "Maybelle Hagenbuch" might be Franklin Hill Hagenbuch's nieces. His brother, John Wilson Hagenbuch (b. 1838), is known to have had several children including two daughters: Ella (b. 1873) and Mabelle (b. 1884). Many last names stand out such as Creasy, Ammerman, Miller, and Lee, and all of whom married into the family during the 1800s.
Though we cannot say with certainty who everyone was in the above article, we do know enough to state that Eudora (Fowler) Hagenbuch's 50th birthday marked an important occasion which brought together family from multiple family lines and generations. Furthermore, this record of the event reinforces that during the 19th and early 20th centuries, Columbia County was a focal point for the Hagenbuchs living in Pennsylvania.