Christmas for the Hagenbuchs in Berks County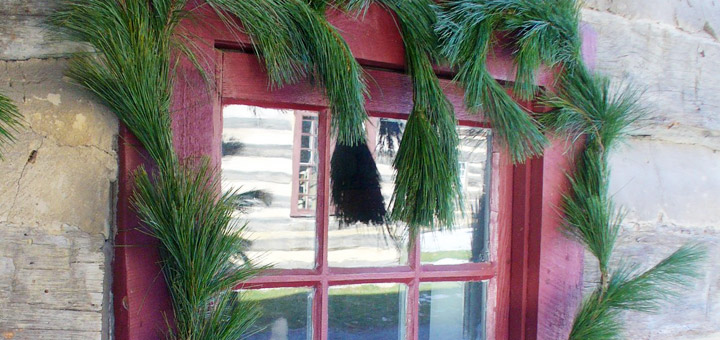 We all have fond memories of Christmases long ago. The snow seemed deeper, the stoves in our homes warmer, and the excitement of that special time seemed more intense.
How did our early ancestors observe Christmas? Did they have Christmas trees and greens hung in their homes? Did they give presents to each other? Did they attend Christmas Eve services at their local church? We cannot actually know in what way Andreas Hagenbuch and his family celebrated Christmas while living in Berks County, Pennsylvania. There is no written account left by our early Hagenbuch family to show us what family traditions we could be reliving at Christmas time.
But, there are some good records of how Pennsylvania Germans celebrated Christmas in the late 18th and early 19th centuries. These records and memories of others give us an insight into the possible ways in which Andreas, his wives, his children and their families would have celebrated this most joyous of holidays.  Many of the customs you will read about are nonexistent today.  Take yourself back to those times and imagine celebrating the days of Christmas with Andreas, his family, and neighbors. (Source of information: Christmas in Pennsylvania; A Folk Cultural Study by Alfred L. Shoemaker. Published by Pennsylvania Folklore Socieity, Kutztown, PA. 1959.)
Eighteenth century Pennsylvania presented to the observer a very mixed pattern, folk culturally speaking. The three dominant groups were the English and Welsh (Quakers and others), Scotch-Irish (principally Presbyterians), and the German/Swiss groups (the so called Pennsylvania Dutch).  Religiously speaking, those groups who organized their year around a liturgy, who in other words preserved some semblance of the Catholic church year, celebrated Christmas. These were the Lutheran, Reformed, Moravian, Episcopalian, and of course the small group of Catholics. Those groups who exalted the Sabbath, or the revival season of the conversionists, or who shared the Puritan aversion to revelry and 'waste', made up the anti-Christmas party. These were the Quakers, the Scotch-Irish Presbyterians, the Methodists, the Baptists, and the Plain Dutch groups (Mennonites, Bretherans, and Amish).

The groups who celebrated Christmas had two elements to their celebration. The first element was the basic religious Christmas, rooted in liturgy and sanctified by Catholic tradition involving Christmas services, Christmas communions, decorated churches, Advent hymns and Christmas carols. The second element was the folk Christmas or popular Christmas; a Christmas of the home and of the streets rather than of the church. In the case of the 'Gay Dutch' (Lutherans and Reformed) it brought such German customs as belsnickeling and second Christmas revelry and other customs.
In 1867 Henry Harbaugh, a Pennsylvania German professor who was spending his Christmas holidays in a predominantly Scotch-Irish community in central Pennsylvania wrote:
I get homesick for the good old times I knew as a youth in Dutch Pennsylvania. What a pleasure Christmas was then.  People did not work on Christmas Day.  Instead, in the morning church bells would peal forth an invitation over field and wood to all within yearning to come to God's House for the Christmas service.  One saw old men, smiling through their beards.  Grandmothers had faces as bright as the full moon. And children! Children shouted for joy!

And a week or two before Christmas – what an endless baking of cookies – horses, rabbits, stars, hearts, birds, and many more shapes.  How richly the 'Christ-kindel' rewarded the children. Then it was truly a pleasure to be a child.
You may be asking: what is the Christ-kindel? In the times of our early ancestors there were no beliefs in a Santa Claus who brought presents.  This did not come until the middle and later half of the 19th century. In the 18th century there was but one Christmas gift-bringer: the Christ-kindel or Christ Child.  In Pennsylvania, the Christ-kindel left his gifts in a straw bread basket. Later in the early 19th century people might also set out hats and plates to receive their presents from the Christ-kindel who was visualized as riding a donkey. These presents were usually in the form of nuts, cookies, or candies.
As for the setting up and trimming of a Christmas tree, the first accounts found by Pennsylvania German research of Christmas trees is in the early 1820s.  Most trees that were put in the homes in these times were  small and set on tables. References have been made to them being trimmed with small presents, fruits and candies.
Some of the customs described above constitute what was then called "second Christmas" or those celebrations surrounding the season of Christmas that were not associated with a religious aspect. Most of these second Christmas customs included feasting (a favorite meal was sauerkraut and turkey), parades, ice skating, potato picking contests, and the all time favorite – Belsnickeling!
What is a Belsnickel? Quoting from Shoemaker's 1959 article:
This is a mischievous hobgoblin that makes his presence known to the people once a year by his cunning tricks of fairyism. Christmas is the time for his sporting revelry, and he then gives full scope to his permitted privileges in every shape that his roving imagination can suggest.
In other words, a Belsnickel was a person who dressed in a strange, usually scary costume and went from door to door a few days before Christmas day. This custom lasted throughout much of the 19th century in the Pennsylvania German countryside. The name Belsnickel comes from the idea that St. Nicholas wore  a furry costume or "pelts"; thus "Pelts Nicholas."
What did the Belsnickel actually do?
The Belsnickel made his rounds usually alone, a bag of nuts and cookies in one hand and a switch in the other to reward or to punish little children depending on their behavior in the weeks immediately preceding Christmas. If they were well-behaved the Belsnickel threw good things to eat on the floor for them to pick up and eat.  Or on the other hand, if there was an ill-behaved youngster, boy or girl, a sharp switch or whip was applied before the child was permitted to pick up the gifts. (Shoemaker, 1959)
We can imagine from the customs described above that Christmas for the early Hagenbuchs in Berks County, Pennsylvania was most likely a joyful and fun time compared to the daily hard work that encompassed their lives. Although the customs of Santa Claus, reindeer, the North Pole and so on would take the place of a scary Belsnickel rewarding and punishing children, the Belsnickel in some form would continue to be present into the 20th century. Second Christmas is still very much alive in how we celebrate the holiday. And, the religious Christmas is still very much alive and important to many.
This article was first published in the December, 1982 issue of "The Beech Grove."