Family Folklore and the Tale of Hungry Sam Miller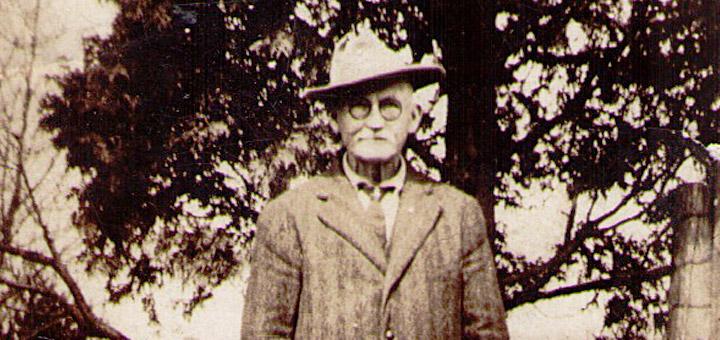 Genealogists deal with more than names, places, and dates. They must also attempt to separate fact from fiction when it comes to the ever told family stories.
I am always careful who I tell that I work on family history. Many times, as soon as someone finds out that I am a genealogist, I must then listen for 30 minutes or more to stories about ancestors who were famous soldiers, or founders of towns, or one of the most common – "my great great grandmother was a Cherokee princess!"
I am ever skeptical of family folk tales, but they are important to those who want their family to have some notoriety. Most of the stories have a grain (or a speck) of truth in them.
The Hagenbuch family is no different. The previous article telling the story of "One Silver Dollar" has parts that, and after 100 years, it cannot be proven. But, the tale has come down through three generations, is an intriguing story, and makes our family members more human.
My son, Andrew, and I have several fascinating stories about Andreas Hagenbuch that we are trying to track down. Was Andreas Hagenbuch the first white man in his area to learn how to brain tan hides and did he have an association with the American Indians whom he learned this from? Was Andreas's home a way station for soldiers who once stopped there and were they fed "cold sauerkraut" by the family?
One tale that is not directly Hagenbuch related is about a character named Hungry Sam Miller. As a boy, my mother, Irene, told me the story of her relative Sam Miller. He would travel to local fairs, church festivals, and picnics making his living by betting the folks that he could eat strange items; and he got his belly filled at the same time!
Hungry Sam, as he was called, would eat pepper on ice cream, mounds of food at one sitting, and the strangest thing of all, according to my mother, was a bale of hay. Sam would take bets that he could eat a bale of hay, mark down the bets, and then gather the crowd around him. Finally, he proceeded to burn the bale to a pile of ashes and eat these!
What was also fascinating was that my mother had a photo of Hungry Sam Miller (with that title written on the back and not in her handwriting), which made her stories seem very real to me. She always said he was a great uncle and, indeed, her grandmother was Louisa Amelia "Miller" Hilner. During the depression, my mother lived with her grandparents so the story likely came from her grandmother.
Years passed. One day, when I was at my first teaching assignment at Dalmatia Elementary School, I was leafing through a book on American folk stories. I came across the story about a man who went to small fairs and festivals in the early 1900s and bet the people there he could eat strange and huge amounts of foods. His name – Hungry Sam Miller!
Now to be honest, this was in a book that also contained the stories of Paul Bunyan and Pecos Bill. But my mother was not one to claim ancestry from mythical beings, nor was she prone to reading books on American folk tales. The Hungry Sam tale had gained some credence: a family surname (Miller), a photo, and now Sam's story was actually written down in a book.
Over the years when I would broach the subject with my mother, she would reiterate the same story that Hungry Sam was a great uncle. However, genealogical research on my Miller family shows that my great grandmother Justena "Miller" Hilner did not have a brother named Sam. She did have a brother named Fred, and her husband's name was Sam (Samuel Hilner). Did my mother, as a young girl, hear the story of a non-relative named Hungry Sam and attribute this to a family member?
By luck, I inherited the photo that is inscribed on the back as "Hungry Sam Miller". This past year, with my renewed interest in genealogy, I searched for more information about this character. Was he only a folk character written about in a book of other American folk heroes?
As we all know, the internet can be a great tool. I have found several references to the real Hungry Sam, and the stories my mother told me appear in those references. Indeed, he lived in the same area of Pennsylvania where my Miller family lived.
In her book entitled "Dictionary of American Folklore" Marjorie Tallman has the following information on Hungry Sam:
Miller put on eating shows at farmer's picnics all over eastern Pennsylvania. He had started giving exhibits just after the Spanish American War, when he found out he would not only get a free meal but get paid as well. He gave up his activities during World War I out of patriotic deference to the Wheatless and Meatless Days of that era, but he started in again on Armistice Day with two whole chickens followed by one hundred and fifty-three waffles.

Practical jokers took him to the popular church socials of the day which displayed signs, "All you can eat for fifty cents". He always produced a deficit. At one picnic he ate an eighteen-pound ham. At another he ate forty-eight ten-inch pies. Once when challenged to eat a bale of hay he burned it and ate the ashes. He died at eighty having never suffered from indigestion.
Sam Miller was born in 1857 and died in 1937. He is buried in Roselawn Cemetery, Columbia County, Pennsylvania. An article written by André Dominguez in 2010 details the life of Hungry Sam. You can read the full article here.
My mother's family story names Sam as being a relative. However, genealogical research doesn't fit him into my mother's family history as a great uncle. Justena "Miller" Hilner's father, Frederick Miller, Sr. was born in 1819. He could have been a brother to Hungry Sam's father, William Miller (as referenced in the Dominguez article). That would have made Hungry Sam a first cousin twice removed to my mother, Irene.
But, the family history of my mother's Miller family states that Frederick came from Germany, and his name was Mueller. "Mueller" was anglicized to "Miller" when he arrived in America in the early 1800s. No mention has been found that Hungry Sam's family came from Germany or that their name was originally Mueller, though it may have been.
Further research may show that Frederick Miller Sr. and William Miller (Sam's father) were brothers. If that be the case, then the proof is in the pudding (something Hungry Sam would have certainly enjoyed eating).
Whatever the origin, at this point we have a fascinating family story about an odd "possible" relative and a photo of him to boot. I grew up looking at that photo and listening as my mother retold the anecdote of Hungry Sam. The story has become one of those iconic family folk tales. It has me visualizing a jolly man, with a distended stomach and a devilish twinkle in his eye, sitting down to his meal of burnt hay ashes while the local crowd roars with laughter and groans at the loss of their wagered cash.