Homestead Economics: Leather Tanning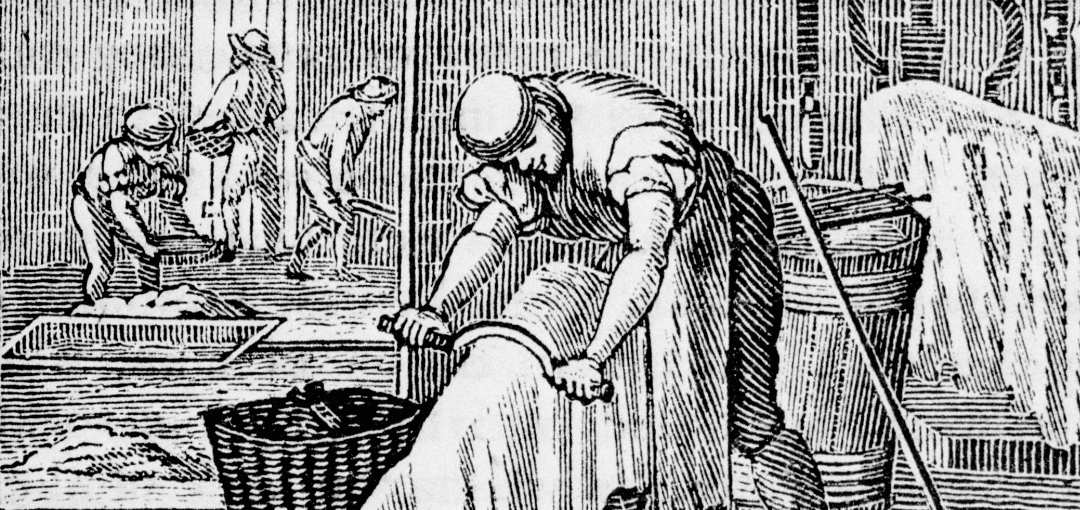 Life at the Hagenbuch Homestead stank—quite literally!
By the early 1800s, the homestead had a sizable tannery, large enough to be recorded on at least one map of the area as the "Hagenbuch Tanyard." Records also show that several generations of Hagenbuchs participated in leather tanning there.
Leather was an important commodity in the 18th and 19th centuries. It was readily available, versatile, and had all sorts of applications. The military used leather to make horse tack, pouches, ties, straps, boots, carriages, coaches, sheaths, and gloves. Civilians needed it for breeches, pants, aprons, vests, capes, coats, hats, bags, satchels, shoes, and belts. Still other uses for the material included drinking tankards, harnesses, saddles, book covers, hinges, chair seats, and trunks.
Yet, the process of tanning animal hides to produce leather stinks. Along with requiring hard, manual labor, it generates rotting waste, putrid runoff, and noxious odors. For this reason, tanneries were often located outside of towns and away from populated areas.
The first indication that the Hagenbuchs were involved with tanning hides appears in my father's, Mark Hagenbuch's, oral history of the family. According to a story he remembers, Andreas Hagenbuch (b. 1715)—the founder of the Hagenbuch Homestead—was one of the first settlers in Albany Township, Berks County, Pennsylvania to learn the process of brain tanning from the local Lenape. Brain tanning softens a hide using a solution of animal brains.
Historic records that mention Andreas usually describe him as a farmer or yeoman. In fact, the only evidence connecting him to tanning comes from his 1785 estate inventory and notes that he owned "two pair of deerskin breeches." Nevertheless, it is likely that Andreas had a small tanning operation at the homestead.
Colonial farms produced animal hides every time livestock were slaughtered. The hides were dried and brought to a tannery for processing into leather. In one type of arrangement, the tanner and the farmer would each get half of the finished hide. Although no money was exchanged, the tanner could sell his portion of the hide for cash.
The Hagenbuchs' tannery may have begun in the mid-1700s with Andreas tanning his own hides. The resulting leather would have been used by the family for a variety of items, such as Andreas' deerskin breeches. Eventually, his son Michael (b. 1746) learned tanning and was given charge of the operation. According to Michael's grandson, Enoch Hagenbuch (b. 1814), his grandfather "was a tanner by trade."
This characterization of Michael is supported by the following items found on his 1809 estate inventory:
tools for a tanner
a draw knife
one shaving horse
shaving knife
seven shaving knives and shimmer
five currying knives and sundries
25 pounds of tallow
twelve hides
Spanish hides
leather
The above lists a number of tools used by a tanner such as knives and a shaving horse, as well as hides for working, tallow for making leather pliable, and finished leather. In addition, during the late 1800s Michael purchased 56 acres of mountain land not far from the homestead. While unsuitable for farming, the land was rich in trees whose bark could be stripped, boiled, and used to tan hides, through a process known as vegetable tanning. Watch the below video to see a brief overview of vegetable tanning.
Producing leather through vegetable tanning consists of the following steps:
Skinning—Animals such as cows, calves, hogs, sheep, and deer are slaughtered. The animal is skinned and the hide removed.
Curing—To stabilize the hide and prevent putrefaction, it is salted and dried. Cured hides can be transported and shipped for later processing.
Soaking—The cured hide is soaked in fresh water to remove the salt and make it pliable again.
Liming—The hide is moved to a basic solution, created from lime, wood ash, or other alkaline substance. This loosens any hair so it can be removed, and it prepares the collagen in the hide for tanning.
Scudding and Fleshing—The hide is placed over a shaving horse and scraped clean with a draw knife. Scudding works the top of the hide, removing any excess hair or follicles. Fleshing cleans the underside of any unwanted tissue or membranes.
Deliming and Bating—During deliming, the pH of the hide is neutralized by soaking it in solution made with acidic minerals, urine, or other substances. Next, animal feces or entrails are added to produce enzymes that soften the hide tissue in a process called bating.
Tanning—The hide is washed again and then tanned using tannins. These naturally occur in the bark of many types of trees including oak, chestnut, and hemlock. The tannins bind to the collagen in the hide, making it more flexible, less water soluble, and more resistant to decay. The hide is submerged in a bath of tannin liquor for many months. It may be removed at times for further scudding and fleshing, depending upon the state of the hide.
Drying—The hide is pulled from the tannin liquor, stretched tightly, and dried. It is now leather.
Currying—Tallow or oil is worked into the leather to make it flexible and softer. It is shaved down to the desired thickness, beat, and burnished until it reaches finished quality.
Michael's inventory is notable because it makes no mention of large tubs, which would have been necessary for soaking the hides. This suggests that the Hagenbuch Tannery had pits or vats that were dug into the ground. The remains of these may be buried at the homestead property.
The 1809 inventory also mentions "Spanish hides." In a previous article, research suggested that these were high quality and valuable. A new investigation has yielded several advertisements from the early 1800s that mention Spanish hides. These confirm that the hides were typically of good quality and they were imported from either Spain or its colonies. In other words, the Hagenbuchs were buying the dried, cured Spanish hides and turning these into leather.
Curiously, Michael's brother, John (b. 1763), was listed as a saddler on the 1788 federal tax list for Allen Township, Northampton County, PA. He was living with his brother, Christian (b. 1747), at the time. John's status as a saddler suggests that he was trained in leather working, an interest he may have developed at the family homestead.
While Michael was a tanner, he also was a distiller. When his son, Jacob (b. 1777), took over the Hagenbuch Homestead in the early 1800s, small-scale distilling was on the decline. As a result, Jacob—who was also a tanner by trade—appears to have boosted the production of leather at the tannery. The larger operation required more tanbark, and Jacob bought 88.5 acres of mountain land for this purpose. When Jacob died in 1842, his inventory recorded the following items related to tanning:
a number of tubs
saddler's tools
knife for scraping hides
a set of tanner's tools
lime and hair
lime bucket and shovel, etc.
tallow and a box
8 cords of bark
25 sides of sole leather
29 calf skins
32 sides of leather
a quantity of leather
The above list includes a large amount of different types of leather. In particular, calfskin was valued for its softness. Cords of bark are noted and were necessary for the vegetable tanning process. As Jacob grew and expanded the Hagenbuch Tanyard, his sons learned to make and work with leather. Enoch writes in his family history about how he owned a bridle made by his brother, Timothy (b. 1804), from leather tanned by their father, Jacob.
Another of Jacob's sons, Michael (b. 1805), took over the homestead after his father's death. According to his brother, Enoch, Michael was both a teacher and a tanner. Yet, when he died in 1855, his inventory showed little evidence of tanning. It included:
1 bucking tub, etc
1 lot tallow
1 lot tubs and barrels
1 shaving bench, etc
1 lot tubs and buckets
1 lot saddler tools
Gone are the many tanner's tools and knives that were so clearly noted in earlier inventories. There is a shaving bench for currying and a bucking tub for liming hides. However, as was mentioned in a previous article, the bucking tub could just have easily have been used for washing clothes.
Here it is worth considering that the homestead property was divided in 1842 and Michael built a new house and barn in 1851. It seems likely that he abandoned the earlier tannery and, if he was tanning, it was mainly for the use of his family. What had once been a thriving industry for the homestead was replaced by other agricultural activities. Enoch confirms the demise of the tannery and, writing in the 1880s, describes how it was left for ruin.
Using estate inventories, an old map, and Enoch Hagenbuch's family history, it is possible to trace the development of the Hagenbuch Tanyard from the late 1700s to the early 1800s. Similar to linen production, leather tanning was once an important, successful business for the family. But, as with textiles, industrialization would change the economics of small-scale tanneries, like the one at the Hagenbuch Homestead, and force most to cease operations
Articles in the Homestead Economics Series: