The John V. Hagenbuch Family: From Pennsylvania to Nebraska and Beyond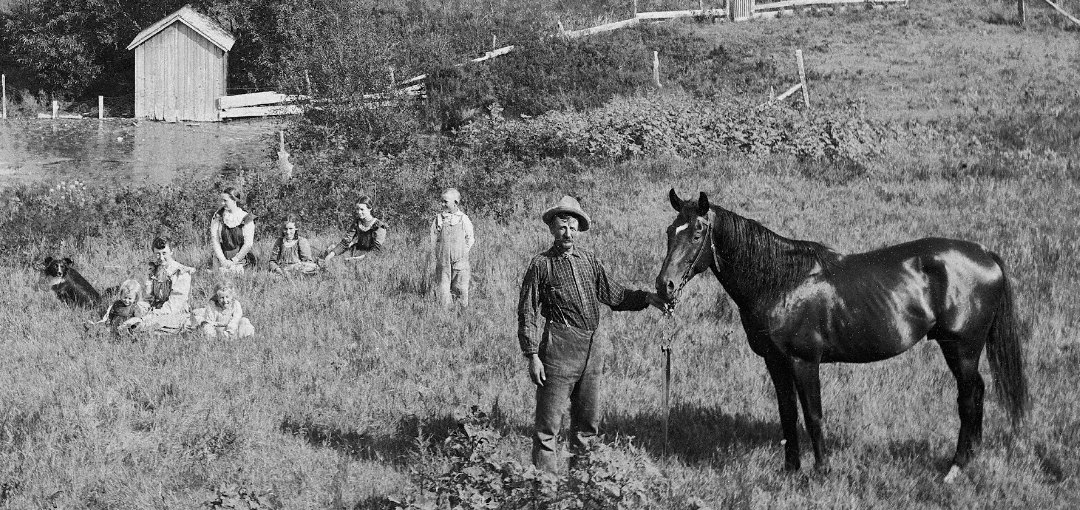 In a previous article, Andrew traced our family's migration throughout Pennsylvania and then west. One family that made the great jump was that of John Vance "JV" Hagenbuch, who was born in 1845 and died in 1917. This is JV's story.
John Vance Hagenbuch's ancestry is: Andreas (b. 1715) > Christian (b. 1747) > John (b. 1785) > Samuel (b. 1821) > JV (b. 1845). JV's early life is a bit difficult to trace because his father, Samuel, died in 1846 when JV was only 13 months old. Very little is known about JV's father, Samuel. He cannot be found in the 1840 census. We know that Samuel was married to Sarah Vance (b. 1824 or 1827). According to an early Hagenbuch researcher, Carmen Howell from Iowa whom I was in contact with in the early 1980s, Samuel and Sarah (Vance) Hagenbuch had four children: Bern, Robert, John Vance (JV), and Elizabeth.
Nothing can be found about JV's siblings and if the 1827 birthdate of Sarah (Vance) Hagenbuch is correct (found in the 1860 census) it would be unlikely she could have borne four children before Samuel died in April of 1846. Samuel is buried in the Old Rosemont Cemetery, Bloomsburg, Pennsylvania. However, his wife Sarah is not listed as buried with him. One other note: Andrew did find an advertisement in the Bloomsburg Columbia Democrat newspaper that Samuel had a chair factory in that town in 1844. Otherwise, Samuel and Sarah remain a mystery—an enigma waiting to be solved.
JV first appeared in the 1850 census when he was four years old and living with his Vance grandparents in Columbia County, PA. JV's mother, Sarah, was listed in this census but continued research on her has yielded only shadows as there are several Sarah Hagenbuchs living in the same area of Columbia County at that time. The 1860 census, when JV was 14 years old, lists that he was still living with his grandparents, John and Hannah Vance, but his mother was not listed in the household. Then, sometime before the 1870 census, JV makes the jump west and we find him living, most likely as a boarder and farmer, in Henry County, Iowa with the Maus family. The Maus family knew the Hagenbuchs back in Columbia County, Pennsylvania as evidenced by the mention of them in Samuel Hagenbuch's "chair manufactory" advertisement. The next year, in 1871 and still in Iowa, JV married Anna Beeler whose sister, Margaret, was married to JV's first cousin, Eli Thornton Hagenbuch. Eli and Margaret (Beeler) Hagenbuch's family was written about in two previous articles.
JV and Anna (Beeler) Hagenbuch had four children: George Samuel (b. 1872, d. 1939), Effie (b. 1873, d. 1905), Ada (b. 1877, d. 1954), and Clark Henry (b. 1884, d. 1976). By 1880 JV, Sarah, and the three children—George, Effie and Ada—were living near Bennett, Fillmore County, Nebraska. JV was listed as a farmer. Curiosity led me to search who JV's neighbors were at this location. Did he and Sarah move there because they knew others? The only folks living nearby from Pennsylvania are the Fisher and Brown families. The Fishers were from Union County, PA and the Browns were from Susquehanna County, PA. JV would not have known these folks growing up in Columbia County, PA. But, possibly JV and Sarah met them or other Pennsylvanians while living in Iowa.
JV and the family next moved in 1888 to Lincoln, NE. It is believed he continued to farm there. But, after his wife Anna's death in 1897, JV roomed at a boarding house with his son Clark Henry, his daughter Ada, and Ada's husband Ira Ayers. JV is listed in the census as an engineer and my paper archives note that JV was a machinist and stationary engineer—a type of engineer who works on non-moving engines such as small power plants. JV died in 1917. He and wife Anna (Beeler) are buried at the Wyuka Cemetery, Lincoln, NE.
JV and Anna's eldest child, George Samuel was born in 1872 in Iowa and was married to Claud Gwynn in 1895. They lived in Lincoln, NE where George was a freight checker for the railroad. George and Claud had two children: Wilma (b. April 1899, d. July 1899) and George Gwynn (b. 1902, d. 1994). George Gwynn Hagenbuch married Pearl Young in 1927. In 1950 they were living in Omaha, NE where "Gwynn" was employed by Sears and Roebuck as a customer service manager. They had two children: Phyllis and Alicia both of whom were married. Gwynn was in contact with me in the early 1980s and his two letters are filed in my letter archives. George Gwynn Hagenbuch died in 1994 and his wife, Pearl, died in 1986. They are buried at the Evergreen Memorial Park Cemetery in Omaha, NE.
Claud and George Samuel divorced sometime before April of 1906 when Claud remarried to William McGaffin. George Samuel remarried sometime before 1910 to Etta Parvin who had been married previously to George Hughes. George Samuel and his second wife, Etta, did not have any children together. George Samuel died in 1939, and Etta died in 1952. They are buried at the Wyuka Cemetery in Lincoln, NE.
Cycling back to the daughters of JV and Anna: Effie married Floyd Hotaling and Ada married Ira Ayers. Effie died in 1905 and is buried near her parents at the Wyuka Cemetery. Ada and Ira had two daughters: Lucille married Albea Godbold and Frances married Emery Dieffenbach. Ada (Hagenbuch) Ayers died in 1954 and is buried with her husband Ira in El Paso, Texas.
Undoubtedly, John Vance and Anna (Beeler) Hagenbuch's youngest child led a most interesting life. Clark Henry Hagenbuch was born in 1884 and married Helen Piper in 1914. They had no children. In the information sent to me from the aforementioned researcher Carmen Howell, Clark was a medical doctor, although the census never lists him specifically in this career. Clark is listed as having a college education plus at least one more year of post graduate work.
In 1917, Clark registered for the draft while he and Helen were living in Cleveland, Ohio. This was just prior to "our boys" going to Europe to fight in World War I. However, Clark did not go to Europe with the military. Instead, Clark was employed by the international branch of the YMCA to do health work overseas. He and Helen applied for passports where it was listed that they traveled via San Francisco and Japan to Petrograd, Russia (now St. Petersburg) in September of 1917. This was certainly a bold move for Clark and Helen because earlier that year Czar Nicholas II had abdicated and a provisional government had taken over. Sometime before or soon after Clark and Helen arrived in Petrograd, the Bolsheviks led by Lenin took control during the October Revolution and Petrograd was a hotbed of violence and chaos. Czar Nicholas and his family had been sent to Siberia where, in 1918, they were brutally murdered.
It is not known how long Clark and Helen stayed in Petrograd but by the next year, 1918, they were probably on their way home to escape a then-unknown fate for Russia as civil war raged. In June of 1920 as a continuation of their humanitarian work for the YMCA, the couple traveled to Portugal, Spain, Belgium, France and the British Isles. This was after WWI and the couple's work in those countries was certainly much needed, as Europe attempted to rebuild from a war which devastated so many lives.
After all this travel and healthcare work, Clark and Helen were living in Roanoke, Virginia in 1930. Clark was working as a "recreational director" for a steam railroad! And by 1940 they had moved to Shenandoah, VA where Clark was now working as a "health recruiter." Most likely Clark, as a doctor, was searching for people of the medical professional to work in the U.S. railway system. This is supported by a notice of his death in 1976 which lists that he received social security from the Railroad Board. Clark's wife, Helen, died in 1971. They are both buried with family at the Wyuka Cemetery in Lincoln, NE.
As the research on this family progressed, especially about Clark Henry Hagenbuch and his travels overseas, one can't help thinking of all the Hagenbuchs who were bold enough to jump on a covered wagon, ship out to go overseas, or depart on a plane to seek a new life, to explore, to help those in need, and to do battle against the evils of dictatorial governments. This includes not only Clark and Helen, but also his parents, John Vance and Anna. Also, who can forget Jimmy Hagenbuch who was killed on June 7, 1944; or Jack Hagenbuch who went hunting for gold; or Sergeant Solomon Hagenbuch who was killed at the end of the American Civil War; and the giant of them all, our own patriarch Andreas Hagenbuch who came to America with a pregnant wife in 1737? There is an article just waiting to be written about the many, many members of our family who were the courageous travelers!
One final note: In 2018 Linda and I cruised the Baltic Sea and spent a few days in St. Petersburg, Russia. I did not know at the time that my own third cousin twice removed had walked the same streets in 1917 when the events, in then what was called Petrograd, would change the world. As with so much other genealogical research, we have connections to our ancestors that we often do not realize!