Enoch Hagenbuch: Early Family Historian, Part 3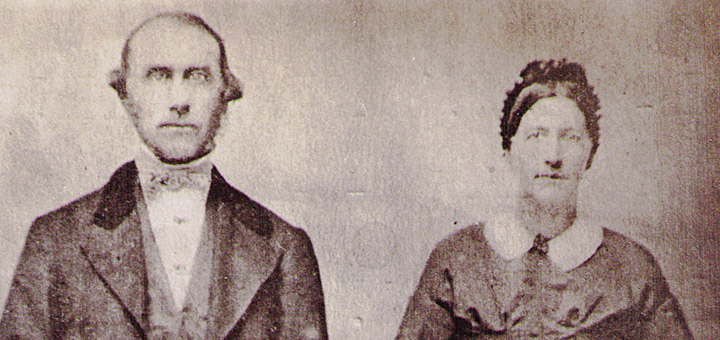 Enoch Hagenbuch's written history left off with his mention of having thirteen children (Read: Part 1 and Part 2). We continue in Part 3 with the listing of those children and details about Enoch's siblings and their children. Enoch's writings on "how people lived at that time" make for interesting reading. He has a knack for keeping us involved in his history, even with the jumble of names and dates.
---
History of the Hagenbuchs in America (Part 3)
He [Enoch] had thirteen children – five boys and eight daughters – and 51 grandchildren: Harriet, born the 13th of July, 1835; Lydia, born the 2nd of March, 1837 (they were born in Pennsylvania; in the winter of 1853, in the absence of father and brother, those girls attacked and killed a deer on the ice of the creek, running by their home); James W., born the 20th of July, 1838; Mary, born the 8th of December, 1839, died the 6th of April, 1858; Clara, born the 28th of January, 1842; Christina, born the 7th of August, 1843, died the 11th of April, 1844; Lucinda, born the 2nd of March, 1845, in Ohio; Enoch, born the 14th of June, 1846; Amos, born the 27th of March, 1848; Adelina, born the 27th of July, 1850; Melinda, born the 14th of September, 1851; John, the 5th of September, 1853, and died the same month; Henry, born in January, 1862 and also died the same month1.
In the fall of 1870 he and his wife visited the great Centennial at Philadelphia, Pa. In 1878 he leased his farms to his son, Amos, purchased property in Utica and removed there, leaving the active interests of farm life to his care. Perhaps it would be well enough to state how people lived at the time I moved to Indiana in 1838. They lived in those days very different than at present. Corn bread and hominy formed the chief articles of diet. After living there two weeks a neighbor, Mr. Lomangoffe, and wife paid us a visit, and we had nothing to offer them but a few potatoes and a little pork, which was all we had in the house. I had two bushels of wheat, and on Monday morning, before breakfast, harnessed my horse to my little wagon and and started for what was called the "corn cracker" at that time, and got my wheat ground there and then took it to a grist mill and bolted it there by hand. When I got home (near noon) I told my wife I felt hungry and would like my breakfast.  She baked pancakes, and I ate so heartily it made me sick, so I went to bed for a little while. The fall of 1838 was very dry. People went 90 miles to the mill in Cambridge, Wayne Co. It was a common thing to take a gun early in the morning and go hunting squirrels for breakfast. They were plenty. Wagons were few and far between, and people took their corn to the mill on horseback, one and two bushels at a time.
[Enoch now lists his siblings with their information]
Daniel, sixth son of Jacob [Enoch's father], was born the 24th of March, 1816, in Pennsylvania, and left there with his brother the 3rd of April, 1838, for Richland Co., Ohio. He worked with his brother until 1840, in the fall. He then left for Delaware Co., Ind., to go to his brother Enoch, and there worked at his trade of framing. He was married there the 30th of September, 1841, to Catherine Clark2. She was born the 28th of August, 1820. In 1842 he went again to Ohio with his brother Enoch – back to Richland Co. In 1844 he moved again to Medina Co. Remained there until 1850, then removed to Deilstown, Wayne Co. Kept tavern there one year, then exchanged it for 100 acres of land in La Salle Co., Ill. In 1851 he moved on it. In 1865 he sold again, and moved to Waterloo, Black Hawk Co., Iowa. He died there the 31st of December, 1867. There were thirteen children born to them. This was the fifth generation – seven sons and six girls.
Sarah H., born the 6th of July, 1842; Riley C., born the 15th of Dec., 1843, died the 9th of January, 1870 (he fought bravely with the boys in blue in the late Civil War); Amanda H., born the 23rd of August, 1845; Cornelia, born the 24th of June, 1847; Ellen E., born the 9th of May, 1849; Charles, born the 5th of January, 1851, died the 9th of January, 1851; Gilbert, born the 4th of January, 1852 (he had his hand taken off in a cane-crusher in 18663); Julietta A., born the 2nd of November, 1853; William A., born the 20th of August 1855; Levi Peter, born the 21st of August, 1857; Daniel Clark, born the 23rd of January, 1859, died the 12th of February, 1859; Louis E., born the 9th of January, 1860, died the 18th of February, 1864; Martha M., born the 3rd of January, 1862 (became deaf in 1870. She married a deaf school-mate, and they are now living in Chicago, where he husband now occupies a position in the post-office.)
Sarah, daughter of Jacob, born the 29th of June, 1817. Married Isaac Kapper4 the 14th of May, 1842. Her husband died. Two daughters and one son were born. She married again to Daniel Brobst, the 19th of August, 1865. Her second husband also died, but she is still living in Lehigh Co., PA.
Charles, son of Jacob, born the 8th of August, 1819. Married Julia Fosselman the 21st of January, 1842. In 1854 he moved to La Salle Co., Ill. There he bought 100 acres in Waltham township. He remained there farming until 1883, when he rented his farm to his son Albert, and moved to Ottawa a retired farmer5. They had eleven children.
Aaron, son of Jacob, was born the 29th of Sept., 1820; married the 30th of December, 1851, to Miss Julia Sullivan. One child was born – Ellen. He moved to La Salle Co., Ill, in 1854. Bought 100 acres of land. Died there the 23rd of May, 1855.
Elizabeth, daughter of Jacob, was born the 13th of July, 1822; died the 12th of March, 1837.
Lucinda, youngest daughter of Jacob, was born the 29th of February, 1824, died the 9th day of January, 1846, unmarried.
---
Part 4 of Enoch's family history will conclude with detailed information about his nine married children and his grandchildren. He continues, as in the other 3 parts, to include intriguing items about their lives.
Notes to Enoch's history:
The infant mortality rate in 1900 was 16.5%. Three of Enoch's thirteen children (Christina, John and Henry) died as infants which is a 23% infant mortality rate. Daughter Mary died at the age of 18.
Catherine Clark was the niece of George Rogers Clark, Revolutionary War hero, and William Clark of the Lewis and Clark expedition.
Gilbert lost his hand in a cane crusher, meaning the family must have been raising sugar cane. This machine would have squeezed the sugar juices from the cane for sugar production.
Enoch likely meant "Knepper" instead of "Kapper". The Knepper family was present in Albany Twp., Berks Co., but no Kappers can be found.
The family of Charles b. 1819 thence to his son Albert b. 1859 still own and farm this same land today.  More on that family in a future article.