Reapin', Bindin', and Thrashin' with Myron and Harold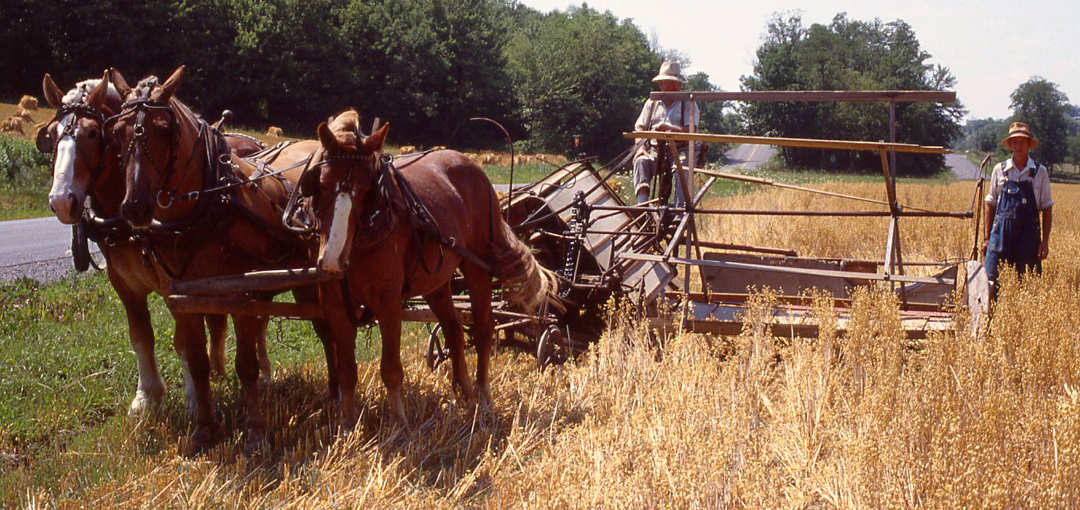 Readers may wonder how Andrew and I select topics for our articles. In my case, I usually run across or search for something in our family history that is interesting: a curious situation, a family member that has a unique story, or a detail that needs to be explored. As readers notice, we don't always stick to just articles about Hagenbuchs. Sometimes it's an historical moment that may have impacted an allied family. Sometimes it's an old-timey experience that may have been known to more than just our Hagenbuch ancestors. And, sometimes it's about another family that we need to explore because they fit in with all the items mentioned above!
So, it has been with the Sechler family. My grandmother was Hannah Margaret (Sechler) Hagenbuch (b. 1889, d. 1967). We trace her Sechler family back to Johannes Sechler (b. 1700) who lived in Montgomery County, Pennsylvania. Although probably less interesting to folks who are not related to them, my Sechler family is filled with curious characters and fascinating stories about their interesting lives. I have written about them several times in our articles.
My association with my Sechler family was through my grandmother's nephews, nieces, and their children (my second cousins), as well as with Grandma's sister, my great Aunt Grace, her son Myron Cromis (b. 1918, d. 1987), and her nephew Harold Sechler (b. 1923, d. 2018). Soon after the death of John Sechler in 1928 (brother to my great Aunt Grace and my grandmother), Grace took in John's son, Harold, because his mother was not able to raise him. Aunt Grace died in 1963, so Myron inherited the farm. He and Harold resided together for the remainder of their lives.
I have written before about Myron and Harold, two bachelors who were first cousins to each other and first cousins to my father, Homer. Myron and Harold lived on the Cromis farm, located between the farm I grew up on and the village of Washingtonville, PA. These two bachelor cousins were filled with personality; and in this part of rural Montour County their reputations as farmers, good men, and local historians was unequaled. The stories I have about them came out of the many visits my family had with them on Sunday afternoons when I was a boy and the many times I took my father to visit them throughout the years, when the three of them would sit and "chew the fat."
On a sunny day in August of 1980 my father and I visited Myron and Harold. When we arrived they were hitching up three of their Belgian draft horses to cut a field of oats. A few years before this, Myron and Harold had decided to raise Belgian horses. Myron still owned the old machinery that his father had used while farming in the early 1900s. Nostalgic as all of us family historians are, these two bachelors decided to hitch the Belgians to the reaper-binder machine (otherwise known as just a binder) and harvest the old way. They also had a threshing machine (or as we pronounced it, thrashin) which winnowed the grain from the straw.
Fortunately, I had already been introduced to the rudiments of farming with horses and to some of the background concerning horse-drawn farm equipment. My father and I shared an interest in this: his, because he farmed with horses as a youngster, and mine, because I was learning history from my father. We always enjoyed our evening in January when we attended the Pennsylvania Farm Show in Harrisburg and watched the horse pulling contests. It's where I first learned about single and double trees, bridles, harnesses, shafts, and collars. I learned the difference between Belgians, Percherons, and Clydesdales.
Along with the harvesting day I spent with my two bachelor cousins in 1980, a few years later I spent a winter day with them in their woods cutting trees and dragging the logs with the Belgians down to their barn. There I cut them into manageable pieces to load into my truck. At that time, I was cutting, splitting, and burning about eight cords of wood in our stove in Hummels Wharf, PA where my wife Linda and I lived with our three children. That day was a magical experience—in the cold with snow on the ground, horses hitched to the logs with chains, and my cousins giving commands to the horses.
Unfortunately, I did not take any photos of that winter's day adventure with Myron and Harold. Thank goodness I did take photos of the harvesting of oats that day in August of 1980. In the accompanying photos you can see the process. The antique binder—pulled by the team of beautiful Belgians driven by Myron—cuts the grain, ties it into sheaves which land on a conveyor belt, and the sheaves land on the field in neat bundles. Harold walks along beside, gathers several sheaves together, and stands them up to make a shock. Later on (of which I don't have a photo), the horse-drawn wagon was driven through the field, as Harold and my father walked beside with pitchforks loading the stacked sheaves onto the wagon.
The sheaves were then taken to the barn floor (the upper part in a bank barn) and fed into a thresher which separated the grain from the straw (winnowing). The grain stayed in the barn to be put into the granary, while the straw was blown down to the barnyard. The photo shows Myron and Harold moving that straw. An aside note: the well-loved hymn, Bringing in the Sheaves, is meant to remind us that like harvesting grain, stacking the sheaves, and taking them to be winnowed into food, Christians are to evangelize and bring others to know the Lord so they can be saved!
Harvesting grain with a reaper-binder, gathering the sheaves, and threshing is a time consuming process compared to today's harvesting methods using huge combines. However, when Cyrus McCormick invented and improved the first successful reaper in the 1840s, farmers could then plant and harvest about ten times the amount of grain than before, when they had to hand scythe it all.
At about the same time that McCormick's reaping machine became successful, John Avery and Hiram Pitts improved the design of the threshing machine. Then in 1872, Charles Withington improved the reaper so that wire (and later twine) would bind the cut straw and grain into sheaves, hence the machine was called simply a binder. By the late 1800s farmers were purchasing these modern machines that significantly improved the productivity of farms.
We can learn so much from researching our family history. We can learn so much by talking to the older generations. Not only do we learn to appreciate the characters and personalities of the past generations; but, hopefully, we record all this information for future generations. In addition, we learn about our country's history: for example, the history of the reaper-binder and thresher, how they were used, and how they changed America's farming techniques.
On that hot day in 1980, Myron and Harold never thought their day's work would lead people 40 years later to learn about what they were doing. From those few hours of me learning about reaping and threshing, many others have learned about our country's industrial revolution and about two bachelor cousins who had an impact on their family.