Deitschy Humor: Professor Herman F. Schnitzel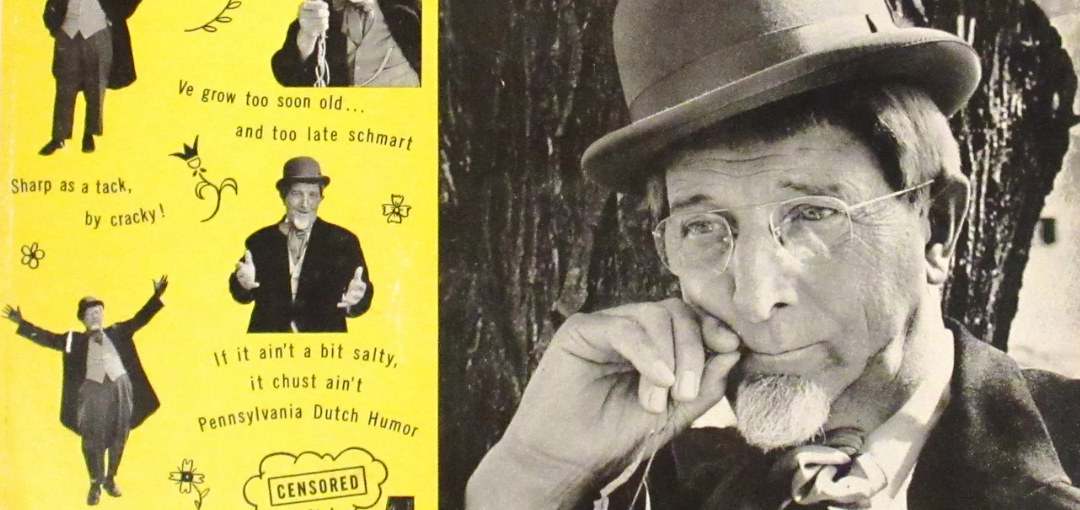 Who doesn't enjoy a good laugh? I believe most everyone does, and in this way the Pennsylvania Dutch (also known as the Pennsylvania Deitsch) are no exception. They even have humorists whom they call their own, including one by the name of Professor Herman F. Schnitzel.
I first discovered Professor Schnitzel while visiting with my father, Mark. He pulled out two records with Schnitzel's picture and name on them. I soon realized I had no way of listening to them, since I only own a CD player. Thankfully my wife, Sara, has access to a turntable through her job, and I was able to obtain the audio from both records. What I heard surprised me—standup comedy, mostly in English, performed by a man with a thick Pennsylvania Dutch accent.
Each vinyl record is a 7-inch 45, meaning that it holds about 5 minutes of audio per side. As I listened to the jokes and stories on these, I had a hunch that they must be part of a larger album, a fact I eventually confirmed. I wanted to hear more. Luckily someone had already digitized additional records and uploaded these to YouTube. I put on my headset and pressed the play button.
It should go without saying, but Professor Schnitzel's comedy is Deitschy. He has a pronounced, even exaggerated, Pennsylvania Dutch accent. Most of his routines are based upon fictional stories: ones that involve him, his family, or his neighbors who live in the fictional town of Turkey Hollow, PA. Presumably, Turkey Hollow is located in Pennsylvania's Dutch Country somewhere near the cities of York, Lancaster, Reading, and Allentown.
Schnitzel wrote all of his own jokes and described situations familiar to people living on farms or in rural towns. For example, in one story he describes a daughter complaining to her mother about her father's use of the word "manure." The daughter wishes he would say something less crude, such as "fertilizer." Her mother snaps back with "It took me twenty-five years to get him to say manure!"
Some of Professor Schnitzel's humor makes light of his simple, Deitschy roots. He often says English words with an outrageous Deitsch pronunciation. For example, he refers to Connecticut as "Conne-cti-cut" and calls it a foreign country. He describes how during the war his "Uncle Samuel" sent him a personal invitation to have a draft examination. Yet, the majority of Schnitzel's jokes center on domestic life, farming, the outhouse, courting, school, and church. Some of his humor is dated, and he does occasionally makes use of problematic stereotypes and tropes.
With that said, Professor Herman F. Schnitzel was himself a caricature of the Pennsylvania Dutch. From his old-fashioned dress, to his ridiculous food-inspired name, to his naive worldview, audiences knew Schnitzel wasn't real. Even so, they found him immensely entertaining. But, if the Professor was only a portrayal, then who was his inventor?
Theodore "Ted" Luther Rickenbach was born on April 30, 1903 in Reading, PA. He was the son of Johnathan and Mary (Steiner) Rickenbach. Ted's father worked as a plater in a metal foundry, while his mother was a seamstress. On March 31, 1923 Ted married Mamie C. Wenger (b. 1906). The couple had several children together and resided in Pennwyn, to the southwest of Reading. Ted found work with the Reading Railroad Company and local amusement parks.
Around this time Ted, along with other members of the Rickenbach family, formed a theater troupe—the Pennwyn Players. In 1929, Ted was cast as Otto Schmultz, the lead part in "The Dutch Detective." For this role, he developed a humorous, Pennsylvania Dutch persona that would serve as the basis for his best-known character, Professor Herman F. Schnitzel. In 1932, Ted transitioned to a career in radio at WEEU where, along with Earl Schappell, he hosted the "Schnitz and Earl" show. By 1950, he was hired at WHUM to develop the "Professor Schnitzel and Al" show and could also be heard on another radio station, WHP.
Curiously, while researching Ted's career, I discovered a second Professor Herman Schnitzel radio show. This one seems to have been more German than Pennsylvania Dutch, and it was portrayed by Clarence Colman on KFRC in San Francisco during the 1920s. Colman's Professor Schnitzel in California has no apparent connection to Rickenbach's Professor Schnitzel in Pennsylvania.
With a regular radio audience, Ted Rickenbach gained popularity as Professor Schnitzel throughout the 1950s and 1960s. In 1961, Buch Records released an album of his standup comedy. More would follow. The recordings were captured from his performances at community picnics, lodge meetings, and fairs. According to my father, he remembers seeing Professor Schnitzel at the Kutztown Folk Festival sometime in the 1960s. Ted Rickenbach died on July 29, 1969 and is buried in Forest Hills Memorial Park in Reading, PA.
Professor Herman F. Schnitzel, as portrayed by Ted Rickenbach, highlights the unique culture of the Pennsylvania Dutch and reminds us of our Hagenbuch family's roots in Berks County, PA. Similar to the food we enjoy, music we listen to, and literature we read, humor is another—albeit amusing—facet that makes us a Deitschy people.